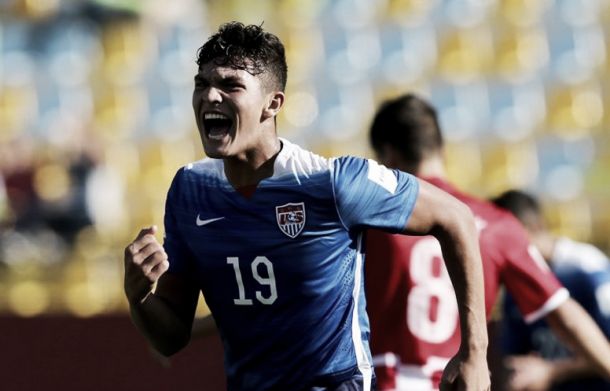 Croatia U17 mounted an impressive second-half comeback to get a point in the second group game of the U17 World Cup against the United States of America.
USA U17 took the lead despite early dominance from Croatia as Christian Pulisic curled a shot round Semper in goal.
Brandon Vazquez doubled things up just before half-time with a powerful header.
Karlo Majic got one back for Croatia, who came out after half-time a different side, an impressive one that dominated the game.
Luke Ivanusec levelled things up thanks to the wonderful trickery of Josip Brekalo on the left flank who made the goal.
---
Croatia U17 started the better side, surging forward to try and surprise the USA as they settled in.
Brekalo saw a rapidly curling shot go just wide of the post, speeding through an open USA defence. The Croatians continued to press forward well, with pace in their counter-attacks.
Multiples chances came for them, including from set pieces as they consistently looked like scoring first.
Yet on 20 minutes, the USA had settled better and took all of Croatia's momentum away with a superb goal on the break.
Pusulic gives USA the lead
Christian Pulisic went one-on-one with the goalkeeper, Semper, after poor defending from Croatia. The USA broke forward, but Croatia had four players back, yet lack of communication between them and a surge of numbers forward from the USA meant two Croatia players dived in on one player, allowing them to pick up the ball from his teammate.
They continued as Erlic dived in, and the USA got a fair share of luck as the ball rebounded off their own player, who carried on, played in Pulisic who curled it round Semper for the USA's opener.
Croatia looked rattled by going down despite dominating the opening stages. Kalaica picked up a booking for a strong challenge as Croatia gave away three free-kicks in as many minutes.
Settling back down, Basic's side regained composure and their attacking flair shone again, yet still they couldn't get past the US defence.
Vazquez scores USA's second
Brandon Vazquez made it two for the US with a brilliant, powerful header after a great cross from the left flank.
Besic was clearly unimpressed with his Croatia side's first half performance, taking off Durasek for Gkira and Erlic for Ivanusec before half-time.
Vazquez almost got his second after the break following a mix up in the Croatia defence but instead of going one-on-one with the goalkeeper he couldn't get it out of his feet and the chance was wasted.
Brekalo shines for Croatia
Brekalo had a shot blocked after moving well down the right flank, with Croatia back moving forward after Besic's words at half-time.
Croatia were extremely patient, holding onto the ball and slowly inching forward. Tinkering with it on the flanks meant the USA could simply hold a strong defensive line and easily see nothing get past.
Patient play worked for Besic's side after the break and the USA finally made the mistake Croatia were waiting for. Nelson missed a looping cross and Majic pounced on it before anyone else, momentum carrying him more than anything, and smashed it past Will Pusilic in goal.
Croatia dominated as the continued exactly as they had done before the goal. Moro got in behind and only a great interception from Arellano stopped him from getting one-on-one with Pusulic.
Brekalo caused havoc on the left flank, leaning left and right and sending players this way and that.
The number seven made Croatia's equaliser with some stunning footwork cutting inside from the left flank. He stormed through three players, taking the ball away from them all as they stuck their feet in. Laying it off to first half substitute Ivanusec, Brekalo can take all credit for the goal as Ivanusec finished it perfectly, low and hard into the left corner.
Croatia began to test the goalkeeper from any range, with Brekalo hitting the post with a powerful shot, beating Pusilic easily.
Besic's side, who drew who hosts Chile in the opening game, camped on the edge of the USA box but continued to move it from flank to flank and kept getting chances. Each time a goal kick was given away, they earned the ball back.
The USA got a rare chance on the break, as Croatia miscommunicated in defence again, like in the first goal. Yet the through ball was too powerful and the goalkeeper Semper came out to claim it.
Croatia almost grabbed a late winner with Pusilic saving one in the final seconds before the shot from his parry hit the crossbar. The referee blew his whistle and Besic's side were disappointed not to get that late winner, but should be delighted to have come back from a two-goal deficit.