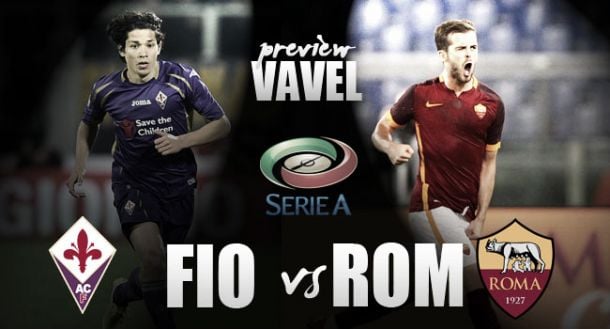 It will be a top of the table clash as Serie A table leaders Fiorentina face off against second place Roma.
Form
Although they stand at the top of the Serie A table with 18 points, it has been a nervy last two games for Fiorentina. First they lost 2-1 to Napoli last week. Then midweek they lost in the Europa League as they were shocked by Lech Poznan in another 2-1 loss. This game after a strong stretch of wins which included a 4-1 thrashing of Inter Milan. With Roma only one point behind Fiorentina, a win would be a great result for them.
It has been a goal filled week for Roma. First, they had a 3-1 win in Serie A last week with a 3-1 win over Empoli as they moved up to 2nd place in Italy. Then they had a 4-4 draw with Bayer Leverkusen in Champions League play. It was a disappointing result as Roma had a 4-2 lead with 10 minutes left and they ended up with a draw. It also left Roma at the bottom of the group with 2 points and questions are being asked about their European form.
Key Players
The key player for Fiorentina will be Nikola Kalinić. The striker has been on fire for the Viola this season as he leads the team in goal scored with five. After arriving from Dnipro in the summer, the Serbian has fit in nicely with Fiorentina and will be the main attack option for them against Roma.
The key player for Roma will be Mohamed Salah. After playing with Fiorentina, Salah is now with Roma and has gotten off to a great start this season. He has four goals this season and is a big reason why Roma have gotten off to a great start in Italy. His speed will be a big factor as he can beat defenders with his pace and will cause problems with Fiorentina.
Team News
If Fiorentina beat Roma in this fixture, it will be their first win against Roma since 2012.
Roma midfielder Kevin Strootman has signed a new deal with the club according to the team president James Pallotta.
What They're Saying
"In the locker room they must understand that it's everyone's fault" said Roma manager Rudi Garcia in the post game press conference after the draw against Bayer Leverkusen (via ESPN).
It was a disappointing finish to the game for Roma as they dropped crucial points and now sit at the bottom of their group.
"Nothing went our way in this game but we must learn from this defeat and hit back stronger than ever" said Fiorentina winger Federico Bernardeschi to Mediaset (via ESPN).
This was after Fiorentina's loss to Lech in the Europa League which dropped the Viola in the group table. They will look to rebound against Roma.