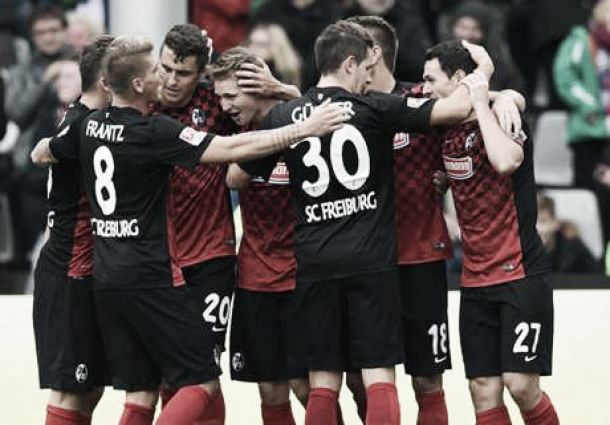 It's another very exciting meeting in the second round of DFB-Pokal as first-place 2. Bundesliga side SC Freiburg play host to the last-place team in the Bundesliga, FC Augsburg.
SC Freiburg are in terrific form
SC Freiburg are currently on their back to the Bundesliga, because out of the first 12 league matches in 2. Bundesliga they won seven, drawn three and lost only two. But with only three points separating them and fourth placed VfL Bochum it is still a hard-fought and tight battle about the promotion to the German highest league.
Despite a loss on last matchday against another possible promotion contender FC St. Pauli, Freiburg seem to be unbeatable and so their next "victim" could potentially be FC Augsburg.
FC Augsburg need to flip the switch
One win, two draws and seven losses in the current Bundesliga season are on Augsburg's account. The club, which participates in UEFA Europa League this season, is in a very tough phase and needs a way to flip the switch and fight back to their old performances.
The last matchday saw Marvin Hitz' goal under heavy fire once again. Playing away to Borussia Dortmund, they were completely outplayed in their demoralising 5-1 defeat. Even at half time the scoreboard shown 3-0 for BVB, with Raúl Bobadilla scoring the consolation goal.
Coaches have their say
Markus Weinzierl seemed optimistic in the press conference, the 40-year-old coach wants his players to extinguish their Bundesliga form and just play a good game against Freiburg to reach the next round in DFB-Pokal. He wants his team get a lot of self-confidence back with a win over current first-place from 2. Bundesliga. He emphasised that Augsburg expect a "typically cup battle".
On the other hand, Christian Streich, spoke about the mindset to the upcoming match. Streich explained that there is only one winner in this team and the team can't offset a possible loss against FC Augsburg. He expects that players on the pitch might become a bit distracted if they want to win so much that they allow some gaps in their defense, which would cost the come trough into the next cup round.
Predicition
Normally the favourite role is on Augsburg's hand, because of the different league, but Freiburg's terrific form turns the tables and puts the 2. Bundesliga team into the favourite role. Augsburg's defense have to be extra concentrated, because if Freiburg's offensive start rolling it is not easy to stop them then.