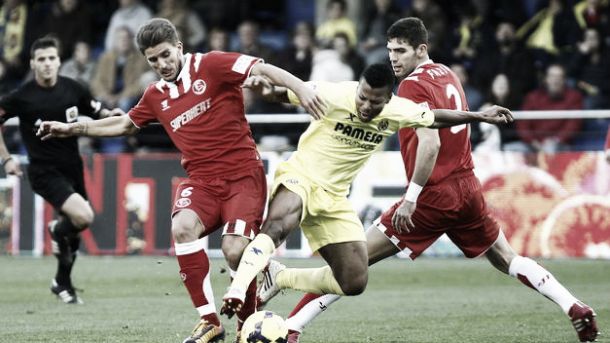 Villarreal have gotten off to a great start in La Liga and in Europe as well and will look to continue that against reigning Europa League champs Sevilla.
Form
It has been a fantastic start to the season for Villarreal. In La Liga they sit 5th in the table as they looked to secure a spot in Europe for next year. But they are on a three game winless streak. After beating Atletico Madrid 1-0, Villarreal have been on a slide. In the Europa League they currently sit second in their group with 6 points and are behind Rapid Wien for 1st. Although they are currently on a winless streak, it has been a good season for Villarreal so far.
After winning the Europa League and qualifying for the Champions League, it has been a poor season for Sevilla. In Europe, Sevilla sit third in their group. While the group boasts the likes of Juventus, Manchester City, and Borussia Mönchengladbach, Sevilla has to face and beat these types of teams if they want to advance among Europe's best. Domestically they have been dreadful as well. They currently sit 8th in the league with 12 points from 9 games and are tied with Valencia, Real Betis, Espanyol on points and one slip could see them in the bottom half of the table.
Key Players
Villarreal will rely on the likes of Roberto Soldado to lead them in this game. After a horrible spell in England, Soldado is back in Spain and has played regularly and well for Villarreal. He feels comfortable back in Spain and is back to his old ways of scoring goals for the club. He is second in scoring and will look to break down that has only given up 12 goals this season.
For Sevilla, the key man will be Frenchman Kevin Gameiro. He leads the team in scoring this season and seems to be filling the void Carlos Bacca left when he went to AC Milan. He has five goals this season in La Liga alone and had a hatrick in 70 minutes in Sevilla's 5-0 thrashing of Getafe last weekend. He has the potential to score big goals if he gets playing time. He could be a big factor against Villarreal.
Team News
Although he has been linked to the club, Manchester United goalkeeper Victor Valdes is not going to be signed by Sevilla claims the club.
Given his current form and Sevilla's goalkeeper situation, the club is smart to come out and say that they will not be signing with him.
Roberto Saldado claims that the sacking of his former boss Andre Villas-Boas caused the Spainard to lose his form at White Hart Lane and that ultimately led to him going to Villarreal.
What They're Saying
"Coming back has surpassed all of my expectations -- I couldn't have imagined that it would be as good as it has been so far" said Villarreal striker Roberto Soldado to AS (via ESPNFC).
After leaving Spurs, Soldado has been on a tear and has been Villarreal's best player this season and has been on the form that got him the big deal to England in the first place.
"The media and financial dimension of the Premier League is the best, but the Spanish league has had better results." said Sevilla manager Unai Emery in a press conference (via ESPNFC) before their match against Manchester City.
Emery has a point in that statement as Spanish team have faired better in Europe than English teams have in the past few years.