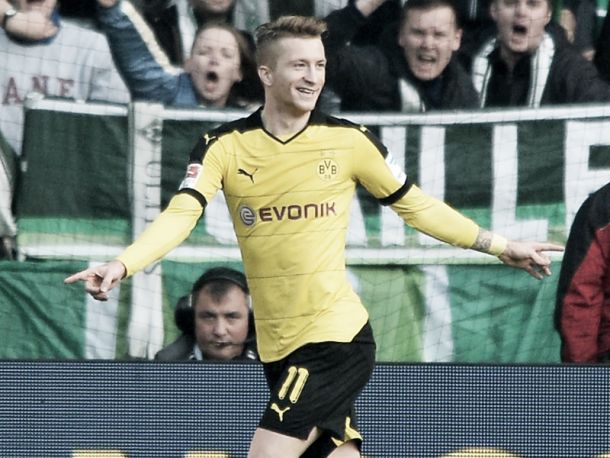 In what was a tough away fixture, Borussia Dortmund came through with flying colours to win 3-1 against Werder Bremen.
Entertaining first half sees BVB lead at the break
Dortmund started strongly and had their hosts under pressure from the get-go. Unlike Bayern Munich last weekend, BVB were able to break down Bremen very quickly. Marco Reus' strike put his side one-nil up within ten minutes, after some good work from Henrikh Mkhitaryan. He picked out Reus at the back post, before the attacker shot into the roof of the net.
Despite Borussia being on top, they were pegged back just after the half-hour mark. Fin Bartels ran, and ran, and ran some more before he eventually got into the visiting penalty box and cut the back back towards the spot. After Sokratis blocked an initial effort on the line, Anthony Ujah pounced to slam the ball home and level the match.
It could have been much worse for Thomas Tuchel's side when Zlatko Junuzovic went close with a powerful headed effort, as it only just went past the post. Even though they were beginning to grow into the game, a stunning piece of skill from Mats Hummels brought Dortmund back in front.
The centre-back found himself in the unusual position of left-wing, though that didn't stop him from producing a cross of the highest quality. His outside of the boot ball was perfect for Mkhitaryan, who lost Janek Sternberg before powering home a diving header at the back post just before the half-time whistle.
Reus seals the three points
Dortmund came on strong in the second half and Pierre-Emerick Aubameyang passed up a golden chance to grab yet another goal, as his acrobatic scissor-kick blazed over the bar from close range.
That wouldn't come back to haunt the vistiors, however, as they marched on to secure another victory. Reus finished off another Mkhitaryan pass and the game in the same move. The rest of the game was a non-contest, as Dortmund came out of their 'crisis' to move five points behind Bayern and win their fifth competitve game in a row.