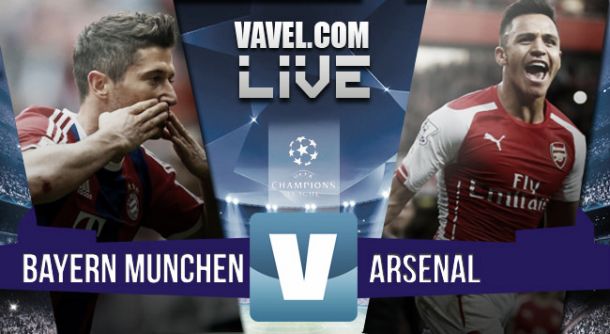 Unfortunately, that's all we've got time for tonight. I've been Oliver Emmerson, taking you through Bayern Munich 5-1 Arsenal. I hope you've enjoyed the commentary, maybe less so if you're an Arsenal fan, but I certainly hope to see you next time!
After the worrying loss on matchday three, things are suddenly rosy again for Pep Guardiola's ruthless Bayern side. They're virtually assured of qualification, needing just a point from their remaining two games to guarantee it, and four points from the last two games to make sure they top the group.
Things in Greece finished Olympiakos 2-1 Dynamo Zagreb, which has a big impact on the group. That see's Bayern and Olympiakos go joint top on nine points, whilst Arsenal and Zagreb are stuck on three each. For Arsenal to qualify, they need to beat hope Bayern win their final two games, whilst beating Olympiakos and Zagreb themselves, and winning by over two goals in Greece, or by one goal having scored three goals in the game, in order to overturn the 3-2 win that Olympiakos came away from London with.
It was 3-0 at half time, as Lewandowski, Müller and Alaba put the hosts in a comfortable position. Arjen Robben scored with his first touch before Giroud's overhead kick offered Arsenal a consolation, only for Müller to get his second, and Bayern's fifth, in the dying minutes.
The final whistle comes as a relief for Arsenal fans, who will be glad that it's all over. They've been on the end of an absolute thumping at the Allianz Arena, as Bayern Munich showed why they're one of, if not the, most feared team in world football.
Full-time: Bayern Munich 5-1 Arsenal.
90+2: It's a disaster for Arsenal, as Olmypiakos take a 2-1 lead in Greece, putting them on nine points - six ahead of Arsenal. That leaves the Gunners with a huge amount of work to do in order to qualify.
90: Three minutes added time announced.
89: Thomas Müller has grabbed his second of the night, but he owes much of it to Douglas Costa. Breaking through the middle with his blistering pace, the Brazilian left Arsenal's defenders trailing in his wake, before setting up Müller to slide a perfect finish into Cech's near post.
GOAL! Five star Bayern make it 5-1!
87: Chambers comes on for Cazorla for Arsenal.
85: Iwobi on for Arsenal, making his senior Champions League debut at the tender age of 19. He replaces Giroud.
83: It should have been five! Robben gets in on goal after another marvellous pass from Thiago, he rounds Cech but is met by a brilliant tackle from Debuchy.
81: Bayern asserting their authority on the game once again as a long spell of passing ends in Robben crossing for Costa, whose header failed to reach the goal thanks to Mertesacker's large body getting in the way.
78: And they should have had a second there! Great feet from Coquelin again helped him get in behind the defence and pull it back to Cazorla, only for the Spaniard to hammer his effort over the bar.
77: Sanchez has an angry looking volley blocked, after his attempted to play Giroud through thanks to good work from Coquelin failed. Arsenal look like scoring a second here.
73: Robben also restores order with his second of the night, getting Monreal square before forcing Cech into a save with a right-footed effort inside the area.
71: Bayern's strength in depth is ridiculous. They've already brought on Robben and Benatia, and now Vidal replaces Lewandowski.
69: He's a man in great form, and he showed it there. Sanchez clipped a ball into the area, which Giroud chested up before volleying an overhead kick into the bottom corner, giving Neuer no chance. A fantastic goal, which gives the Arsenal fans something to cheer about. Is the comeback on? No, probably not.
GOAL! Great strike from Giroud, who makes it 4-1.
68: Bayern make a change, Benatia on for Boateng.
67: More bad news for Arsenal, as if they hadn't had enough already. Olympiakos have levelled things up at home to Dinamo Zagreb.
64: Sarcastic chants of 'ole' from the Arsenal supporters greet every pass their team makes. They don't last for long though, with the Gunners struggling to keep the ball for extended periods.
59: First change of the night for Arsenal, Gibbs on for Campbell, who looked bright despite his teams lack of attacking proficency.
57: Arsenal's best move of the night, but they're denied by a Neuer save! Cazorla played it into Giroud, who gave it him back in behind the defence, only for his volley to be brilliantly saved by the big German 'keeper.
55: Brilliant from Bayern, who go 4-0 up. Bayern are so patient with their passing, doing everything slowly, before bursting into life. Costa slides the ball to Alaba, who passed across the box for Robben to flick it in with his first touch of the ball - 38 seconds since coming on.
GOAL! He's only gone and scored with his first touch, Arjen Robben!
55: This evening isn't getting any better for Arsenal, as Robben comes on for Coman.
52: Douglas Costa is given too much room again, going through the gears before pulling out some stepovers, eventually seeing a shot from the edge of the area deflected for a corner, which comes to nothing.
50: More positive from Arsenal, as Sanchez and Cazorla exchange a nice one-two in the Bayern half, but Sanchez's weak effort is blocked.
Kick-off in the second half
But can things change in the second 45? Bayern seem fairly intent on seeking revenge, and put seven past Shakhtar at home in this competition last season, so it's unlikely that they'll take their foot off the gas. Arsene Wenger will surely be turning his attention to Sunday's North London derby against Tottenham, and could surrender the likes of Ozil and Sanchez to keep them fit for that clash. We're about to find out, as the second half is nearly upon us.
It's fair to say that Arsenal have taken an absolute pasting in that first half. Bar the disallowed goal, they've barely had a touch in Bayern's half, let alone a series of attacks. Robert Lewandowski opened the scoring with a header, courtesy of poor defending and an exceptional ball from Thiago, before Müller added a second, and Alaba curled in a delightful third to make it 3-0. The hosts have had 62% possession and 10 shots on target, compared to Arsenal's zero. Things could get ugly in the second half, if things continue in the same vain.
Half-time: Bayern Munich 3-0 Arsenal
45: Just one minute of added time, as Arsenal look to avoid conceding a fourth before the whistle.
44: This is absolutely destructive from Bayern. Left-back Alaba finds himself in the middle of the pitch, hussling and harrying Gabriel off the ball, before bending a beautiful shot into the top right hand corner. What a strike, and what a half for Bayern! 3-0.
GOAL! You don't stop those, Alaba makes it 3-0!
43: What a save from Cech! He's prevented Bayern increasing their lead, with Müller close to scoring. He latched onto Lewandowski's ball in and flicked an effort at goal, which Cech flicked over the bar with an outstretched palm. Douglas Costa peppers the goal with a long range effort from the resulting corner, but that's more easily saved.
36: Less than 10 minutes to go until half-time, and Bayern are still totally dominant. Arsenal haven't really had a spell of their own in the game yet, and the Bavarians have Arturo Vidal and Arjen Robben on the bench, keen to get involved...
32: Another moment where Gunners fans' hearts skip a beat, as Douglas Costa's cross flies just wide of Petr Cech's post, far too close for comfort.
29: That's surely going to take a win out of Arsenal's reach, as Müller doubles Bayern's lead. Lahm's cross from the right side was knocked down by Coman, and the German was first to react in the area, striking the ball into the bottom left hand corner via the aid of a deflection.
GOAL! 2-0 to Bayern, and it's that man Müller!
25: Alonso swings it in with some venom, but Arsenal deal with it. Elsewhere in the group, Dinamo Zagreb have taken the lead away against Olympiakos, which is most certainly good news for Arsenal.
24: Campbell gets booked for a foul on Coman on the left wing, and Bayern will have a chance to whip the ball into the box.
20: A few laughs around the stadium as Alonso manages to kick the corner flag whilst taking a corner, and allowing Arsenal to clear. Arsene Wenger wasn't laughing soon after though, as Mertesacker was forced into a last ditch challenge to stop Müller scoring in the six yard box.
17: Cech called into action not once, not twice, but three times! He pushes the ball away from danger after Coman is put in on goal, only for the ball to find Lewandowski - who see's his shot pushed out for a corner. The Polish striker wins a header from the resulting corner, which is gratefully caught by Cech.
15: Coman wants a penalty after seemingly being clipped in the box by Campbell following a 'Ronaldo chop', but the referee signals to play on, with replays showing that their was no contact.
12: Mesut Ozil is absolutely furious here. The ball was played into Monreal down the left hand side of the box, and he put a ball across the face, which struck Ozil and went in. The Arsenal players ran off celebrating, whilst the official behind the goal informed the referee that it had struck Ozil's hand, and the playmaker gets a yellow card. Huge let-off for Bayern.
Or are they? No! The goal has been ruled out!
GOAL! Arsenal are level almost instantly!
10: Nightmare start for Arsenal, and Arsene Wenger won't be happy with the defending. Thiago is allowed too much room on the edge of the area to curl a ball over the top of the defence, which is headed into the corner by an unmarked Lewandowski, as the Arsenal defence failed to play the offside trap - Gabriel's late reactions costing them.
GOAL! Lewandowski heads Bayern into the lead!
7: In the thick of the action again, Alaba strikes one from long range, but his dipping effort is gobbled up by Cech.
4: Arsenal had a good chance of a counter-attack there, although I'm not sure they realised it. Joel Campbell picked it up on the right hand side, and Giroud had room to run. However, the Frenchman continued jogging forward, and Campbell's pass went straight to Alaba.
1: We're underway, and Arsenal have managed a shot after 24 seconds. Ozil got down the left and swung a ball across to Olivier Giroud, but the striker could only ping a half volley wide. He'll be hoping that that's the first chance of many for him tonight.
Kick off
The players are out and shaking hands, and we're almost ready to go!
Only 10 minutes until the eagerly anticipated kick-off, send your predictions into our official Twitter account, @VAVEL. Personally, I can't see further than a Bayern Munich win, and I'm going for the Bavrians to triumph 3-1.
Pep Guardiola has spoken in depth pre-match, about how he believes Arsenal are going to park the bus tonight, much like he believes they did at the Emirates. Some think that he's said that in an attempt to try and trick the Gunners into playing a more expansive style that Bayern could counter, but will Arsenal rise to the bait?
Another notable inclusion for Arsenal is that of Joel Campbell, who keeps his place for this huge game after scoring against Swansea City at the weekend. That might be seen as a risk, but looking at Arsenal's bench you'd conclude that Wenger may have had very little choice.
The huge news for Arsenal is obviously Koscielny's absence from the lineup, with a hip injury reportedly ruling the Frenchman out of starting tonight's tie. That is a very big loss indeed for the Gunners.
Arsenal substitutions: Macey, Gibbs, Koscielny, Chambers, Flamini, Reine-Adelaide, Iwobi.
Arsenal XI: Cech, Debuchy, Mertesacker, Gabriel, Monreal, Coquelin, Cazorla, Ozil, Sanchez, Campbell, Giroud.
Something of a blow for Bayern, as neither Arturo Vidal or Arjen Robben are fit enough to make the starting 11. It looks like they'll set up in a 4-5-1 formation, with Thiago and Xabi Alonso anchoring the midfield, behind the roaming Kingsley Coman, Thomas Müller and Douglas Costa in attacking midfield, with Lewandowski starting as the lone front man.
Bayern Munich substitutions: Ulreich, Benatia, Badstuber, Robben, Vidal Rafinha, Kimmich.
Bayern Munich XI: Neuer, Lahm, Martinez, Boateng, Alaba, Thiago, Alonso, Coman, Müller, Costa, Lewandowski.
We've slowly got the confirmed starting 11's coming through, and Bayern Munich have announced there's first.
These two clubs have already played eachother today, in the UEFA Youth League. Under-19 teams in the Champions League are invited to play in this, and the game finished 1-1, with Ismael Bennacer scoring for Arsenal, who are unbeaten so far. Bayern picked up their first point, having lost their previous three games.
The other English team in action tonight are Chelsea, who host Ukranian side Dynamo Kyiv. Take a look at the preview of that game, here.
Have a read of our respective preview's for tonight's games. Looking at it from an Arsenal perspective, here, and from a Bayern perspective, here.
Pep Guardiola has his own injury concerns, with Franck Ribery and Mario Gotze both unfit for selection due to ankle and groin injuries respectively, but Bayern are nowhere near as depleted as Arsenal.
Bellerin is by far not the only man on Arsenal's injury list, with a number of senior players currently on the treatment table. Danny Welbeck, Theo Walcott, Aaron Ramsey, Mikel Arteta, Alex Oxlade Chamberlain and Jack Wilshere are all also out.
Going back to when these two teams played two weeks ago, you'd note that a key man in that win was Hector Bellerin, who recovered from a tough first half against Douglas Costa to play a starring role going forward in the second half. Unfortunately for Arsenal, he's unavailable tonight, after picking up a slight groin injury days before the match.
For Bayern, things are going as comfortable as you'd expect in the Bundesliga. Top of the league with a five point lead after just 11 games, they've not shown any signs of surrendering their title. However, after winning their first 10 games in a row, they did only manage a draw at the weekend - with their match away at Eintracht Frankfurt finishing 0-0.
But how about the two teams form going into this game, domestically speaking? Things couldn't be going much better for Arsenal right now, as they continue to steamroller their way through the Premier League. Since losing to Chelsea last month, they've won five in a row in the league, scoring 16 goals in that time whilst seeing off high flying sides such as Manchester United and Leicester City. The only blemish on this form was their disappointing defeat to Sheffield Wednesday in the League Cup last week, as the Championship side blasted a second string Gunners team away, winning 3-0.
Although they're unlikely to lose, a surprise home defeat would make things harder for Bayern's goal of topping the group. It'd give Arsenal the upper hand, as two more consecutive wins would see them somehow top the group despite their bad start. However, it'd be difficult for Bayern not to qualify past this stage, due to their impressive head-to-head record and overall supremecy against the other two teams in this group.
What all of this means, is that it's still going to be difficult for Arsenal to get through this group, and it'd have been near on impossible if they'd not beaten Bayern at home. Arsene Wenger's men can lose tonight against Bayern tonight, but would then need a series of results to go their way. Presuming Olympiakos win against Zagreb at home, Arsenal would need to hope that Bayern win their final two games, whilst beating Olympiakos and Zagreb themselves, and overturning their head-to-head record against the Greek team.
Where better to start than the current state of play in Group F? Interestingly, Arsenal do sit bottom of the group, having lost their first two games, they went and defeated Bayern 2-0 at the Emirates Stadium on Matchday Three to claim their first points of this season's campaign. Despite having lost to the Gunners two weeks ago, Bayern are sitting pretty at the top of the group on six points, having won their first two games. Olympiakos are in second on six points, level with Bayern, whilst Dinamo Zagreb are level with Arsenal on three points, but in third place having defeated the Gunners.
Hello and welcome to our live minute-by-minute commentary of tonight's UEFA Champions League match in Bavaria. It's Matchday Four, and Bundesliga giants Bayern Munich are hosting the Premier League's Arsenal at the Allianz Arena. Kick-off in Germany is set for 7:45PM, but stay with us before then as we take a look at the main headlines going into the game, plus get the confirmed starting 11's.