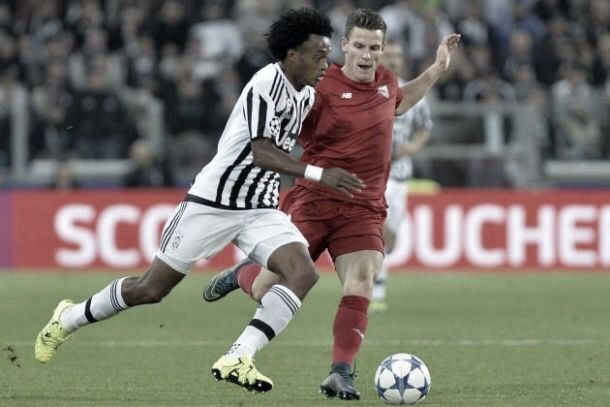 Juventus lost a significant amount of talent in the summer transfer window. Out went Andrea Pirlo, Carlos Tevez and Arturo Vidal.
While all three were not only important players in the squad, they also were the driving force behind much of the team's creativity. The trio accounted for over 30% of Juve's assists in Serie A. Pirlo and Tevez were first and second on the squad in terms of key passes per game.
Italian legend Pirlo also led the team in crosses, long balls and through balls per contest in domestic play.
Simply put, creativity was a significant need for Juventus in the summer transfer window.
Shrewd move
Enter Juan Cuadrado.
Signed from Chelsea on loan, the Columbian has been a massive hit at Juventus Stadium. He's been the team's highest rated player in Italy. In nine domestic appearances he's scored a goal and handed out two assists. His two assists lead the team, while his other passing numbers have been impressive as well. The former Fiorentina man ranks fourth on the team in key passes and crosses per game.
Cuadrado is averaging 2.2 key passes per game this season. How many key passes per contest did Pirlo thread last season? 2.2.
The news gets better for Juventus as a report from the British publication the Evening Standard suggests that Chelsea will sell the Columbian to Juve for £15.75 million in January. The rumored move would only cost the Bianconeri €22.18 million. That's a significant investment, but given Cuadrado's talent and level of play, it's a bargain.
Impact and flexibility
In a season where Juventus have struggled at times, Cuadrado's presence has been extremely important. If it weren't for him, Juve would be in an even worse position.
Without the Columbian's assist to Simone Zaza, the Bianconeri would have lost at home to Frosinone. The versatile attacker also had a hand in both of the team's goals in a recent 2-1 victory against Torino.
In addition to providing crucial plays, Cuadrado provides coach Max Allegri with a great deal of flexibility. The loanee has appeared on the wing, in a central attacking role behind the strikers, and as a wing back.
His ability to shift to wing back is especially important because it allows Allegri to play an extra attacking or midfield player without having to bench Cuadrado.
In conclusion
If the Bianconeri end up signing Juan Cuadrado to a permanent deal, he'll provide the team with all sorts of creativity and pace for years to come. Replacing Pirlo's creativity may be impossible, but Cuadrado is doing a fine job providing a significant impact with his creative play.