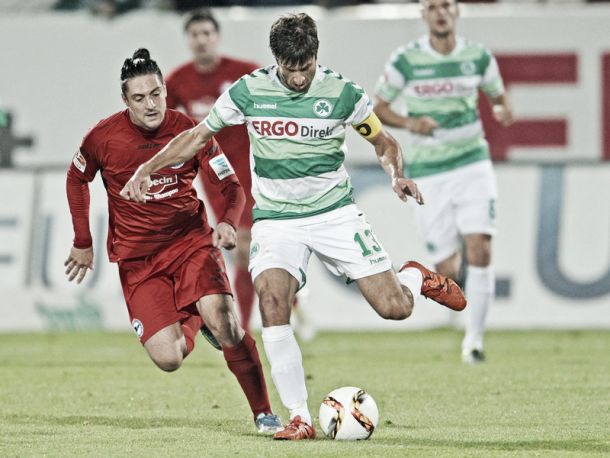 With the chances coming very few and far between, it was only a matter of time before the referee blew his whistle for full time as both SpVgg Greuther Fürth and Arminia Bielefeld could not find the back of the net at the Stadion am Laubenweg.
For Arminia, their central attacking midfielder David Ulm was very active and tried to get his teammates involved often. His best opportunity though came on 33 minutes, where he played a gorgeous ball in towards Christoph Hemlein; unfortunately, he will be kicking himself as Hemlein could not control the ball and hit the side netting from a tight angle.
Right before halftime, one of the best chances fell to the hosts. Robert Zulj found Marco Stiepermann down the left before he fired a low cross back towards the middle of the area where Veton Berisha made a run to try to get onto the end of the cross but could not quite on the end.
Halftime: SpVgg Greuther Fürth 0-0 Arminia Bielefeld
The first half of this match was being played mainly in the middle part of the pitch with neither side really threatening the opposition's goalkeeper.
Five minutes after the halftime interval it was the hosts who started to play attacking football and actually put a bit of pressure on Bielefeld's back four. Stiepermann tried to find Berisha inside the area but the pass went awry and the visitors cleared the danger for the time being.
This time, in the 55th minute, Zulj played in a cross towards Berisha. However, at the last moment, it was blocked by a Bielefeld defender in what certainly could have been a goal had the Norwegian forward gotten a touch on the ball.
Berisha finally got his head on a cross from Stiepermann with 20 minutes remaining in the match, unfortunately, his efforts were all for nought as he failed to find the target.
With this result, Fürth slips down to seventh in the table while Bielefeld remain down near the bottom in the 12 position.