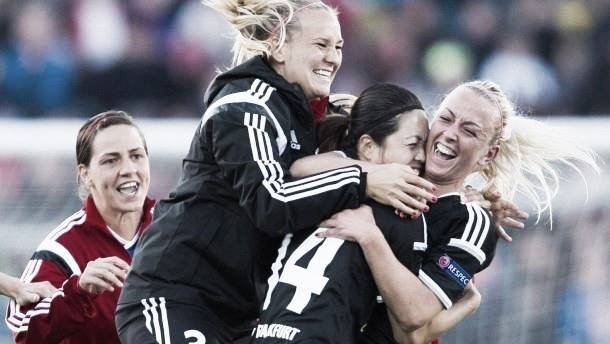 Shocks were few and far between in the UEFA Women's Champions League's round of 16 this week, but there was still plenty of drama to account for as the second legs were played to complete the eight ties.
Reigning champions 1. FFC Frankfurt needed penalties to get through, whilst last season's runners-up Paris Saint Germain only progressed thanks to the away goals rule, but there were no upsets in terms of the final result as all 16 teams followed the script.
Last season's two finalists get through by the skin of their teeth
The 2014-15 Women's Champions League final was a real spectacle, with Frankfurt stealing the silverware in stoppage time as Mandy Islacker scored late on to give her side a 2-1 victory against PSG.
However, the quality put on show by those two on that day was lacking this week, with both only narrowly progressing to the quarter-finals on Wednesday evening.
The holders went into the home leg of their tie with Norwegian champions Lillestrøm SK boasting a 2-0 advantage from the first leg, but an early strike from Emma Lundh was enough to make them slightly concerned.
Sherida Spitse missed a penalty in the second half that would have levelled the tie on aggregate, but it didn't matter as Marita Lund did so anyway with 20 minutes to go.
Frankfurt had their chances to win, but they could not take them as the tie went all the way to extra time and, following a goalless 30 minute period, penalties.
A perfect shootout was then observed as the first nine spot kicks were buried with composure. However, it was Spitse who ruined the marathon, missing for the second time on the night to let off the reigning champions.
PSG too rode their luck against a Scandinavian opponent, going into their home leg against Sweden's KIF Örebro with an away goal advantage following a 1-1 draw in the first leg.
They should have put the tie to bed on home soil, but would instead put on a nervy 90 minute display, albeit one that that they were not punished for as the game ended goalless and allowed the French through on the away goal ruling.
Wolfsburg and Lyon their rampant selves
Despite Frankfurt and PSG being out-of-sorts in midweek, another German and French duo was not as VfL Wolfsburg and Olympique Lyonnais ran riot in their respective ties.
Lyon did so more than the Wolves, eventually going through as 9-1 winners on aggregate against Spain's Atlético Madrid.
They took a 3-1 advantage into their home fixture but were not going to drop the intensity, with goals from Ada Hegerberg, Lotta Schelin and a penalty from Saki Kumagai making it 3-0 at half time on the night.
Hegerberg and Schelin completed braces before the hour to make it five, whilst Èlodie Thomis rounded off the scoring in the final 20 minutes.
Wolfsburg faced a tougher test in English champions Chelsea, but also took a lead into their home game having beaten the Blues 2-1 in London last week.
Vanessa Bernauer's stunning first volley put them comfortably ahead on aggregate, whilst Claire Rafferty turned Alexandra Popp's effort into the back of her own net in the second half, meaning the visitors had to score three without reply in the final 20 minutes.
They could have done exactly this though, Eniola Aluko hitting the bar whilst Fran Kirby missed a good chance and had a strong penalty appeal turned down, but the Wolves deserved to progress, with their experience helping them hurdle a tricky opponent in the end.
Brescia's dream continues whilst Twente's comes to an end
Two of the surprise teams to make this round were Brescia and FC Twente - the former because of their crushing 14-0 aggregate defeat to Lyon in the round of 32 last season, and the latter because of an upset in the previous round which saw them defeat German champions Bayern Munich.
For Brescia, their run continues as they overcame Denmark's Fortuna Hjørring to make it to the last eight.
For the Danes, it's now six successive seasons in which they have crashed out at this stage, but they were mere moments away from extra time, with Nadia Nadim's second half effort levelling the aggregate score at 1-1.
However, Lisa Boattin denied them of this late on and sent them crashing out of the competition instead, scoring in the 89th minute to continue Brescia's best ever run in the Champions League.
As for Twente, Olga Garcia was the thorn in their side as she scored both goals in their 2-0 aggregate defeat to Barcelona, adding to her first leg strike in the Netherlands with another effort in the second leg on Wednesday.
Still, the Dutch side will be more than pleased with their run in this year's competition, but even more so with what they have done for the game in their homeland, having attracted an incredible 15,637 fans to the first leg in Enschede.
Slavia Praha and Rosengard complete the line-up
Thursday hosted the round's two remaining second legs, with Czech side Slavia Praha taking a 2-1 advantage into their away leg against Russia's Zvezda Perm, whilst Swedish giants Rosengård welcomed Verona after winning 3-1 last week in Italy.
Praha's return leg was a goalless one, meaning their first leg lead was enough to take them through to the last eight - Simona Necidová's strike proving to be the decisive one.
Verona, on the other hand, were unable to get revenge on Rosengård for the defeat they suffered against the Swedes at this stage three years ago.
Melania Gabbiadini's 20th minute strike gave them hope of turning things around, but it was not to be, with a strike from Josee Belanger, a hat-trick from Marta and an own goal by Silvia Fuselli giving them a 5-1 win on the night, and a 8-2 victory over the two legs.
Quarter finalists confirmed
This season's quarter-final line-up is certainly much different to last year's, and much less surprising.
Only four of the teams remaining made it this far last year, and three of those went on to make the semi-finals - Rosengård the exception as they lost to Wolfsburg on away goals in a thrilling tie that ended 4-4 on aggregate.
Brescia are currently on their best run in the competition, the furthest they had progressed before being the round of 32, whilst the same goes for Slavia Praha.
Barcelona, on the other hand, have equalled their best ever finish in Europe by making this stage, having reached it in the 2013-14 campaign where they lost 5-0 to Wolfsburg over two legs, as have Rosengård, who have made the last eight three times.
However, the remaining sides are all former finalists at the very least - PSG the only team not to have gone on and won the competition.
With a star studded group of sides left, the final stages of the competition are sure to be exciting and we will know the fixtures for the next round in eight days time, with the draw for the last eight to take place next Friday, 27 November.