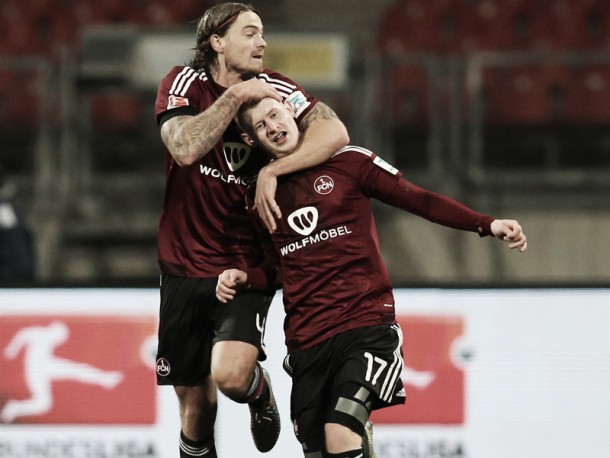 Strikes from Sebastian Kerk and Guido Burgstaller handed Rene Weiler's 1. FC Nürnberg a hard-fought 2-1 victory over Eintracht Braunschweig at the Frankenstadion; the visitors' goal coming through Nik Omladic.
In a tightly contested first period the hosts took the lead following a right hand side breakaway; Ken Reichel was caught up the field leaving Sebastian Kerk the simplest of tasks to break the Eintracht Braunschweig resistance. The opener coming firmly against the run of play. Yet Thorsten Lieberknecht's side would have their well deserved leveler at the start of the second half, courtesy of a thumping Nik Omladic effort. The stage was set for a grand stand finish and der Club pushed a winner, which they would get and send the 21'561 in attendance into raptures as Guido Burgstaller sealed a first win in three for Weiler's side.
Closely contended first period
Sporting their un-orthodox 3-4-3 formation, Lieberknecht's Lions starting the game in tremendous fashion crafting a number of opportunities yet none were able to truly test Raphael Schäfer between the 1. FC Nürnberg sticks - yet the best chance was to fall to der Club and Alessandro Schöpf; unfortunately for the hosts however the former Bayern Munich youth product was not able to convert in the melee that ensued in the Braunschweig box.
True chances were at a premium in the opening forty five minutes and the feeling that emanated was that when one fell, either side would have to take it. This would prove to be the case, as Sebastian Kerk broke the dead-lock just after the half another mark.
die Löwen central defender Ken Reichel was caught high up the pitch, leaving acres of space for Niclas Füllkrug to gallop into leading a counter charge. The man who spent a season on loan at der Club's arch rivals, Greuther Fürth, eventually squared for Kerk who had the easiest of tasks to give Rene Weiler's side a first half lead. The goal arguably coming against the run of play as the visitors had dominated large swathes of proceedings surrounding the goal.
Yet only minutes later the visitors from Lower Saxony should've been level. Hendrick Zuck, completely unmarked, looked only to have a similar job to his counterpart Kerk yet when the chance arose the former SC Freiburg and 1. FC Kaiserslautern man fluffed his lines. Raphael Schäfer also producing a fine save as Thorsten Lieberknecht's side pushed for an equaliser before the break.
Braunschweig get their reward
With the late half impetus gained the visitors, Eintracht Braunschweig came out on the offensive in the second half; yet they almost fell further behind after Joseph Baffo's looping header had crashed against his own woodwork. The Swedish central defender, who has only been at the Eintracht-Stadion a matter of months after impressing at the U-21 European Championships, had been a stand out performer in the first half.
The threat however form Thorsten Liberknecht's side was ever-present and they would have their deserved equaliser a mere eight minutes into second half proceedings. Twenty year old, Gerrit Holtmann twisted and turned on his left flank before finding Nik Omladic - the Swede powering home from twenty yards leaving Schäfer hapless to prevent die Löwen tying the scores.
It's worth noting that der Club had taken the lead on ten separate occasions this season, only to win four - was the same thing happening tonight?
Hosts push for winner
Seemingly noting this aforementioned fact and determined not to let it continue, Rene Weiler's side pushed for a winner following Omladic's effort. Substitute Kevin Möhwald rattled an effort off the crossbar, thanks to a slight touch it seemed from Braunschweig 'stopper Rafal Gikiewicz.
Against the relentless tide of 1. FC Nürnberg pressure all Lieberknecht's side could offer in return was a weak effort from a Zuck freekick - a point seemingly a happy acquisition for the Lower Saxony side sat five places above their opponents before the nights action.
As the game seemed to fizzling out into a score draw, Nürnberg would have their reward as Guido Burgstaller struck for an important three points. A cleverly worked corner kick evaded, or outwitted, all in yellow within the penalty area and the Austrian, who spent time at Cardiff City, did the rest and fired into the top right hand corner. The goal coming little over five minutes from full time, as Nürnberg pressure finally broke through.
Thorsten Liberknecht's side, evidently spent from their earlier half exploits in search of an equaliser, unable to prevent a first defeat in four matches.