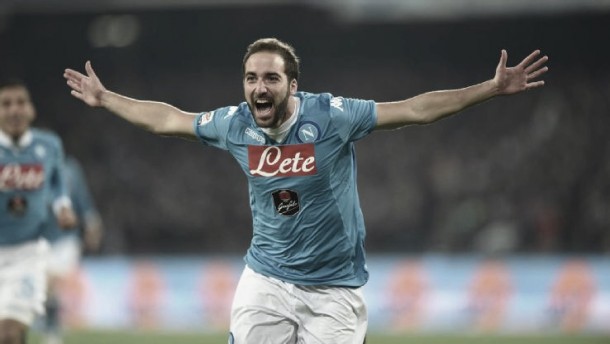 It was a great win for Napoli as they climbed to the top of the table of Serie A and continued their unbeaten run over with a 2-1 win over Inter Milan on Monday. Gonzalo Higuain had a brace for Napoli and earned high praise from his teammates, especially midfielder Allan.
Napoli's main man
When asked about the strikers form, Allan told reporters after the match :
"Higuain is a guarantee for us and we know that if he gets the ball, he's likely to put it in the net,"
The former Real Madrid striker has had a fantastic run of form this season as he has scored 12 goals in 14 games so far and is yet to show any signs of stopping doing so anytime soon either. He cut open the Inter Milan defense as he scored a fantastic brace, including a great finish in the 61st minute as a header from Raul Albiol allowed Higuain to cut through Inter as he scored what would be the game winning goal for Napoli.
Napoli's current form
The former Udinese midfield Dynamo admitted that "It's wonderful to play games like this" especially when it's "against the best in Italy." He also told reporters how he knows more than anyone that you "have to give 110%" as it's, in his eyes, the "only way to get the win" against the big sides.
Napoli have had a great unbeaten run since the beginning of the season and they now find themselves at the top of Serie A. With the early struggles of favourites Juventus, the crown of Italian football is now up for grabs and it will undoubtedly be a great title race to watch with a number of teams all in prime position to take the title.
While leagues such as the Bundesliga have their champions ahead of the pack already, it's not the case in Serie A. Four points seperate fourth place Roma from Napoli and Juventus are right there at fifth place.