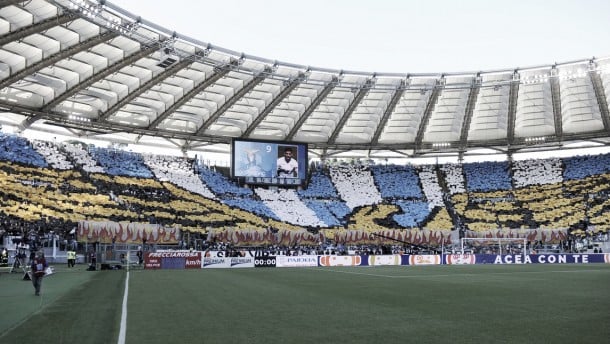 Lazio fans will not be allowed to buy tickets for next weeks Europa League tie with St. Etienne the club voiced over their official website.
The Aquile, who are currently sat in mid-table domesticallly after losing form have been firing well on all cylinders in this years Europa League.
Heading into the final game with Les Verts, Lazio are undefeated and have won Group G, by what could be a margin of eight points after Thursday's fixture.
As a result of the Paris attacks
The club posted the statement late on Monday evening, forewarning the fans not to book tickets from elsewhere as well as telling them the reason behind why they won't be able to support their team in France.
"With regards to the UEFA Europa League game against Saint-Etienne on Thursday December 10, we communicate that the sale of tickets is forbidden to Lazio supporters," read the statement on Lazio's official site.
"This restrictive measure was imposed by the French government in the wake of the terrorist attacks in Paris.
"We advise not to set off for France and not to buy tickets from other outlets, so as to avoid sanctions by the local authorities."
Not the first time fans miss out this season
Ahead of the derby della capitale with Roma last month, both sets of ultras boycotted the game to show their disgust at their curva being split by barriers as a result of new security measures at the shared Stadio Olimpico. Little over 35,000 - filling just half the ground's total capacity - attended as Roma won 2-0 with thanks to goals from Edin Dzeko and Gervinho.
Lazio have a busy two weeks coming up with four games coming within a 12 day period. This weekend, they play host to Juventus, before games against St. Etienne and Sampdoria follow. They also face the winner of Udinese and Atalanta in the round of 16 of the Coppa Italia.