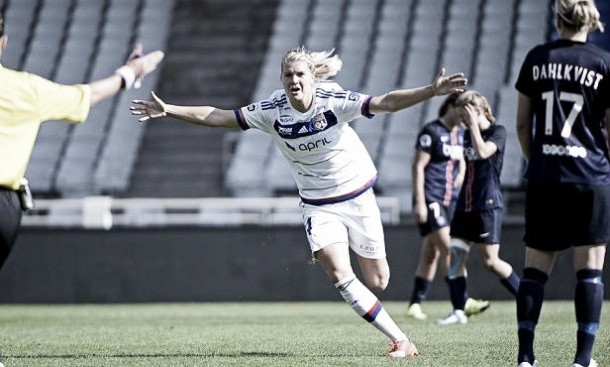 This is a round in which most of the focus will be on Montpellier HSC versus Olympique Lyonnais. Montpellier, currently sitting in second place, takes on league leaders, Lyon, in what has been described by many, as a title deciding game. In addition to this game, third, Paris Saint-Germain, and fourth, Juvisy, also meet, as well as a match-up between La Roche-sur-Yon and VGA Saint-Maur, who are both fighting to avoid relegation.
La Roche-sur-Yon – VGA Saint-Maur
A vital game for two of the promoted teams who are fighting hard to avoid relegation. Currently Roche are sitting in tenth place, one point away from safety, while VGA are one point behind them, so both teams have it all to play for. Both Roche and VGA have had trouble scoring, with seven and 11 goals scored so far, respectively. They also have two of the worst defences in the league.
Consequently the game could go in any manner of ways; a tight defensive affair or one in which goals are being scored at an alarming rate. To use a cliché, it is one of those games that is worth more than three points, as the winner have the opportunity to leave the other behind in the relegation zone.
Who to watch
Keep an eye out for Roche's top scorer Julie Pasquereau, who has netted three times, and also happens to be listed as a defender. VGA's biggest threat is Cameroonian Marlyse Bernadette Ngo Ndoumbouk who has scored eight of the teams 11 goals this term, making her the fourth most scoring player in the league.
When: 14:00 CET, December 5th
Rodez Avejron - En Avant de Guingamp
It is clear that there is a divide between the top four and the rest. When it comes to the rest, Rodez Avejron are sitting in fifth place, nine points behind the leading pack, and are heading the rest of the pack. En Avant de Guingamp have had a less than stellar season so far, and find themselves in eighth place only four points away from relegation.
For a team that finished fifth last season this is below expectations. If Guingamp want to stay away from the relegation zone, a win is needed in this game. Rodez have scored a total of 17 goals this season, but have also let in their fair share of goals, with 27 goals being scored against them – 15 against the likes of PSG, Lyon and Montpellier.
Guingamp's troubles primarily come from the fact that they can't find the goal, and as a result have only scored a mere eight times, but have one of the better defensive records in the league. Everything is therefore set for a game in which Rodez will have to unlock Guingamp's defensive line.
Who to watch
Rodez's 17 goals this season has come from eight different scorers, showing that they have multiple threats, but former PSG player Soléne Barbance seems to be the key. For Guingamp, Ugochi Desire Oparanozie, the former Wolfsburg and Rossiyanka player and current Nigerian international, has had an okay season with three goals for a struggling side. She was their topscorer last season with 11 goals.
Another interesting name for Guingamp is 20-year-old forward Clarisse Le Bihan, who has earned her debut for the French national team, and scored three goals in France's recent Euro 2017 qualifier wins over Albania and Greece. Despite only being twenty, she has been a regular for Guingamp since the 09/10 season.
When: 19:00 CET, December 5th
FCF Juvisy – Paris Saint-Germain
This is not just a match between two of the best teams in the league, it is also very much a game between two different approaches to building a football team. Juvisy was, for several years, the main contender to Lyon. However, once the moneymen behind PSG started to invest in their women's section, and made them professional, Juvisy was left behind.
Juvisy still hold on to the idea that a semi-professional team is the way to go. PSG are three poinst ahead of Juvisy in the league, and with the amount of talent they have in their squad, they have to be considered favourites.
They have performed slightly below expected, and Juvisy is no easy task. PSG have had more players away on international duty, as well as dealing with injuries all season. This is a slight advantage to Juvisy. Both teams have let in seven goals this season, but PSG have the better attacking record.
Who to watch
PSG have plenty of stars to choose form, but it is in their attack where they hold plenty of power, especially Cristiane and Anja Mittag. Cristiane has scored nine goals this season and Mittag has scored five and they have played well so far this campaign. Gaëtane Thiney is the big star for Juvisy. The former French international has been with the club her entire career and has loads of experience from big games.
Another player to focus on from Juvisy is Charlotte Bilbault. She has just claimed her just third cap for France during the international break, starting against Greece, and comes home with a lot of confidence. She and the rest of the midfield needs to bring their 'A' game if they want to neutralise PSG's strong midfield.
When: 21:00 CET, December 5th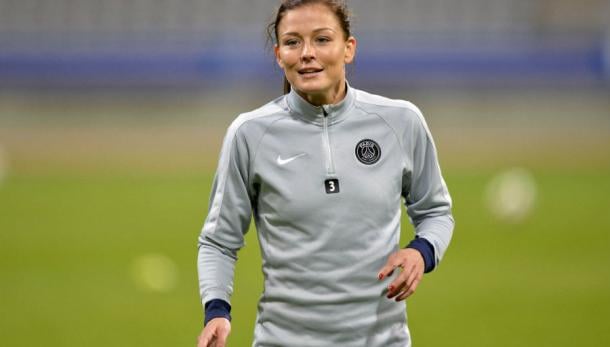 Laure Boulleau will be key to any success for PSG this weekend. (Image credit: football.fr)
ASPTT Albi - Saint-Étienne
Saint-Étienne find themselves in ninth pace, just above the relegation zone, but they are only three points behind their opponents, ASPTT Albi, who are in sixth place. These are two teams who, excluding the top four teams, have two of the best defensive records. With only 12 and 11 goals, their solid defence has impressive greatly.
Despite their poor league position, Saint-Étienne have only lost one of their last five games, and that was against PSG. Albi on the other hand has only won one of their last five games, but they have also faced Lyon, PSG and Montpellier. The teams placed eight and ninth last season, and only just avoided relegation. Neither team can afford to lose, so I expect it to be a defensive affair that could very well end in a draw or a small victory to either team.
Who to watch
22-year-old forward Kimberley Cazeu is Albi's top scorer with three goals, and she seems to be the safest bet goal scoring wise. Defender Manon Rouzies brings some needed experience, and in addition, she has scored 2 goals and played every single minute for her team. Julie Peruzzetto has scored five of Saint-Étienne's 11 goals, and if they want a win, it looks like the goals will have to come from her.
When: 14:30 CET, December 6th
Montpellier HSC – Olympique Lyonnais
When the top teams drops as few a points as they do over the course of a season, it is said to be a title deciding game whenever they meet each other. This is true for this game. Both teams are undefeated this season, but Lyon have a two point advantage to Montpellier, due to beating PSG comfortably 5-0, while Montpellier drew 1-1 with them.
Lyon are no stranger to leading the league, having won it every year since the 06/07 season. They are also leading the league in goals scored with a staggering 58 goals in 10 games. Up until the last round they had yet to concede a goal, but ASJ Soyaux put one past their strong defence. Montpellier have also scored their fair share of goals, but as opposed to their opponents, they have only scored 33 goals. Like Lyon, they have only conceded one goal.
Montpellier have the home advantage and their international players have only played a combined total of 442 minutes whereas Lyon's have played 1282 minutes, with goalkeeper Méline Gerard and defensive-midfielder Amel Majri playing all the minutes in Frances two Euro 2017 qualifiers.
Lyon are without their captain Wendie Renard, but they also have one of the strongest player pools in women's football and have quality replacements. Lyon have to be considered favourites, but Montpellier have shown this season that it would be a mistake to write them off.
Who to watch
Picking one player from Lyon is a bit like being a kid in a candy store. The answer to that can, however, be none other than Ada Hegerberg. The young Norwegian has scored an impressive 17 goals, and is comfortably the leading goal scorer in the league.
Montpellier likewise have plenty of stars, but Sofia Jakobsson, who was voted the best player in France last year, has to have a good day if Montpellier are to win. As it always is for any team facing Lyon, they have to be good in all areas, from goalkeeper to forward.
When: 14:30 CET, December 6th
ASJ Soyaux - Nîmes Metropol Gard
Nîmes Metropol Gard have not won a game so far and have the worst defensive and attacking record in the league. Soyaux find themselves in seventh place, but with a win, they could overtake Rodez in fifth place. Soyaux has scored 10 goals and let in 23, so Nîmes are not without a chance. If Nîmes can control their defence, like they did in their draw against Albi, they could surprise everyone. However, Soyaux are the favourites.
Who to watch
Forwards Sabrina Oumeur and Elodie Ramos has scored five of Nîmes' six goals, and any goal for Nîmes is likely to come from either one of them. Due to the nature of the game, the key player for Nîmes could very well be their goalkeeper Delphine Saez. For Soyaux, midfielder Justine Deschamps, who has two goals to her name, and forward Laura Bourgouin, who has scored three and is their leading goalscorer, are their key players.
When: 14:30 CET, December 6th