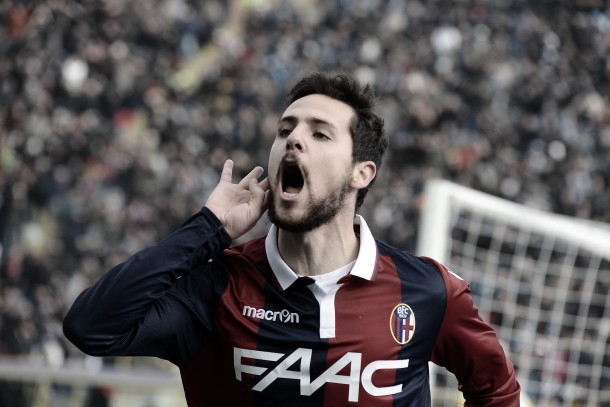 It was a tough day for Napoli as they missed a great chance to go top of Serie A with a 3-2 loss to Bologna.
Hosts get off to a quick start
It was a quick start for Bologna as they showed no fear when facing an in form Napoli team that looked like they could score at any moment. Napoli had the first chance of the game when Lorenzo Insigne had his shot inside the box saved by Antonio Mirante.
Former Roma man Mattia Destro got in behind the Napoli defence in the 14th minute and was off to the races. The Italian international calmly slotted it past Pepe Reina for the first goal and suddenly the hosts had the lead. Things went from bad to worse when Luca Rossettini found himself free off a corner and was able to head in from close range to make it 2-0 Bologna.
Down two and their unbeatean streak on the line, Napoli came back with some solid chances after the second goal. Insigne had his header saved by Mirante and then Jose Callejon had his shot from the right side of the box drill the woodwork after the ball rolled to him folling a blocked Gonzalo Higuain shot.
Those were the biggest chances of the half as Bologna took the lead into halftime against the hottest team in Italy.
Bologna add to their lead, but Napoli fight back
Down two, many expected Napoli to come out in attack mode and that's exactly what Maurizio Sarri's men did. Higuain had a shot inside the box go over the bar and had a header saved. Insigne also had another shot of his inside the box saved. But it didn't matter as Bologna added a third on the break.
After Higuain had his header saved, Bologna were able to work their way down the field and it was capped off with Destro taking a wicked shot that landed in the bottom right corner off the net. It was 3-0 and the rout was on. They almost made it 4-0 in the 74th minute but Anthony Mounier's effort from close range went over the bar. Napoli had a close range effort of their's go off target as well as Dries Mertens missed a pure sitter in the 85th minute.
Napoli got on the board when Higuain found the back of the net from a strike inside the box to make it 3-1. Then five minutes later, Higuain did the same thing and suddenly it was game on with only stoppage time remaining.
Bologna were able to hold off Napoli in the final moments to take all three points to move to 15th in Serie A.