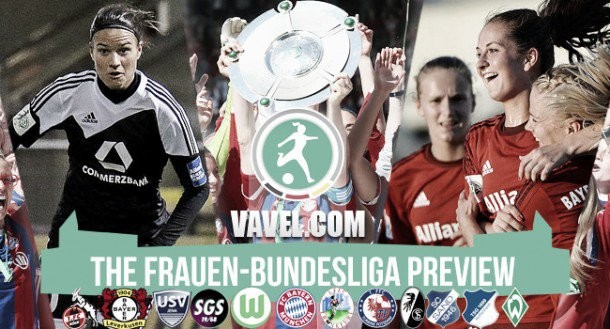 It's not long until the Frauen-Bundesliga pauses for winter now and so, just a week after returning from the international break, it's important for teams to rack up points in the few games leading up to this interval in order to return in the New Year in good stead.
One team certainly in good stead are reigning champions Bayern Munich, who come into matchday 11 nine points clear at the top of the standings following VfL Wolfsburg's defeat against 1. FFC Turbine Potsdam last time out.
However, with the big three having relatively straight forward fixtures this weekend, it seems unlikely that this will become a greater margin, though it will be expected to stay as large as it is now.
Routine wins expected for top three
Following last week's exciting fixtures, which saw Wolfsburg and Potsdam face off whilst surprise package SGS Essen played the champions, the schedule is a little more predictable this time round. However, that's not to say that there won't be surprises, as there always is in the top flight of women's football in Germany.
Bayern's test this weekend is arguably the biggest of the big four, with them travelling to face TSG 1899 Hoffenheim on Sunday. Their hosts rose to fifth in the standings last time out with an emphatic 4-0 win away at Werder Bremen and are now only four points off the top two after a good start to the season.
However, they will have some task in continuing this against the leaders, with Bayern unbeaten in their 10 games so far this campaign. Only one of those has been a draw, and their consistency and ability to beat even their toughest rivals means they look set to retain their title for the first time in their history.
The combination of striker Nicole Billa and midfielder Martina Moser will be Bayern's biggest worry at the weekend, the Hoffenheim pair boasting seven goals between them this season after being, undoubtedly, the team's most key players. Nonetheless, with just three goals conceded in their first 10 games, the pacesetters should be fine as they look for another victory.
Second-placed Wolfsburg are also on the road on Sunday, travelling to bottom side 1. FC Köln. However, the newly-promoted strugglers will head into that fixture off the back of their first win of the season, having beaten USV Jena 2-0 on the road last week. 
Buoyed by that victory, Köln will be confident on their own patch as they look for a first home win of the campaign against a team who were hammered 5-2 by Turbine Potsdam last time out. A 3-0 victory for Wolfsburg in the cup over Potsdam helped them regain some momentum in midweek, and, whilst Köln are a committed team who will be no pushover, they can further repair the damage with another three points in this fixture.
Another team expected to record a comfortable win are 1. FFC Frankfurt, who are hosted by Bayer Leverkusen on Sunday. The signing of Annike Krahn in the summer had many thinking Leverkusen really meant business this season, but they have flattered to deceive and are now only one place and two points above the relegation zone.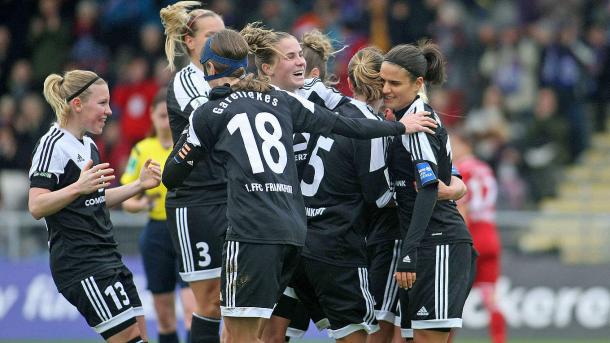 Injuries to key players like Turid Knaak have not helped, but the team have been messy on the pitch and were all over the place again in their 6-1 thrashing at the hands of SC Freiburg last week. It's their defence which is their biggest weakness, which is especially worrying given Krahn's arrival.
One can expect it to be another enjoyable day out for Frankfurt and their attackers in particular as they look to gain ground on the top two, sitting outside the Champions League places only on goal difference. This game can give them a chance to make up that deficit too, with the reigning European champions expected to find the back of the net more than a few times against their struggling opponents.
Turbine making amends for slow start
After losing four of their opening five games in the Frauen-Bundesliga, Potsdam are slowly but surely making up for this horrific start and that was shown in their incredible 5-2 win over Wolfsburg last week.
They should continue to repair this damage on Sunday too as they play hosts to Werder Bremen, who are currently second-from-bottom in the table and two points from safety, occupying a relegation zone. Last week, the newly-promoted side were thrashed 4-0 by Hoffenheim too and will not be the most confident coming into the game. 
Nonetheless, they did manage to take Bayern Munich to extra time in the DFB Women's Pokal in midweek, the scores goalless after 90 minutes - largely thanks to the superb performance of Jennifer Martens in between the sticks. They will need the German stopper to be on top of her game once more this Sunday to stop a rampant Potsdam front line too, particularly Svenja Huth, who bagged a hat-trick last weekend.
Huth, on the other hand, will be looking to add to the five goals she already has this season in order to help side move her side up the standings, with Potsdam able to move up to fifth - from eighth - with a win, if other results go their way.
Fourth host sixth in game of the weekend
The most interesting fixture this weekend, however, does not feature any of the traditionally big teams but instead two of the most exciting upcoming sides as Essen welcome Freiburg.
The former currently sit in an astonishing fourth and were very unlucky not to take points off of champions Bayern at the weekend, Sara Däbritz's 88th minute winner denying them a point in a tightly-contested game.
As for Freiburg, we will see the real strength of their squad this week as they will not be led by star player Lina Magull. The on-loan Wolfsburg player separated her shoulder in the 6-1 thrashing of Leverkusen at the weekend and then had surgery on the problem on Monday, with her expected to be out for a number of months.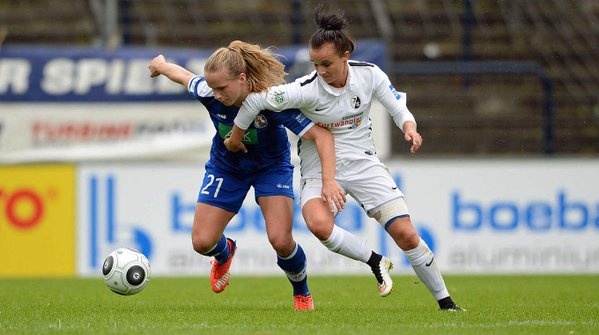 With five goals in her 10 games from midfield so far this season, she will be a big loss, but Freiburg will have to cope without her in order to keep up the form that has seen them move up to sixth in the standings. Essen, on the other hand, will see her absence as a huge boost and something that can not only help them to victory, but to what would be just their fourth clean sheet of the campaign, with them having leaked far too many goals this season despite their lofty position.
With both looking to push on, they will have to be winning games like these in order to do so, especially to move up the standings as they aim to take points off those around them.
Sand face Jena for second time in five days
The final game this weekend sees Sand host Jena in a reverse of Wednesday's DFB Women's Pokal quarter-final tie, in which Jena were defeated 4-1 at home.
Nina Burger was the match-winner on the night with a super hat-trick, and so this weekend's visitors will be looking to keep her a lot quieter this time out and will hope that they have learned plenty from that loss in order to get a better result this time. Having seen Wolfsburg beat Potsdam 3-0 on Wednesday too, just a few days after a 5-2 defeat in the league, they will be confident of emulating similar rebound success.
Most of all though, Jena need a win to get them away from a relegation scrap that is calling their name. After two successive defeats in the league, the latest of those giving bottom side Köln their first win of the season, they sit just four points and two places above the drop.
This seems incredible given that this time last month they defeated Potsdam 1-0, but their form since has been poor and now they need to defeat one of the smallest teams in the league, albeit one who are defying expectations marvellously, to get back on track.
Sand's youthful and exciting side sit in seventh amongst the likes of Hoffenheim, Freiburg and Essen coming into this match as they look to keep themselves in that packed mid-table area. They will see this as a more than winnable fixture too, especially after Wednesday's result, and so will be hoping to put pressure on those around them with all three points.
Nonetheless, they must avoid complacency that the cup win could bring as Jena will fight desperately for well-needed points.