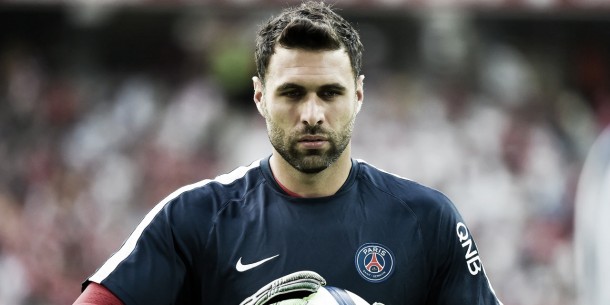 Salvatore Sirigu looks set for a move away from Paris St Germain after it emerged that he refused to play in the Ligue 1 sides final Champions League group match against Shakhtar Donetsk according to L'Equipe.
PSG head coach Laurent Blanc had decided to field the Italian international in the final group game with the French champions already assured of the runners-up spot in Group A, but Sirigu is believed to have told Blanc that he didn't want to play as it would mean he would be ineligible to play for another club in this seasons Champions League.
Sirigu, 28, moved to the French capital in 2011 from Palermo and he had been a regular in the team for the first four seasons of his stay, winning three Ligue 1 titles and being named Goalkeeper of the year on two occasions. However, PSG signed Kevin Trapp from Eintracht Frankfurt in the summer and the German has won the starting spot which has led to Sirigu considering his future with Euro 2016 just six months away.
Clubs line up for Sirigu
Sirigu has long been linked with a move to Serie A and it is thought Roma head the list of clubs linked with the stopper. Aston Villa and Newcastle United are also thought to have ambitions of bringing him to the English Premier League but neither are involved in European competition which would appear to rule both teams out.
Roma have stuggled in recent seasons to find a reliable goalkeeper with Morgan de Sanctis finally losing his starting role to Wojciech Szczesny this season but the Pole, who is on loan from Arsenal, doesn't look to be the answer to Rudi Garcia's issues and should Sirigu be available is is likely that the Giallorossi will make a move to bring him to the Italian capital.
Sirigu has 15 caps for Italy and it is understood that he feels a move is necessary if he is to add to that tally and with Roma still in the Champions League he would be delighted to sign for Garcia's side.