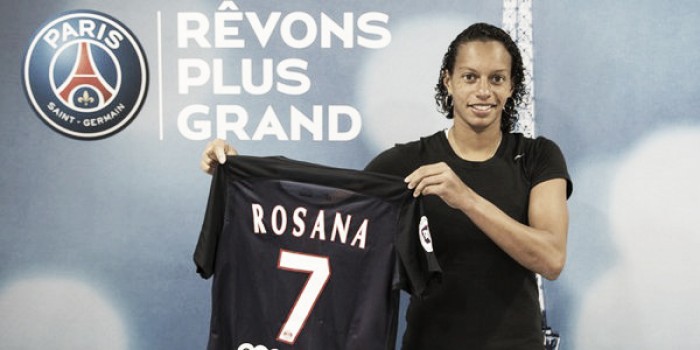 The agreement between left back and midfielder Rosana and French club Paris Saint-Germain was confirmed on Wednesday.
An important part to play
The versatile veteran was presented to the media and will join the team for the remainder of the Division 1 Féminine, Coupe de France Féminine and the decisive phase of the Women's Champions League.
At 33, the player born in São Paulo began her career at age 15 with her local team. At European level, she played for Austrian outfit SV Neulengbach between 2004 and 2008. Rosana would go on to have spells at Olympique Lyon, Sky Blue and, more recently Norwegian club, Avaldsnes.
Great success with Brazil
Since the early noughties, she has played her part in the Brazil national team. She played in the 2003, 2007, 2011 and 2015 World Cups of, plus four Olympics (2000, 2004, 2008 and 2012). In 2007, she was part of the side that lost the final against the Germany, and has won two silver medals in the 2004 and 2008 Olympics.
She is the third most-capped player in the team's history, surpassed only by Cristiane and the legendary Formiga. Rosana joins fellow Brazilians Erika and Cristiane at PSG, who have been there since September.
PSG happy to have her on board
The PSG coach, Farid Bensiti, celebrated Rosana's arrival, saying it will give a great increase of quality in her half of the team. "It is a massive reinforcement for the club to sign an experienced player like Rosana, who has won many trophies." The boss added, "She is a power player with a huge technical quality and will help to strengthen our midfield.".
Rosana also gave her thoughts on the move, "It's great to be back in France and to play with the Brazilians. It is very cool to play the champions [Lyon] again. I hope to keep to the same level of Brazilians who play here."
Massive games to come
The next match of PSG is arguably the biggest of the season. The Paris team will face the league leaders and main rival, Lyon, knowing a win is vital to have any chance of ending OL's dominance.
Due to difficulties with documentation, Rosana debut won't take place this weekend. Her debut could come on the 14th, in the Coupe de France where PSG face Juvisy in the quarter-final. There is also a Champions League clash with Barcelona to come.