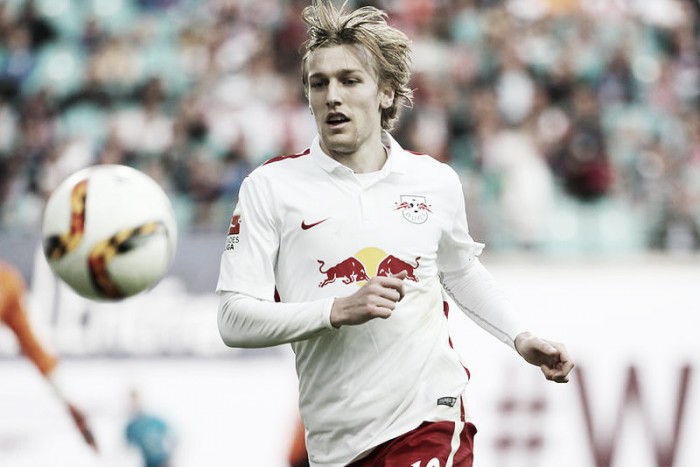 On Wednesday, RB Leipzig confirmed the news that Emil Forsberg had extended his contract with the club.
This is a huge signal of intent from the Red Bull Arena outfit, who look certain to be a Bundesliga team come the 2016/17 season.
Forsberg in fine form
After initially struggling to make any sort of impact following his move to the 2. Bundesliga, Forsberg has took up the mantle of being Leipzig's go-to player this term.
Whether or not it was the near £3m fee that put pressure on him or the decision to leave his home country, the faith and time given to him so that he could adapt has proven invaluable.
With six goals and five assists this season, Forsberg seems to be an almost certainty to claim a spot in the team of the year and is the current favourite to claim player of the season.
Such is his impact in the second tier, he started and scored in Sweden's crucial play-off game against Denmark.
This form has, most likely, propelled him into the eye of Bundesliga clubs and others from further afield. However, given the project Leipzig have planned, he looks to have made the right decision.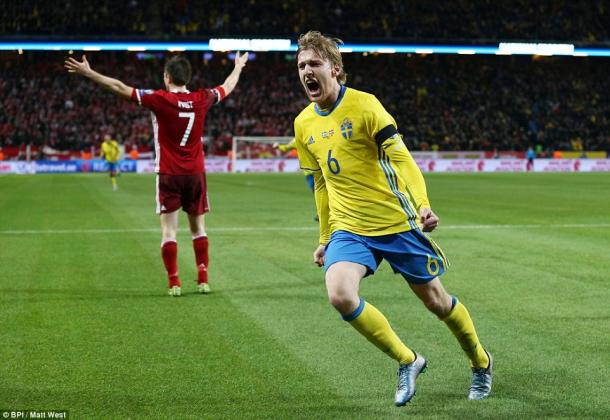 Rangnick over the moon
Sporting director and head coach, Ralf Rangnick spoke to the club website after the announcement was made. He delivered possibly the most important news of all.
"There is no buy-out clause included," he said. Even though Leipzig have huge financial clout themselves, an agreement between player and club to include such a clause would not have been a surprise, allowing both to be rewarded sufficiently should they continue in the same vein.
Though this shows the trust that is being put in players in Leipzig, and that is something Rangnick mentioned in another comment: "The extension of the contract was a show of the trust between the two [player and club] and we are very excited about the agreement."
Forsberg himself spoke on the deal, "I am very happy with the extension. I love the town and the team. For me there was not much to think about." He added, "I have developed steadily under Ralf Rangnick. For me it was clear, to remain a part of this process."