Erin McLeod is likely to be out for the entire of FC Rosengård's season, according to the club.
The Canada international went down injured in the Swedes' 1-0 defeat to 1. FFC Frankfurt last Wednesday and, just before the second leg of that UEFA Women's Champions League tie, the news is that she could be out for the rest of the 2016 campaign.
McLeod only joined the club this year but says she is determined to "fight [her] way back" to play for them, adding that she "already love[s]" the city of Malmö and so wants to stick around.
Extension for Lundgren?
Last season's first choice 'keeper, Zecira Musovic is still recovering from a broken bone in her hand but is nearing a return. Next week the injury will be in plaster, but that fact remains that she is still unavailable to play.
This leaves Rosengård with just Sofia Lundgren ahead of the start of the Damallsvenskan season, with even junior stopper Olivia Elofsson on the sidelines with a foot problem.
A contract extension for Lundgren seems inevitable then, with her only on a short-term deal at the moment after Rosengård expected both McLeod and Musovic to be fit to compete for a starting berth next month.
Sporting Director Therese Sjörgan said that the club and the player will discuss this possibility after the Frankfurt match, but added that she "expect[s]" Lundgren to stick around, though she does have "a family to consider."
The experienced 'keeper herself says that she is "open for discussion" even though she has "not heard anything more" about her contract yet.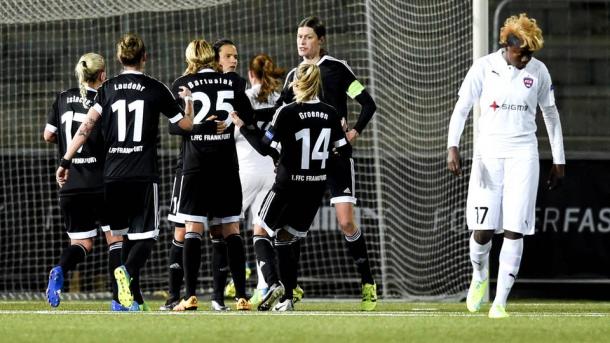 Short-term solution enjoying her stay
Even though she has only been recruited as a temporary answer to Rosengård's injury crisis, Lundgren is certainly enjoying her time with the club too.
She is familiar with a lot of players at the club, having played with Lina Nilsson and Emma Berglund for Sweden's national team, as well as with the latter at Umeå "when she was a little whippersnapper."
She's also impressed by the quality of some of the personnel new to her, picking out Anita Asante and Ali Riley as "two really good players."
Despite all the quality though, Lundgren believes Rosengård were "a little stressed" in the first leg with Frankfurt, which they lost 1-0. As a result of that defeat, they head to Germany tonight chasing the tie and needing a win away from home.
Given the way the quarter-final is poised, Lundgren is expecting "a lot of counter-attacks" from Frankfurt, with Rosengård likely to spend most of the game on the front foot and in possession as it is they who need to emerge victorious.
However, while this could prove to be dangerous for her and her defence, she believes that the first leg "went very well" in terms of her trying to "control" things from her area, and that "the players trusted in what [she] said."
Lundgren will hope that the same occurs tonight too as a clean sheet will surely be necessary if Rosengård want to make it through to the last four.