The tail end of the season brings with it mixed feelings for different teams.
Each Division 1 Feminine side has four games left to play, but some don't have much to play for in them. Two teams are down, the top two are seemingly decided, and it also seems unlikely that Olympique Lyonnais will let their firm grasp on the league title slip.
However, there's still safety to ensure and targets to achieve as everyone tries to go out on a high.
Time to fight
For La Roche-sur-Yon, it's now or never if they want to stay up this season. Six points from safety with only four games to go, their clash with Guingamp this weekend is one of the most exciting.
Guingamp are the team they are chasing to climb out of the drop zone, and defeating them on Saturday evening would cut that deficit to just three points and make the task a lot easier heading into the last three games.
A win the other way, however, would go a long way in helping Las Costarmoricains book their place in next season's top flight. They come into the game with a lot of confidence after a 3-1 win over Saint-Étienne too, especially Desire Oparanozie after her match-winning hat-trick.
Soyaux and ASPTT Albi will be boosted heading into their fixtures, with them to face the two now-relegated sides; VGA Saint-Maur and Nîmes Metropole Gard respectively.
With the bottom two now playing for nothing but pride, their opponents this weekend will be confident of beating them to aid their own survival bids, but cannot underestimate them just because they are down.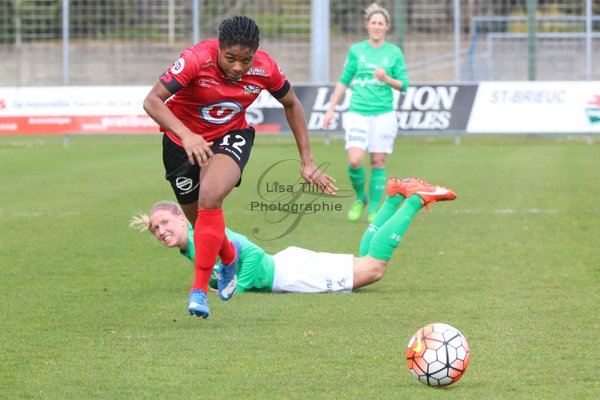 Nothing is over at the top
At the other end, however, nothing is guaranteed yet.
This week is perhaps the most likely yet for a Lyon slip-up. They left the Czech Republic in midweek after being utterly frustrated by Slavia Praha, drawing 0-0 in the second leg of their UEFA Women's Champions League quarter-final, and clash with a Juvisy side on Sunday who are brimming with confidence.
They defeated Montpellier 3-1 on the road last time out and have moved up to third as a result, with their own hopes of securing a top two spot not over.
A win over Lyon would be a huge statement, but highly unlikely given that the leaders haven't lost all season. However, both Montpellier and Paris Saint-Germain have held the pacesetters to goalless draws this campaign, and a point would be a bonus one for Juvisy as they look to emulate the former two, as well as Slavia.
Lyon fielded a full strength XI in Europe and that could come back to haunt them if fatigue shows in this weekend's big clash.
Waiting to pounce if they do falter will be Paris, who visit Saint-Étienne this weekend for what is expected to be a very one-sided affair. The title-chasers have been a little out-of-sorts as of late, but have managed to grind out the wins necessary even without being at their best and will be full of confidence after sealing their place in the last four in Europe this week too.
Finally, Montpellier will be looking to bounce back from last week's loss when they visit Rodez on Saturday evening. The two are separated by a huge 12 points but just one place in the standings, with Rodez the best of the rest this season and sure to be a tough test.
Montpellier may be seemingly out of the race for a top two finish, but if Juvisy are defeated by Lyon then it could offer them a way back in to apply the pressure to PSG.