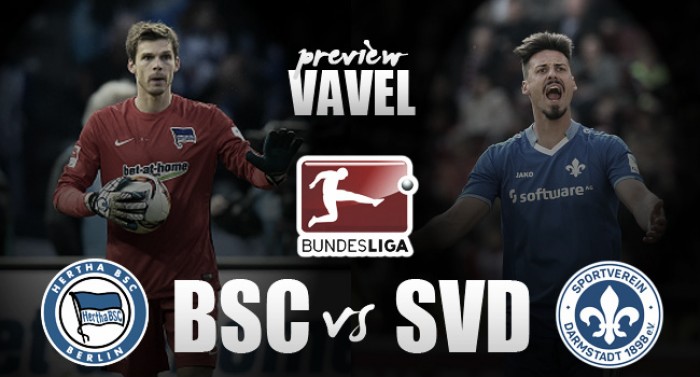 Two sides who have performed well-above expectations in this season's Bundesliga prepare for their penultimate match of the year as Hertha BSC welcome SV Darmstadt 89 with their dreams hanging in the balance.
Have Hertha been awoken into a bleak reality?
Having been third for so long that dream has now blurred into a starker reality with Hertha's attention turning to clawing their way back into fourth spot and qualification for the qualifying rounds of next season's Champions League. However, the prospect of finishing as low as seventh hangs over the Olympiastadion with the team needing to arrest a horrifying slump of five matches without a win which has seen third slip beyond them.
Last weekend's miserable performance away to Bayer Leverkusen was the final nail in the third spot coffin, and with Borussia Monchengladbach overtaking the Berliners on goal difference to fourth spot, the once likely Champions League football looks to be slipping beyond them.
Of course, anywhere from fifth to seventh would still represent an encouraging and ultimately successful season for a side who shamefully flirted with relegation for so long last term, but the desire for what might have been has slowly crept to the fore of their supporters' thoughts.
Damrstadt desperate to upset the odds
SV Darmstadt meanwhile have their own problems at the other end of the spectrum, with defeat in last weekend's match to Eintracht Frankfurt dragging the Hessians back into the ruthless relegation battle. With two games left, there is a chance that they could still finish as low as 17th, and with their final game of the season at home to Gladbach, their 35 points accumulated now could increase no further.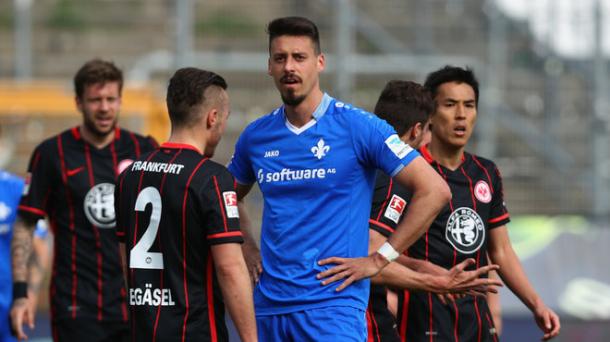 Yet, to still be within a chance of maintaing their Bundesliga future at this late stage surely represents a success story akin to that of David and Goliath; maybe even more so than newly crowned Premier League champions, Leicester City. For so long stuck in the lower leagues, which included a spell in the fourth level, Darmstadt's rise to the Bundesliga came as shock to even their own fans. However having spent two seasons in the Bundesliga before, only to be relegated straight away on both occasions (78/79 and 81/82), the same fans will be hoping history doesn't repeat itself.
One out, two in for Hertha
Going into Saturday's crunch match, there is bad news of Hertha BSC as an accumulation of yellow-cards means Marvin Plattenhardt misses out for the first time in the Bundesliga this season. Having performed so well and scored a terrific free-kick in Hertha's 4-0 win over Darmstadt earlier in the season, the left back's exclusion comes as a huge blow for Pal Dardai. However, it does give Johannes van den Bergh or youngster Maximilian Mittlestädt a chance to prove themselves.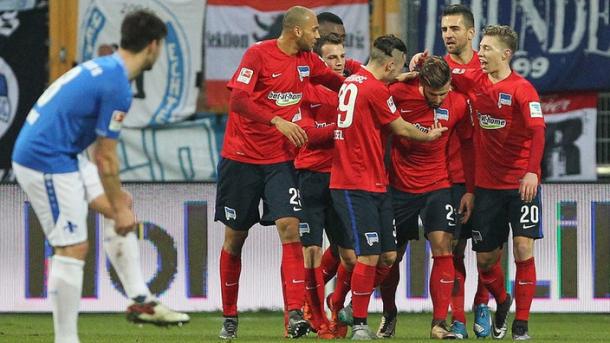 However, there is good news for the recently leaking backline, with John Anthony Brooks returning to training this week and his absence has been felt. Additionally, Vladimir Darida, the influential midfielder, has also returned to training, but he faces less of a chance of playing. 'We must see how my knee reacts (to being back in training). But as things stand today, I stand a good chance of playing.' He told the Hertha BSC website.
'I am glad that they both can train again,' said Pal Dardai, 'but I do not want to give false hope (of them playing).'
Meanwhile, Sandro Wagner, Darmstadt's top-goalscorer, returns to the Olympiastadion for the first time since he left Hertha BSC in the summer. With 13 goals this season, he will be hoping to enjoy a fruitful return to the capital.
Regardless of the result, Hertha's players should rightly be congratulated one last time in front of their own fans. However, by the end of the 90 minutes one question should be clearer. Will Hertha's Champions League dreams remain or will Darmstadt take a massive step towards safety?