 Haris Seferovic's second half strike was enough to secure a 1-0 win and 2-1 aggregate triumph for Eintracht Frankfurt, as they held on to their Bundesliga status.
The game never really lived up to expectations, or last year's drama at the death, but that will matter little to the victors.
1. FC Nürnberg, however, will be hoping to get back to the big time next season.
Drab and dreary first half
It was a game of cat and mouse early on at the Frankenstadion, as Frankfurt dominated the ball and territory but found it hard to break down a stubborn defensive action from the hosts. On the other hand, René Weiler's men were hoping to strike on the counter - the tension was palpable.
There was one sour moment in the early stages, however, as Marc Stendera suffered a serious knee injury and had to be brought off following lengthy treatment. Marco Fabian was his replacement as both teams resorted to long-range attempts, perhaps in frustration as much as anything.
Frankfurt were the side creating more chances, as David Abraham and Änis Ben-Hatira both saw headed chances go astray. Seferovic and Szabolcs Huszti provided the threat from range but Raphael Schäfer was equal to the late attempts. At half-time, it was anyone's guess as to who would kick on in the second half.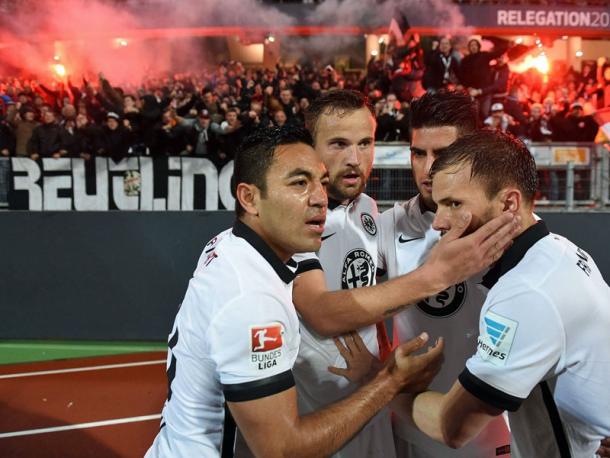 Seferovic scores the all-important goal
The start of the second half was no better, as both sides struggled to get any sort of meaningful movement forward. Frankfurt, still on top, opted to bring on Alex Meier in an attempt to break the deadlock. The tall forward didn't have the immediate impact that Niko Kovac would have wanted, though.
But eight minutes after Meier's introduction, there was a breakthrough for Frankfurt. Mijat Gacinovic, who grabbed the goal in the first leg, ran rings round Miso Brecko. The defender was bamboozled and then Gacinovic picked out Seferovic in the middle to finish off; cue wild celebrations in the away block.
Weiler then threw Danny Blum and Rurik Gislason into the action, hoping to spark some sort of attacking revival. Aside from Niclas Füllkrug's tumble in the area under pressure from Carlos Zambrano, there was little to rouse the home support and Frankfurt's game management was down to the final second. They had survived, just.