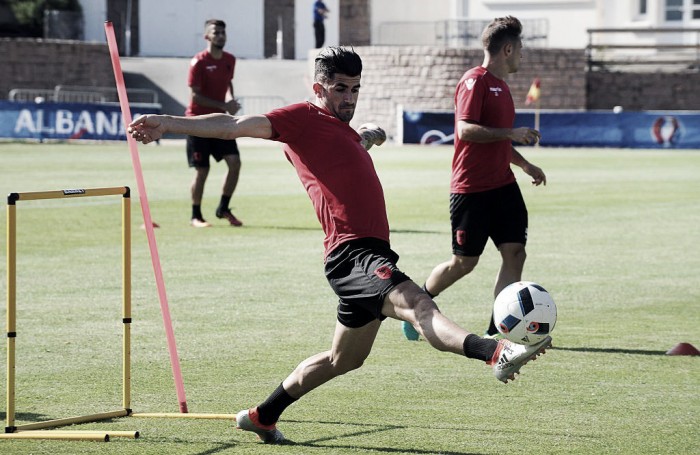 Gianni De Biasi gets Albania's European Championship campaign underway on Saturday when they face Switzerland at the Stade Bollaert-Delelis.
After qualifying for their first ever major tournament, their Italian manager will be tasked with getting his side into the knockout stages ahead of France, Romania and Switzerland.
In the past, Albania has been in the worldwide media for the wrong reasons, including a civil war.
"Albanian people have been dispersed for the last 30 years," said Maher Mezahi. "The national team is a gathering post that Albanians – in the diaspora and back home – can unify around."
Defying all odds?
Albania played a 'historic' qualifying campaign, whilst grinding out results at home due to their 'feverish atmosphere'.
Whilst many experts have predicted the Eagles to fall at the first hurdle, they could yet prove a challenge for some national teams.
"Teams underestimating Albania could be in for a rude awakening," added Mezahi. "The team is tough to break down and are particularly efficient with their set-pieces."
That could prove a stumble for Switzerland, who are likely to start with a centre-back pairing of Michael Lang and Johan Djourou.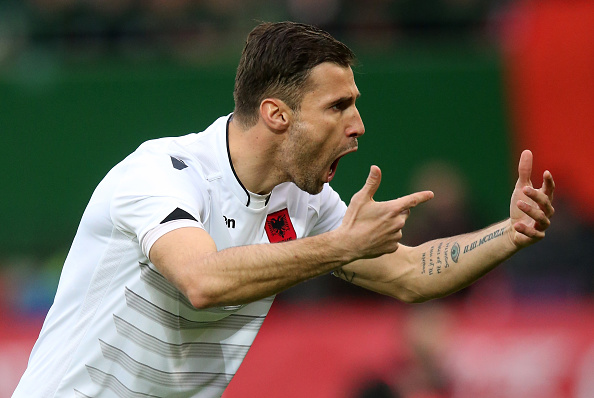 De Biasi's side themselves do have some big names in their squad, which includes former Marseille and Sunderland player, Lorik Cana and Ermir Lenjani, who plays his domestic football for Nantes.
"Albania will need their big names to show up," said Mezahi. "Cana, Gashi and Berisha can only bail Albania out of tough situations if the rest of the squad play well enough to keep them in matches."
Istanbul Basaksehir forward Sokol Cikalleshi will spearhead the attack for Albania – despite scoring just two international goals – who has been prolific in both the Albanian Superliga and the Turkish Super Lig.
"He's a battering ram of a striker," added Mezahi. "He was unlucky in qualifying as he hit the post and bar on a couple of occasions.
"Besides Cikalleshi, Gashi could nick a goal as could any of their big men on set-pieces."
How will they play against Switzerland?
The Italian manager is likely to line up his side in a 4-3-3 formation, which can equally adapt to a 4-5-1 against Switzerland on Saturday.
"Wingers Andi Lila and Emir Lenjani are full-backs by trade, so they do a lot of work doubling down on opposing wingers," said Mezahi. "Albania won't commit too many men forward, but they will attack through the channels and try whipping crosses into Cikalleshi."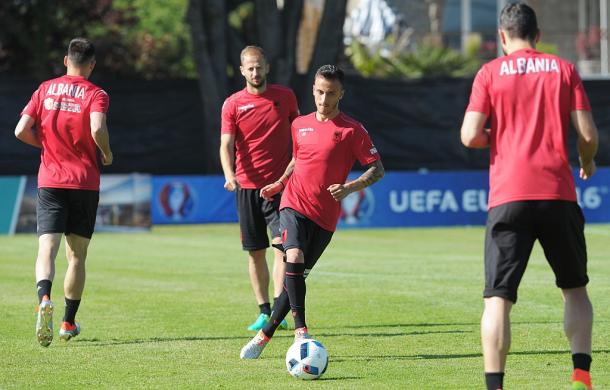 Albania are very strong in defence, and they will try to utilise that against the Swiss.
"Teams need to work to score against Cana & Co.," stated Mezahi. "However, I've picked up individuals who can be prone to mistakes, which can by quite frustrating."
This could be down to the fact that only three players have more than 35 caps.
End note? Albania can push whoever they come up against. If they can apply De Blasi's structured gameplan, they could shock Europe and kill a giant or two.