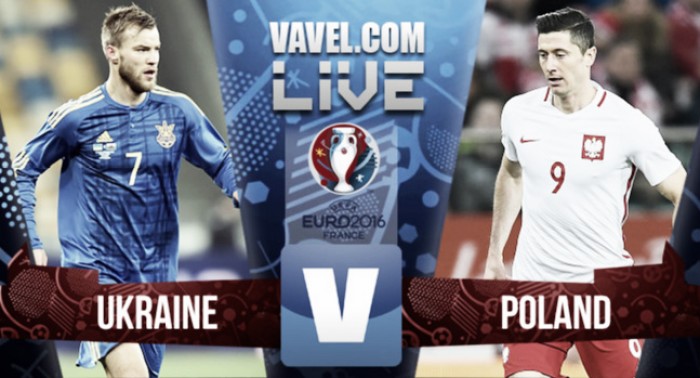 This is Sophie Lawson saying goodbye and thanks for joining me tonight.
We might be done with Group C but there's still plenty more action from Euro 2016 to come today as we have LIVE commentary from the last two Group D games.
Rosie Tudball will keep you updated with all the news from Turkey - Czech Republic whilst Ayden Hussain will take you through Croatia - Spain.
That's all folks, both had their chances but it's finished in Poland's favour, Jakub B?aszczykowski on as a substitute with the lone goal.
FT: 0-1
90+3' SUB Starzy?ski has come on for Milik
90+2' SUB Anatoliy Tymoshchuk has come on for the last few seconds and what must be his last appearance at a major tournament
90+1' There'll be a minimum of 3 minutes of stoppage time
88' This has been really bright stuff from Ukraine in the last fifteen minutes, Konoplyanka absolutely huge on the left and Yarmolenko who's been working hard all game is still going at full speed
86' It's all hands to the pumps for Poland as Ukraine have found a second win and are going out fighting, bodies piling forward. Krychowiak on the floor, doing everything he can to keep the Yellow and Blues at bay
82' SAVE Bit of controvosy as Konoplyanka takes a throw that looked like it should have been a Poland ball. The Sevilla man huge in the build up as Poland had to throw everything at the ball in the box, it fell to Rotan outside the box, he struck his shot to the bottom right corner cleanly and Fabia?ski did well to make the diving save. Fabia?ski scurrying on the loose ball to grab before Ukraine could pounce.
80' CHANCE Yarmolenko does superbly well to get his cross into the box for Zozulya, the big Dnipro man jumps well and watches as his header just beats the post and bounces out for a goal kick. One of Ukraine's best chances in this half
76' less than fifteen minutes left to play both games are still poised at 1-0, Germany going through as the group winners and Poland the runners up (and various options for Northern Ireland to go through as one of the best third placed finishers).
As it is Poland look good money for a second.
74' CHANCE Grosicki whips in a ball from out wide at a free kick, Milik does well to rise highest but his header skews just wide
73' SUB Viktor Kovalenko on for Oleksandr Zinchenko
71' Pinball in the Poland box as Ukraine can't get a shot away and Poland just can't clear it. The ball falls to Zinchenko who blazes over from close range
This should be a good 20 minutes for Kamil Grosicki who's most likely to start the next match with Kapustka suspended
71' SUB Grosicki on for Kapustka
70' Krychowiak concedes a free kick for a deliberate handball after falling on the ball and grabbing it.
69' Konoplyanka, who was absent in the first half, has really sparked into life, so much coming through him on the left
68' Stepanenko is the next Ukrainian player to test his luck, that's a poor challenge and he should have seen a yellow for it but the ref thinks better of it and keeps the cards in his pocket
65' Poland will want a second but they can't get out of their own half
63' Konoplyanka sends in another great cross for Zinchenko but the young man heads back out instead of going for goal, the ball finds Zozulya who get's it out of his feet back to Konoplyanka who sends it over the bar from outside the box.
61' bit of pinball in the Poland box results with Zozulya trying an overhead kick from outside the box. Little to worry Fabia?ski.
60' YELLOW Kapustka with a silly foul and he'll miss the next game
56' CHANCE. They're playing with confidence now, Milik breaks on the left and feeds Lewandowski through the middle, his touch isn't great but he gets the ball away to Bartosz Kapustka (who's been quiet), the Cracovia man carries it into the box, looks certain to score but can only find the side-netting. What a chance for Poland to add a quick-fire second.
54' It's a well worked short corner that sees B?aszczykowski wriggling away from the defender, cutting inside and he's curled it beautifully into the back of the net. Super sub.
54' GOAL B?aszczykowski
54' Jod?owiec with a flick towards Lewandowski but the touch is too heavy and Poland win corner
51' He thought about it for a bit but the ref has awarded Ukraine a free kick for a foul on Konoplyanka but the Yellow and Blues haven't been as incisive so far in the second half and it's cleared away.
49' CHANCE Konoplyanka's cross is perfect for Zinchenko but the young midfielder can only flick the ball over the bar - he's been one of Ukraine's brightest, certainly a name to remember.
46' 20seconds in and Yarmolenko wins a corner but again it's dealt with
46' and we've kicked off for the second half and Ukraine strart brightly
HT SUB Jakub B?aszczykowski on, Piotr Zieli?ski off
HT stat attack, both sides have had 6 shots. Ukraine with one on target, Poland with two.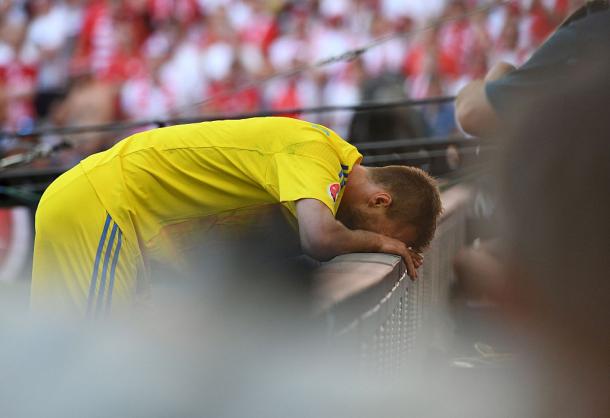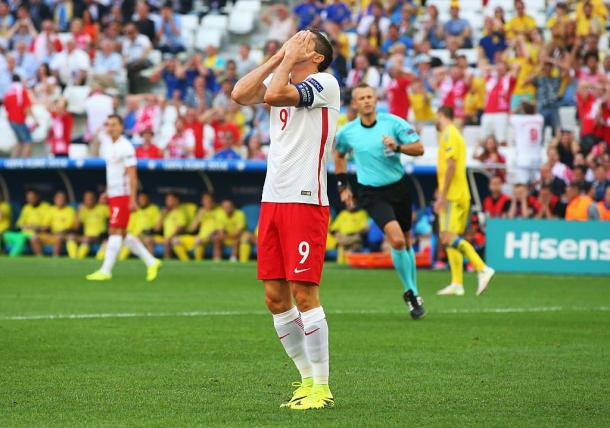 HT Poland started well and could have easily been 2-0 up inside of five minutes but Ukraine settled well and have enjoyed the lion's share of possession (66%-34%) but neither team has had the right finish
HALF-TIME 0-0
45' Jod?owiec is happy to try his arm from outside the box but it's easy work for Pyatov to gather
44' Yarmolenko sets up Fedetskiy but the full-back's cross is overhit and once again Poland look to clear
39' CHANCE Konoplyanka's free in the box with the ball at his toe but he just can't get his shot away and once again Poland smuggle the ball to safety. But yet Ukraine keep coming
'38 YELLOW Kucher shown a yellow for a foul on Lewandowski as Poland were trying to clear the ball
'36 Fedetskiy plays in Yarmolenko who sets up Zozulya but the big attacker's touch alludes him and Poland just clear
35' 19 year-old Zinchenko controls the ball beautifully in the middle of the pitch and Poland don't know what to do about him.
34' Milik looks to set Lewandowski away but his touch is too heavy and easily claimed by Pyatov
And a reminder that if you want to keep up with the LIVE action from that game Aaron Stokes has it all covered here
33' - NEWS coming in that Germany have gone 1-0 up against Northern Ireland, if results stay the same that means Poland will go through as runners up
30' he's had a quite game so far tonight but that's the best thing he's done. Konoplyanka did well to keep the ball and make space for himself on the edge of the box but his shot can only find the side-netting.
'25 YELLOW for a sloppy challenge, Rotan is the first in the book tonight
22' Poland win a corner after Lewandowski's effort deflects out but once again it's easy work for Ukraine to deal with
20' Now Ruslan Rotan is the lucky man not to be shown a yellow after a crunching challenge on Zieli?ski. The resulting free kick is well dealt with by Ukraine
20' After missing two clear chances within the first five minutes, Poland haven't been able to carve anything more out and they've been largely on the back foot. Good football from Ukraine.
17' Yarmolenko can't believe he hasn't scored there, the Poland defence pushed up to high and he was found all alone by a long ball, one on one but he spun his shot wide
16' Kucher is very lucky to be shown a yellow for a professional foul on Lewandowski on the half-way line as the forward looked to break
13' Bodies are flying in Marseille as Milik chases a long ball, firm tackles and a less-than perfect pitch cause the move to break down and Ukraine are back on the attack
11' First corner of the game goes to Ukraine who take it short and quick, but they're forced to go backwards and Poland clear
9' Pazdan with a fantastic slide tackle in the box to deny Zozulya as the attacker looks to get his shot away
7' Ukraine free kick, Pazdan with a heavy challenge. It's taken quickly and Butko makes a great run down the left but his cross into the box is lacking and Poland can clear.
7' Poland win a free kick deep in their own half, Lewandowski having his shirt pulled
5' Ukraine go straight down the other end and Fabianski makes an unconvincing save
4' CHANCE! Milik plays a well weighted through-ball to Lewandowski who's one-on-one with Pyatov but the Bayern Munich man sliced his shot over the bar
3' Milik did well there, got in behind the defence and got his shot away but it was straight at Pyatov - he had options in the box
1' and we're live, Poland kicking off
The teams are out and the anthems are being sung, plenty of Ukraine fans in the stadium are making singing along, they're in France for a show, can their team oblige?
After fluffing his lines more than once, Arkadiusz Milik will be hoping his nerves don't get the better of him and he confidently puts his chances away - although he is Poland's top and only goalscorer at Euro 2016 so far.
Coming into this tournament, Yarmolenko and Konoplyanka would have been the two players for this opponents to worry about but neither have found thier magic touch in France. On the other side of the park, Robert Lewandowski has struggled with service for Poland, will he finally make his mark tonight?
Coming into this game, Poland have only been beaten once in their last 11 matches BUT Ukraine are unbeaten in their last five meetings with Poland. Will an old foe win the tie or will Poland remain unbeaten in this competition? We'll find out soon, kick off is just 15 minutes away.
If you'd like to keep up with both of the final matches from Group C, Aaron Stokes will be providing live commentary for VAVEL here
Don't forget you can read Asif Norat's preview of the game here.
Just under half an hour until kick off at the Stade Vélodrome in Marseille and both teams are well into their warm ups.
As for Poland they're all bus assured a spot in the next round, to guarentee the top spot in Group C they'll not just have to get the win but to put a fair few past Pyatov to do what they can to assure they finish above Germany - even if it just comes down to goal difference.
Even though Ukraine already know they'll be going home after this match they'll still want to put on a good show and keep their good form against Poland up.
Remember ?ukasz Piszczek, Bartosz Kapustka, Krzysztof M?czy?ski, Kamil Grosicki and S?awomir Peszko are all on yellow cards.
As expected Mykhaylo Fomenko has made wholesale changes from the Northern Ireland game, Oleksandr Kucher, Bohdan Butko, Ruslan Rotan, Oleksandr Zinchenko and Roman Zozulya all come in as Yaroslav Rakitskiy, Vyacheslav Shevchuk, Serhiy Sydorchuk, Viktor Kovalenko and Oleksandr Zinchenko all make way .
Adam Nawa?ka has also made full use of his bench as ?ukasz Piszczek, Krzysztof M?czy?ski, Jakub B?aszczykowski and Kamil Grosicki have dropped out with Thiago Cionek, Tomasz Jod?owiec, Bartosz Kapustka and Piotr Zielinski coming in.
Ukraine confirmed XI: Pyatov; Fedetskiy, Kucher, Khacheridi, Butko; Stepanenko, Rotan; Yarmolenko, Zinchenko, Konoplyanka; Zozulja.
Poland confirmed XI: Fabia?ski; Cionek, Glik, Pazdan, J?drzejczyk; Jod?owiec, Krychowiak; Kaputska, Zieli?ski, Milik; Lewandowski.
Ukraine predicted XI (4-3-2-1): Boyko; Butko, Khacheridi, Kucher, Shevchuk; Rybalka, Rotan, Garmash; Yarmolenko, Konoplyanka; Zozulya.
Poland predicted XI (4-4-2): Fabia?ski; Cionek, Glik, Pazdan, J?drzejczyk; B?aszczykowski, Krychowiak, Zieli?ski, Kapustka; Milik, Lewandowski.
"There are games you play for the result and there are those you play for honour," Ukraine midfielder Ruslan Rotan told UEFA yesterday, and they will look to end their tournament on a high tonight by dampening Poland's mood - even if Nawa?ka's men are all but through.
As many as seven changes could be made tonight. Goalkeeper Denys Boyko is in line to earn just his fifth senior cap, while midfielder Serhiy Rybalka could move into double figures with him likely to come in too. Star men Yevhen Konoplyanka and Andriy Yarmolenko are still expected to start, however.
For the Ukraine, they have no injury problems coming into the game and no risks with regards to suspension considering they won't be playing another match at Euro 2016. However, one can expect mass changes as Mykhailo Fomenko looks to give those in his squad who have featured sparingly a run out before they go home.
Poland also have one injury concern - Wojciech Szcz?sny. Their first choice stopper picked up a thigh problem in the opening 1-0 win over Northern Ireland and missed the draw with Germany as a result. In his absence, ?ukasz Fabia?ski stepped in and kept a clean sheet. The Swansea City man is likely to retain his place in between the sticks today.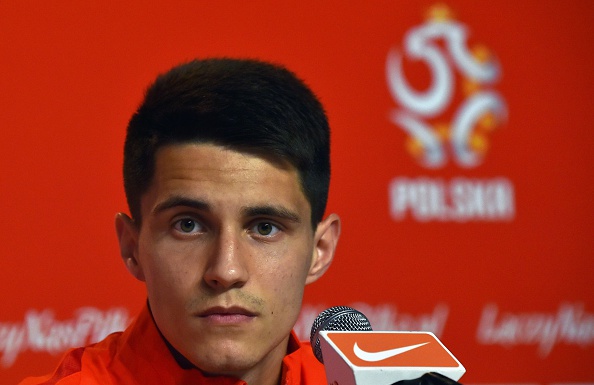 Kamil Grosicki, Bartosz Kapustka, Krzysztof M?czy?ski, S?awomir Peszko and ?ukasz Piszczek are walking on thin ice after picking up yellow cards in one of their first two games in France, all key players Nawa?ka won't want to lose for a big last 16 game. While all are unlikely to be benched, it wouldn't be a huge shock to see the manager make a few small tweaks.
With a place in the last 16 pretty much assured then, could Poland rotate their team? Adam Nawa?ka may well want to alter his XI after they only managed a draw last time out, though that was certainly not a poor result against the Germans. Still, he has five players one yellow card away from a suspension that would see them miss their first knockout game, granted they get there.
For their opponents meanwhile - the nation they co-hosted Euro 2012 with - Poland will be after a win to increase their chances of topping the group, with that to occur if they get a victory and Germany don't. However a draw will be enough to see them through regardless of the result in tonight's other Group C fixture, which sees the world champions and Northern Ireland go head-to-head in Paris.
Ukraine headed into week three as the only team unable to qualify from the group stage of all 24 nations and, though they have since been joined by Romania and Russia, they are still playing for nothing but pride tonight.
Hello and welcome to VAVEL UK's live coverage of tonight's Euro 2016 clash between Ukraine and Poland. These two Group C rivals will meet tonight at the Stade Vélodrome in Marseille, with kick-off scheduled for 17:00GMT. Be sure to stick with us beforehand though for build-up and team news as it comes in.