With the expectation and excitement surrounding the 2016 UEFA European under-19 Championship reaching its height, Germany are doing their best to control expectations.
The tournament hosts have one of the strongest squads in the competition and will be hoping to make up for last year's poor showing.
Guido Streichsbier is the man at the helm and, with some players already having tasted the top level of German football, he'll be confident of making a deep run.
Improving on 2015
Given their status as hosts, Germany didn't have to go through the qualifying process like the other teams. After their lacklustre showing in Greece one year prior, there may have been a few people breathing a sigh of relief. Belief was high that the 2015 side could carry on from where the star-studded 2014 team left off. Julian Brandt, Marc Stendera, Davie Selke, Joshua Kimmich and Levin Öztunali - to name but a few - helped fire them to glory in Hungary.
Despite the likes of Timo Werner, Nadiem Amiri, Leroy Sané and Max Christiansen - all Bundesliga regulars - the team crashed and burned. For whatever reason, Marcus Sorg's men just couldn't get going at the finals. They could be considered unlucky after drawing Spain and the Netherlands at the group stage and then the entire group finishing on four points, only for Germany to end up bottom of the pile.
Streichsbier came in this March and took Germany through the final two pre-tournament friendlies, both narrow wins over South Korea. Streichsbier was a coach in TSG 1899 Hoffenheim's renowned youth set-up and joined the DFB's coaching team in 2014 with the under-18 side, before taking up this job. He will be desperate to get his tournament debut off to a good start, especially with the final at his home ground, the Rhein-Neckar Arena. The six-time winners have a point to prove.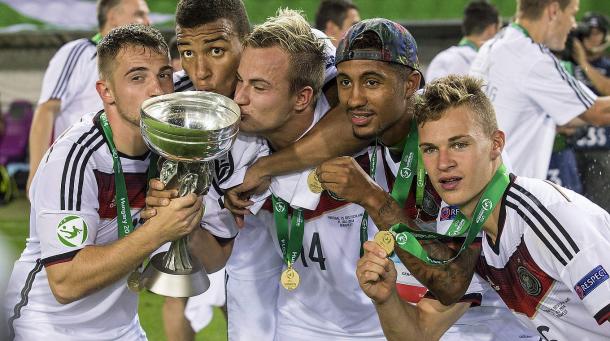 The opposition
Italy, who won the competition in 2003, have made their first finals since 2010 after edging out Turkey on goal difference in the elite round. They are led by Manuel Locatelli's impressive midfield presence, with the youngster even making his AC Milan first-team breakthrough this season. Luca Vido provides their goal threat, with the fellow Milan player notching up four goals in four qualifying games.
After a meeting with the Italians, Germany take on Portugal; who will be without star midfielder, Renato Sanches. The Bayern Munich man is currently looking forward to a Euro 2016 final, but his team-mates will still be a handful for the German back-line. Portugal are yet to win this tournament, and will be keen to exact revenge for their 2014 final defeat to the Germans. SL Benfica duo Gonçalo Rodrigues and Buta will be two players Germany need to shut down if they are to enjoy any success.
Going by qualifying form, Austria could be dark horses to take this year's crown. They are another side looking to avenge a defeat in the 2014 tournament, as Germany trounced them 4-0 in the semi-final. Konrad Laimer was part of the squad that day, but two domestic titles with Red Bull Salzburg have followed and he looks every bit a star of the future. His partnership in the middle with Philipp Malicsek will be key, leaving Dominik Prokop and Arnel Jakupovic to be the main goalscoring duo.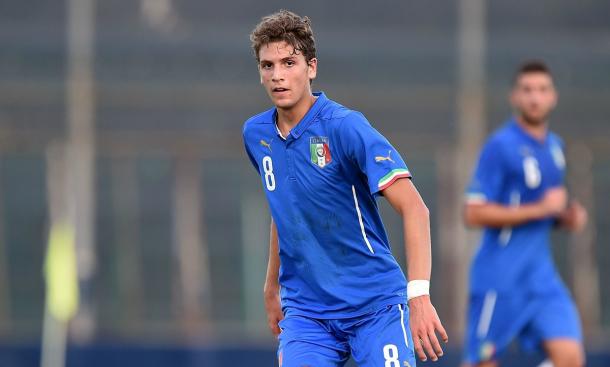 How will Germany line-up?
It's all well and good to talk about dream final situations and home grounds at this stage, but that is a long way away for Germany at the moment. The two friendlies in March were used for Streichsbier to get an idea of what his players were like at this level and how they played together. Almost everyone in the current squad featured across the games, meaning it will be hard to pick the manager's brain and get an accurate idea of his preferred starting eleven.
In goal, it seems a matter of personal preference. Both Florian Müller and Dominik Reimann have played three times for the under-19s, and both played in the double header with South Korea. Reimann does boast more experience at under-18 level, where Streichsbier will be well aware of his strengths. This should probably swing it in the Borussia Dortmund stopper's favour, though Müller is most definitely in with a shout of starting.
Benedikt Gimber and Lukas Boeder seem set to form the immediate barrier in front of Reimann. The two centre-backs have played together on a regular basis, though it is who starts on the wing-back positions that is where the debate lies. Jannes-Kilian Horn is likely to beat Maximilian Mittelstädt to the left-back spot, which could be a blessing in disguise to have the Hertha BSC youngster ready from the bench. At right-back, Gino Fechner looks set to continue in that role.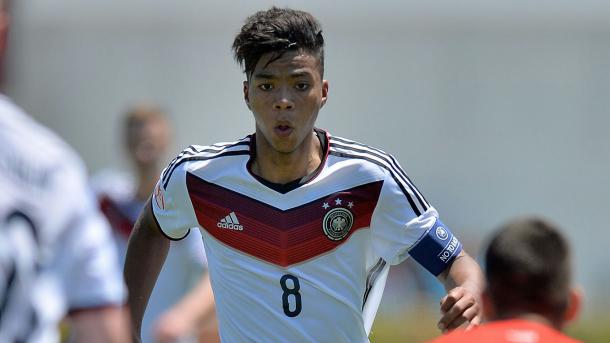 Despite making his Bayer Leverkusen debut at right-back, Benjamin Henrichs is going to be the man to link defence and attack during the tournament. He, perhaps partnered by 1. FSV Mainz 05's Suat Serdar, will be key to any success Germany have at the tournament; no less because of his end of season spurt for die Werkself. Serdar himself made 12 Bundesliga appearances last season and should provide a foil and base for Henrichs to work off and move round.
Now, the attack. Arguably the squads star man with Henrichs, Philipp Ochs, will nail down the left-midfield role. Ochs ended the campaign strongly with Hoffenheim, and will be one of the players Streichsbier knows best. Moving inside, Kalrsurher SC's Marvin Mehlem looks to be the creative spark in the middle and Max Besuchkow - a VfB Stuttgart player - will be hoping to get a start on the right wing at his home ground. Can they cope without Arianit Ferati? Only time will tell.
That means it is a straight shoot out between Cedric Teuchert and Janni-Luca Serra for the starring roll up front. It would be a surprise to see Serra get the nod, given that Teuchert grabbed his first professional goal towards the back end of 1. FC Nürnberg's promotion push. That being said, the BVB centre forward's aerial ability and height make him a very viable substitute if things need to be changed.
Germany under-19 predicted line-up: Reimann; Fechner, Boeder, Gimber, Horn; Serdar, Henrichs; Besuchkow, Mehlem, Ochs; Teuchert.
Germany under-19 bench as a result: Müller; Mittelstädt, Neumann, Gül; Conde, Reese; Serra.
The key players
As eluded to previously, the players with the Bundesliga experience will have that little bit extra pressure to shine on home soil. The team do not have the massive stand out stars of Werner, Kimmich, Tah and Selke of tournaments before, but that could only make them all the stronger when the games get underway on July 11th.
This time, the pressure falls on Ochs and Henrichs, as well as Serdar. The midfield men have been fairly regular occurrences in their respective sides this season, and Ochs has done well enough to nail down some regular game time on Hoffenheim's left wing. He possesses pace in abundance but can whip a dangerous cross in when needed. His dribbling is another key asset, which will surely trouble opposing right-backs in the weeks to come.
Serdar and Heinrichs will have to set the tone in midfield, especially with the links of Laimer and Locatelli to contend with for control in the middle. The two should, in theory, work well together. Serdar will anchor and leave Henrichs free to chase and hassle and harry the ball away from opponents. Getting in the faces of opposition his proven to be effective at this level, and Henrichs driving force may well shine through in that sense.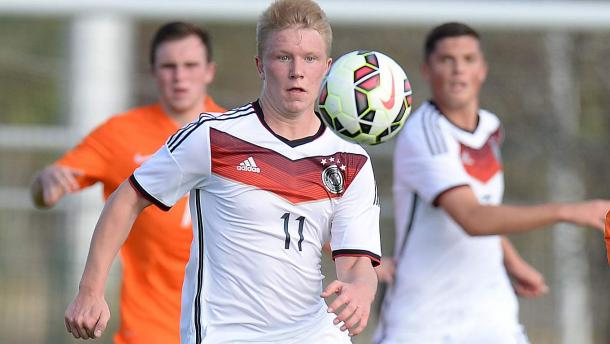 The squad
Goalkeepers: Florian Müller (1. FSV Mainz 05), Dominik Reimann (Borussia Dortmund).
Defenders: Lukas Boeder (Bayer Leverkusen), Gino Fechner (RB Leipzig), Benedikt Gimber (SV Sandhausen), Jannes-Kilian Horn (VfL Wolfsburg), Maximilian Mittelstädt (Hertha BSC), Phil Neumann (Schalke 04), Gökhan Gül (VfL Bochum).
Midfielders: Max Besuchkow (VfB Stuttgart), Amara Conde (VfL Wolfsburg), Benjamin Henrichs (Bayer Leverkusen), Marvin Mehlem (Karlsruher SC), Fabian Reese (Schalke 04), Suat Serdar (1. FSV Mainz 05).
Forwards: Philipp Ochs (TSG 1899 Hoffenheim), Janni-Luca Serra (Borussia Dortmund), Cedric Teuchert (1. FC Nürnberg).
Dates for the diary
Game One: Germany - Italy (July 11th, 1100 BST) - Mercedes-Benz Arena, Stuttgart
Game Two: Germany - Portugal (July 14th, 1830 BST) - mechatronik Arena, Großaspach
Game Three: Austria - Germany (July 17th, 1830 BST) - Stadion an der Kreuzeiche, Reutlingen