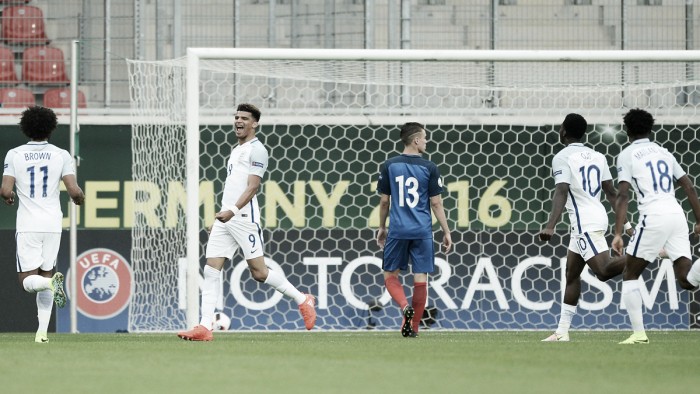 England under-19 kicked off their European Championships campaign in good style with a fantastic opening ten minutes helping them overcome France who fought back well.
French centre-back Jérôme Onguene was placed in an unenviable situation after quick play from Dominic Solanke and Sheyi Ojo. The latter's cross came in towards both Solanke and his Chelsea teammate Izzy Brown as they put pressure on Onguene, forcing the 19-year-old to poke it past his own goalkeeper.
Paul Bernardoni was left picking the ball out of his own net, once more due to Solanke. The England striker timed his run perfectly as Ojo delivered a strong pass just in front of his feet. Solanke stormed past Onguene to take England's lead to two in just the ninth minute.
France came back but it was a mature display from Aidy Boothroyd's England side, dealing with the French resistance well. Jean-Kévin Augustin of Paris Saint-Germain did get one goal back in the first half. Amine Harit delivered a floated free-kick and Augustin, getting away from his marker Ainsley Maitland-Niles as well as Jonjo Kenny, finished.
England's opening day victory in Heidenheim leaves them second in Group B, behind the Netherlands on goal difference due to their 3-1 victory against Croatia. The two sides at the top of Group B met, with similar squads, in the 2014 U17 European Championships as England, under the guidance of John Peacock, won on penalties.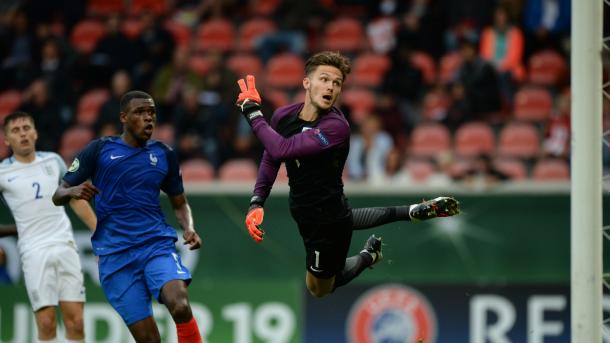 France unnerved by large crowd
England's eighteen-man squad have a combined 245 appearances between them and that experience, perhaps, was shown in the opening stages. Playing in front of more than 2,000 spectators, something that many of the players in the England set up have become accustomed to following loan moves or first team experience with their own club, appeared to unsettle France.
Solanke, on loan at Vitesse Arnhem last season, was one of those with experience. He, Liverpool's Sheyi Ojo and his Chelsea (and also Vitesse) teammate Izzy Brown combined for England's opener, capitalising on France's unease. Solanke continued the attack after receiving a penetrating pass from midfield, delivering it to the right flank where Ojo was cutting in. The Liverpool man curled a cross away from goalkeeper Bernardoni and with both Brown and Solanke pressuring Onguene, he put the ball past Bernardoni.
Solanke doubles in 9th minute
Moments later, domination continuing, Solanke found himself one-on-one with Bernardoni. Ojo had delivered the ball and Solanke had accelerated past Onguene before finishing into the far corner, a finish of a player with great potential.
Both Ojo and Solanke as well as Spurs midfielder Josh Onomah, also vital in the early stages, had further shots on goal before the 20-minute mark. Yet after that point, the French resistance did begin. They could have been forgiven for thinking everything was against them after a Solanke foul went unpunished, yet they regained their heads.
Poha had a fierce effort nervously watched wide by Freddie Woodman in the England goal before Augustin, later to be the goalscorer, forced the first save from Woodman. Cutting inside, the PSG man shook off his marker Taylor Moore, England captain, with ease. Woodman parried his curling drive but, at chest height, could have been expected to catch it.
After Izzy Brown attempted to bring individual inspiration to England after brief French dominance, cutting inside Michelin after turning the right-back yet a heavy touch let him down.
Augustin scores fantastic goal from set piece
Moments later, France got one back deservedly, particularly so as it was through a well-planned free-kick routine. Amine Harit delivered a floated cross to perfection and Jean-Kévin Augustin rose his leg high and clipped it in with the outside of his right boot.
France continued to have opportunities, that extended after half-time. Their variety in possession increased greatly with new found confidence. A long crossfield pass, going through many zones on the pitch, was followed by a short, crisp pass before an attempted chip.
England had an injury worry through Callum Connolly and the Everton man eventually limped off, having got his foot caught beneath him. It is presumed that substitution, with Spurs' Kyle Walker-Peters replacing him, is thought to be precautionary as Connolly continued for five minutes following the injury.
Michelin had an excellent, swerving attempt tipped over the crossbar by Freddie Woodman, who had a very good game.
France continued to hold possession but had very few clear-cut chances. Instead, it was Tammy Abraham, who replaced his Chelsea teammate Izzy Brown, who went one-on-one with Bernardoni but had his shot saved and the follow up rebounded off Onguene, but it was cleared away to avoid a second own goal.
Ryan Ledson had the chance to wrap things up after Dominic Solanke, playing beyond his years, held up the ball well in the dying moments. Yet Ledson's shot was tipped wide by Bernardoni. England defended resolutely as France continued until the final whistle, with Freddie Woodman arguably the man of the match despite an England win.