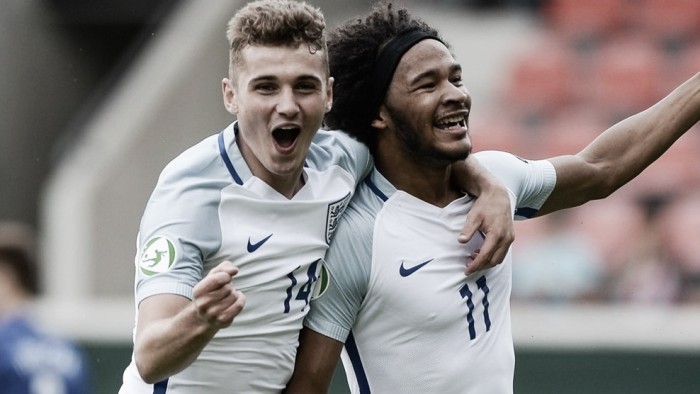 It was another stylish and effective start that earned England under-19s victory, their third in the group stages of the UEFA European under-19 Championship.
Izzy Brown scored a powerful right-footed drive after cutting inside to the penalty area after only four minutes and, like in the opener against France, Aidy Boothroyd's Young Lions were ruthless in the opening stages.
A further six minutes on, Brown turned his marker from a throw-in and cut an inviting ball back across the face of goal. So inviting was the cross that Croatia defender Silvio Anočić tapped the ball into his own net under the pressure of the oncoming Kyle Walker-Peters.
Croatia captain Nikola Moro capitalised on England's second half lacklustre-ness, his marker almost sprawled on the floor after a quick skill before a drive that, although Freddie Woodman could reach, nestled in the top left corner.
England's defensive issues were prominent again after an early lead. Yet Croatia could not exploit them to a great enough frequency, allowing England to retain their lead, if not their clean sheet that Boothroyd was looking for after the quick lead.
The Young Lions had ensured a semi-final fixture against Italy before this Monday morning game and will face the Azzurri on Thursday.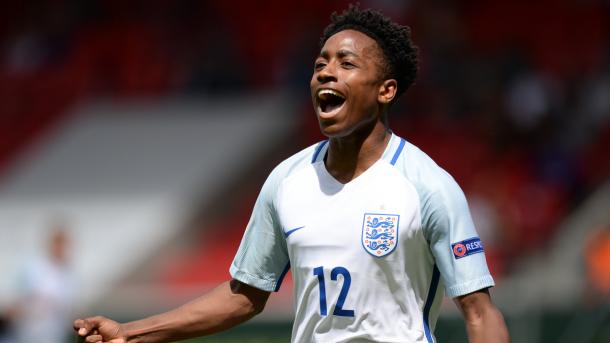 England's start was extremely promising. Despite knowing their fate, a semi-final versus Italy on Thursday, the urgency was prominent. That was certainly aided by an energy-sapped Croatia. The roles would reverse in the final ten minutes, shadowing that of the opening stages, but the success of the urgency only came for England.
Brown opens scoring in fourth minute
Sheyi Ojo assertively moved across the middle of the pitch, unopposed by Croatia. His splayed pass to Izzy Brown, deployed on the left flank rather than in his natural striking role, was received and Brown strode into it. The Chelsea forward Brown used his quick feet to leave the Croatian defence spinning before striking hard and low into the far right corner, his second goal in just a few minutes after a late winner against the Netherlands on Friday.
Walker-Peters forces England's second
Ademola Lookman put in a superb cross, just in front of the goalkeeper but not quite in his clutches, but Brown could not convert for a quick second. Yet moments later, he spun his marker Matija Fintić too easily, the Croatian defender committing too early, before approaching the byline, crossing and the pressure of Kyle Walker-Peters forced Anočić to run the ball into his own net after ten minutes.
Ojo had a shot rise well above the crossbar after, once more, dribbling through the centre of the pitch unopposed. Yet England's attacking threat, although two goals to the good, was minimal. Brekalo, Croatia's most dangerous substitute, caused danger to Taylor Moore, starting at right-back after Boothroyd allowed Reece Oxford back into central defence rather than on the flank. Combining with Anočić, Moore was the target for Brekalo on the left flank, attempting to exploit the England captain in an unfamiliar position.
Only once did it come close to paying dividends, though. Brekalo hooked a shot into the near side-netting after nice footwork allowed him to the edge of the six-yard box. After that, he was substituted in a strange move from Croatia.
England's first-half performance was promising, retaining a clean sheet unlike in the opener against France. Brodic, who replaced Brekalo, had Croatia's best chance before the break, despite that, almost capitalising on a slip from Jonjo Kenny. Hudećek took the ball after Kenny's slip and cut it back for Brodic but the striker leant back and struck well over Woodman's crossbar.
Captain Moro strikes back for Croatia
A quiet second half was changed by Croatia captain Nikola Moro. The 18-year-old created space for himself near the penalty area with a Ronaldo-chop. Woodman watched on as Moro struck well to the Newcastle United goalkeeper's left. Woodman reached the shot and a stronger wrist would have seen it tipped over the crossbar, but instead it moved past him and into his net.
Moro almost had another moments later but, like Brodic earlier, leant back to see his shot rise over the crossbar for another wasted chance.
England had very few opportunities while Croatia continually focused on set-pieces which England fail to defend effectively, instead hooking the ball away after a mess contained in the penalty area.
Kneževič received the ball from a selfless Moro but swept the ball wide of Woodman's post. Croatia continued threatening from set-pieces, or rather England continued to require focus on defending set-pieces. Despite being the better side in the second half, including a fantastic goal, Croatia could not replicate the efficiency of England initially.
Boothroyd's Young Lions now face Italy on Thursday and will need to focus on defending to succeed and reach the final of the European under-19 Championships.