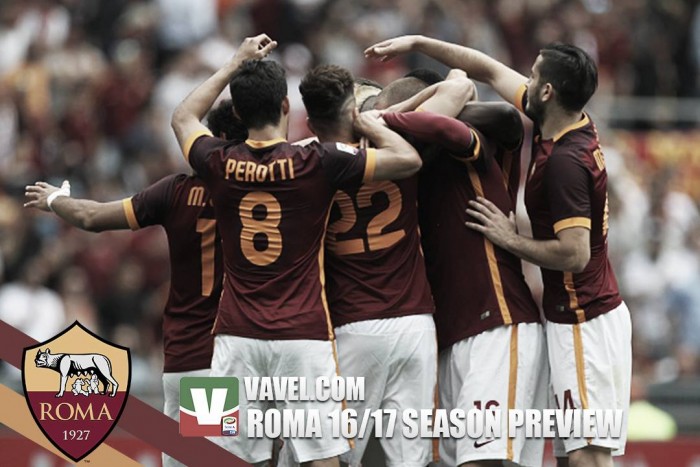 The return of their last cup winning manager, Luciano Spalletti, brought Giallorossi joy in the second-half of the 2015/2016 Scudetto term. No defeats from January 24 along with 14 wins and three draws was form that was only bettered by champions Juventus as Spalletti's men rose to third.
But with the hugely publicised loss of Miralem Pjanic to Juve, can Spalletti rally his troops to go two better and win the Scudetto?
The return of a king –Spalletti
Roma started last season in Serie A with French manager, Rudi García at the helm. The 52-year-old guided his side to top spot after 10 games with seven wins, two draws and only one defeat, including a 2-1 win over champions Juventus in La Maggica's first outing of the season at the Stadio Olimpico.
After a five-game winning streak came to an end against Inter on October 31, the 1-0 defeat kick-started a poor change in fortune for the Frenchman. Garcia and his men did bounce back from the Inter defeat to achieve the bragging rights in Rome after seeing off Lazio in the Derby della Capitale – but that would be the last time Garcia would satisfy the Roma fans.
With only one win in eight games, Roma sacked Garcia on January 13 as their Serie A and Champions League hopes began to fade despite such a strong start.
Roma's collapse was worsened by Juventus salvaging their chances of winning the Serie A title after a poor start by themselves was put behind them following a nine game winning run between October 31 and January 10. Eventually, the Old Lady's run would stretch to a 27-game unbeaten streak with 25 wins, one draw and one lost.
And without a trophy since 2008, Roma re-appointed the man who led them to that Coppa Italia almost eight years' prior, Mr Spalletti.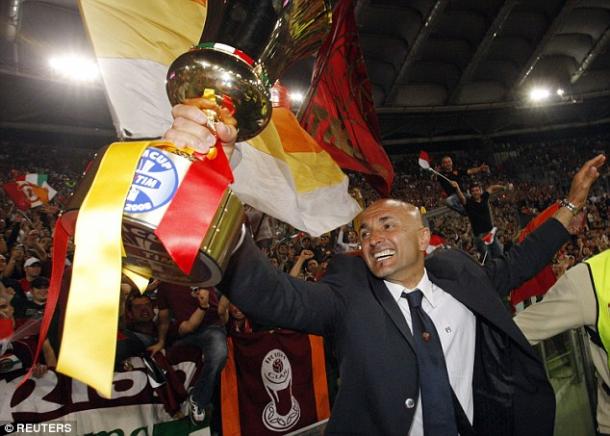 The 57-year-old failed to win in his opening two games, but Roma's win over Frosinone on January 30 sparked a huge revival and a record-breaking run. Spalletti drove his side to a 17-game unbeaten run to secure third spot and Champions League qualification.
2016/2017 Objectives – Targeting a trophy
The Serie A 2016/217 is on the horizon, and Roma will go into it full of momentum- remaining the only Italian side to remain unbeaten in the league since the end of January.
Juventus have won the last five Scudetto titles, and there is no doubt that they are favourites for a sixth. However, in recent weeks, both Lupi attackers, Diego Perrotti and Mohamed Salah have urged their team-mates to aim for the Scudetto title.
Spalletti's men will do all they can to knock Juventus off their trade-marked crown. If Roma can continue to keep chase with the leading pack, they almost certainly secure Champions League qualification at minimum.
With a two-time Coppa Italia winner in the dug-out, Spalletti will pray for another. The Coppa Italia may be seen as a more realistic chance of lifting a trophy.
Fixtures
Opening six:
Sampdoria – (H)
Fiorentina – (A)
Crotone – (H)
Torino – (A)
Inter – (H)
Napoli – (A)
Roma's opening six games will offer a strong analysis in where Spalletti's men will find themselves competing the Serie A table.
Lupi will be expected to open up their league campaign with a win as they face last season's 15th place, Sampdoria at the Stadio Olimpico. Fiorentina provide a tough start to life on the road in the 2016/2017 season.
Spalletti's men then face relegation favourites Crotone then play Torino before Inter and Napoli come calling, the clubs who finished either side of Roma last season, and both have similar aspirations to Roma - securing Champions League football and winning the Scudetto.
Last six:
Pescara – (A)
Lazio – (H)
AC Milan (A)
Juventus (H)
Chievo (A)
Genoa – (H)
A tricky run-in awaits Roma if their battle to achieve their league aspirations goes down the final games of the season.
Giallorossi will look to come through their game against Pescara unscarred ahead of the Rome derby.
And if La Maggica are still to be in with a chance of the lifting the Scudetto come the end of the season, Spaletti's team will need to pick up a positive result at the San Siro to carry into the game against Juventus, with the two title-favourites going head to head.
Top-half hopefuls Chievo and Genoa will require try test Roma's complacency levels too.
Transfers
Ins:
After being initially signed on loan by Roma, Edin Dzeko, Mohamed Salah, Diego Perotti, Stephan El Shaarway and Norbert Gymober all make permanent moves to the Italian capital.
Permanent signings:
Gerson - Fluminense
Antonio Rudiger – Stuttgart
Allisson – Internacional
Abdullahi Nura – Spezia
Umar Sadiq – Spezia
Moustapha Seck – Lazio
On loan:
Mario Rui – Empoli
Juan Jesus – Inter
Wojciech Schenzy – Arsenal
Federico Fazio – Tottenham Hotspur
Thomas Vermaelen
Like a new signing?
Juan Iturbe and Leonardo Parades were loaned out last season. Both players are training with the Roma squad, and un-like many of last term's out-going loanees, the pair still remain at the club.
Outs:
Miralem Pjanic – Juventus
Adem Ljajic – Torino
Antonio Sanabria – Real Betis
Matteo Politano – Sassuolo
Loaned out:
Seydou Doumbia – Basel
Ervin Zukanovic – Atlanta
Leandro Castan – Sampdoria
Iago Falque – Torino
Released:
Morgan De Sanctis – who has since joined Monaco
Maicon
Mattia Rosato
Seydou Keita
Squad overview
Goalkeepers – Two capable goalkeepers at their disposal
Roma have acquired the services of Brazillian goalkeeper Allisson from Internacional before bringing back Wojciech Szczesny for a second consecutive loan.
Both players will rival each other in a bid to claim the number one spot. Allisson has featured regularly for Roma in pre-season, and because he was purchased on a permanent basis, Spaletti is likely to stick by his summer signing.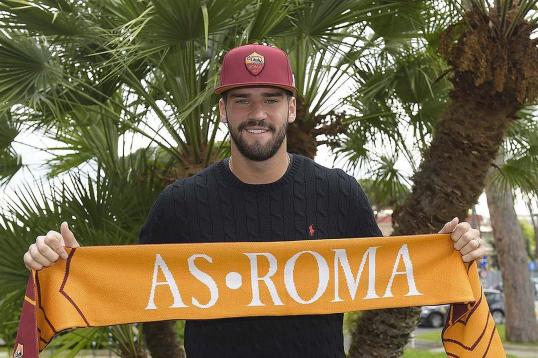 However, if Allisson is to lose his place for whatever reason, there will be no qualms about Szcezensy. After filling La Maggica's number one slot last season, the Polish keeper impressed at the Stadio Olympico. Had the opportunity been known from the start about the 26-year-old's availability, Szczesny would have arguable continued the prime goal-keeping role.
Defenders – Two early injuries sees another two brought in
Spaletti has sealed deals for Juan Jesus and Mario Rui on season long loans with a view to permanent deals at the end of the season.
Jesus' addition to the heart of the defence looks to have Roma covered in that area - with quality. Like Jesus and Rui, Rudiger and Gyomber also joined on loan last seasons before their time Serie A was made permanent as they dazzled in Italy. The highly-rated Kostas Manolas, who featured the most in the defence last season, completes a four-man central team.
All central defenders have proven themselves to be solid Serie A players with the advantage of having experienced Italian football. However, Spalletti has suffered an injury crisis to with both Rui and Rudgier picking up pre-season injuries, leaving Spalletti admitting that he needed now "two more defenders" in a bid to start the Serie A season strongly and Spalletti stayed true to his word by bringing a creditable centre-half pairing of Federico Fazio and Thomas Vermaelen in recently.
Last season, Lucas Digne was Spalletti's first choice but he has returned to PSG (and moved on to Barcelona) and one man that found himself in the shadow of Digne was Emerson. The left back area is certainly another competitive area with Rui and Seck also going to be competing for the starting berth.
Finally, at right-back, Spalletti is set to give 18-year-old Nura a chance to rival Vasilis Torosidis for the right-back position.
Midfield - Pjanic departure
There has been one over-riding factor that has came out of Roma this summer and that is the sale of Pjanic to Juventus.
The 26-year-old was perhaps the heartbeat of La Maggica's midfield in his five years at the club and it Pjanic's form last season that made a big contribution to Lupi's unbeaten streak with his four goals and seven assist under Spalletti.
Overall, Pjanic made 185 appearances for Roma totaling 30 goals and 46 assists before Lupi cashed in for the midfielder, accepting the Old Lady's offer of £27million for the Bosnian.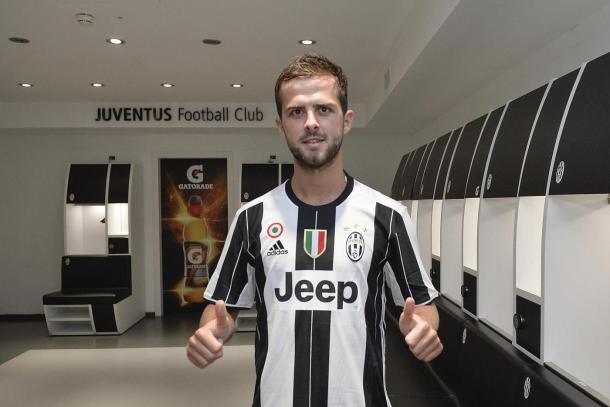 The Giallorossi did not waste any time in spending the money made for Pjanic as they acquired highly-rated Brazillian, Gerson, from Fluminese for a figure of £14 million. The 19-year-old is viewed as an attacking-midfielder after he broke onto the Brazillian scene last season.
Despite Pjanic occupying a deeper midfield than Gerson, it seems that Gerson is the Bosnian's replacement. The Gerson deal will perhaps be a future gain instead of an instant one. At the young age that Gerson is at, it may take him time adapt to his new surroundings - making the departure of Pjanic looking likely to prove costly in their challenges throughout the term.
Other Midfielders
Radja Nainggolan, Kevin Strootman and Alessandro Florenzi are three players that are capable of filling the void left open by Pjanic
Nainggolan was one of the ever-present players in the Lupi midfield with his six goals in 42 outings saw the Belgian attract the interest of Chelsea earlier this summer. And if being linked with another reputational European club is anything to go by, Nainggolan is the man who will relish the challenge of becoming Roma's main man.
The regular featured pairing of Pjanic and Nainggolan was arguably forced due to a long-term knee injury suffered by Strootman that restricted him to only making five appearances last term and six in the season before. In the 26-year-old's debut season in Serie A, the Dutchman appeared 25 times. If Strootman get finally put his injury problems behind him, there is no doubt that he will become a regular name on the Roma team-sheet and finally live up to the potential that attracted Roma in the first place.
Florenzi brings a versatile outlook to Rome. On many occasions last season, the 25-year-old started the game a full-back and then ending it in midfield.
The ageing Daniele De Rossi is likely to play a limited but key part through the experience that he carries as the 33-year-old enters the latter stage of his career.
Leonardo Parades offers cover after returning from his loan spell with Empoli. However, there is talk of the defensive-midfielder leaving the capital as a host of Premier League clubs chase the 22-year-old's signature.
Wingers - the rise of a lost talent
Stephan El Sharaawy, Diego Perotti, Mohamed Salah are all high-profile options that Spaletti has to lead his side's attack.
Since signing from AC Milan in January, El Sharaawy has led by example on the wing. The 23-year-old's career came to a stand-still at Milan but he recaptured his form at Roma that re-instated him as one of Italy's hottest prospects. The winger hit eight goals in 18 appearances – playing a lead role in I Lupi's unbeaten run. If El Sharaawy extends his form into the coming season, Roma's threat from the wide areas will become one of the most feared in the division.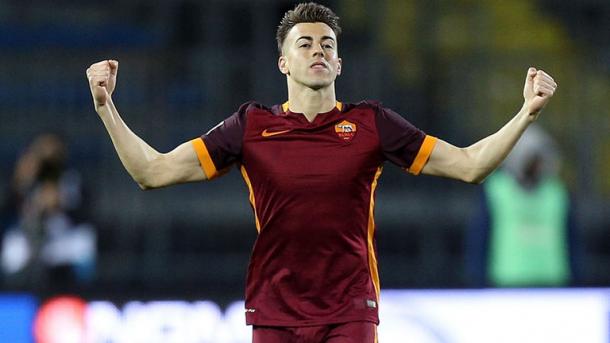 As El Sharaawy looks to be a guaranteed starter, there will be a toss-up between Perrotti and Salah for the opposite wing, if Spaletti chooses to play two of the three wingers. Both players played their part last season as the duo both hit the 30+ appearance mark. Though, Salah was far more prolific than Perrotti with 14 goals compared to his four. It is worth a mention that Salah is often required to fulfil a central role up-top.
Federico Ricci was apart of the Crotone side that achieved promotion to Serie B where he played an integral part by making 36 appearances and firing in 11 goals. Spalletti has kept the player as a part of his squad in pre-season. It will be interesting to see if he is given a chance to shine.
Strikers – New year new man, Dzeko?
When Edin Ezeko was signed from Manchester City last summer for just under £10 million, Roma had discovered a bargain. With an impressive goal scoring record at City (72 goals in 189 appearances), the Bosnian was expected to bring the same form to Rome.
However, Dzeko failed to make a solid impression with his 10 goals. The tally isn't totally disappointing, but with the goal-scoring prowess that the 30-year-old has showcased throughout his career made it poor showing from Dzeko.
Still, could this be 'the year' for Dzeko? In pre-season, the Bosnian has found the net in all of Roma's pre-season friendlies scoring against Terek Grozny, Liverpool and Montreal Impact. A pre-season under Spalletti has no doubt changed the player's fortunes in front of goal with the Roma fans prepare to see the best of Dzeko.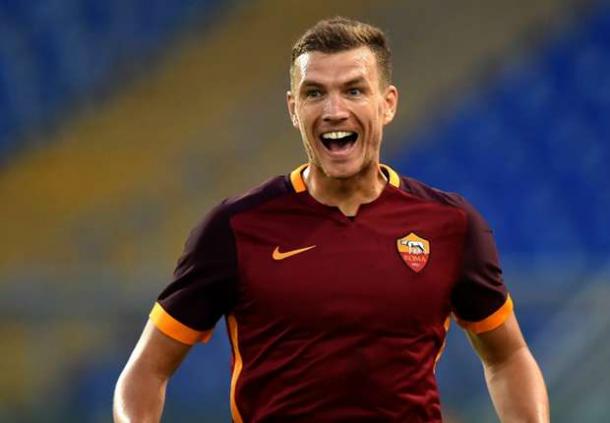 For Umar Sadiq, the Nigerian will hope this season will bring a series of opportunities to impress at the Stadio Olympico once he returns from the Olympic games in Rio. The 19-year-old made the switch to Rome last summer from Spezia Calcio where he went on to score two goals in his six outings.
And of course, no-one could forget this man, Francesco Totti. The club legend looked set to leave the club at the end of the season as the club were reluctant to offer him a renewal but it looks like this will be his final year in maroon. Totti is a massive figure in everything that surrounds the Rome club, where he has maintained a high-level of ability and professionalism.
The 39-year-old is failing to give up on his dream of lifting the Scudetto with Roma for a second time as he revealed last month that he would to sign off with Serie A title under his belt. And if Roma were to do that, there would be no better way to repay their club legend.
Key players
Dzeko as aforementioned has been in good form in pre-season and could kick-start his career in Italy as a result. Wingers El Shaarawy and Salah will be huge for the club and have been superb since joining the club. If anyone is able to fill the void left by Pjanic, Nainngolan will be that man and has always been a good player for the capital club. Finally the one club pairing of Totti and De Rossi will play a huge role even if they're not always on the pitch.
Meeting season expectations – winning the Scudetto is a tough ask but a trophy is possible
Players of Roma have told press in the build up to their new season that they will target the Scudetto, but from a personal point of view it is too big of an ask. Pjanic is a huge loss for Lupi, it doesn't aid their title bid not just because he has departed the club, but because he has joined Roma's biggest threat to the title, Juventus. The Pjanic void will provide a long-term affect as Gerson, Nainngolan and others begin their route to stepping up.
Roma have made some great additions in Vermaelen which could become a real coup for the club. The signings have given Roma the best possible chance of challenging Juventus as Spalletti has acquired a squad full of strength-in-depth. Although that seems a tough ask, La Maggica can now target a Coppa Italia.
To fully fulfill their targets this season, they will need a striker. Salah can switch between a wide role and a central role but there looks to be a lot of expectation on Dzeko despite his un-flattering season last term.
Spalletti is a clear winner. The 57-year-old was the last man to bring silverware to the Stadio Olimpico and will feel he can do it again. Roma's 17-game unbeaten run highlights the enormous affect that Spalletti brings to Rome. He and his side is full of momentum, and although the run is unlikely to last, it showcased what Roma are like at their peak. If they meet their peak more times than not, a trophy and a Champions League spot will be Roma's.