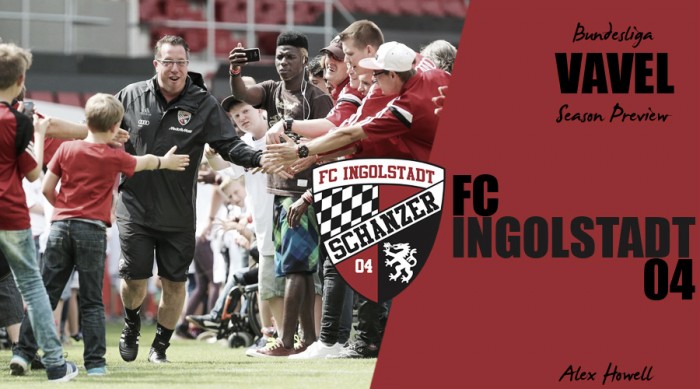 It's the dawn of a new era in Bavaria, as FC Ingolstadt 04 head into their second ever Bundesliga season with plenty of new faces at the Audi Sportpark. The man who was at the fore of die Schanzer's remarkable rise from 2. Bundesliga strugglers to the heights of Germany's top flight, Ralph Hasehüttl, is now gone and the mantle has now fallen to Markus Kauczinski to guide the Bavarian side throughout the Bundesliga season.
There are once again doubts as to whether the side only twelve years old, can once compete once again in the Bundesliga. But if anything has been proven at the Audi Sportpark in recent years, it is to suspect the unexpected.
Defying the odds last campaign
Although many tipped them for an immediate return to the 2. Bundesliga, die Schanzer easily staved off any fears of relegation with a very respectable 11th place finish last season. Whilst their fellow promoted side, SV Darmstadt 98, earned more of the plaudits due to a combination of their shoestring budget and plucky story of back to back promotions, perhaps it was the work of Ingolstadt that was more impressive.
Although Hasenhüttl's side didn't set the goal scoring charts, indeed only relegated Hannover 96 with less strikes than the Bavarian side, the team spirit instilled throughout the squad and never say die ethic proved very effective nonetheless leading Pep Guardiola to comment that Ingolstadt were "the best team we have met this season."
However, it was in the defensive third that die Schanzer really came into their own. The combination of Marvin Matip and Benjamin Hübner, archetypal in Ingolstadt's promotion in 2015, once again proved key; resulting in the Bavarian side earning the joint fourth best defensive record.
Borussia Mönchengladbach and Schalke 04 were only two of the sides that were tremendous scalps for a newly promoted side, and die Königsblauen were also defeated convincingly 3-0 in what for many was the stand out moment in the Audi Sportpark sides remarkable campaign. There were also impressive doubles over 1. FSV Mainz 05 and FC Augsburg; the latter providing the all important bragging rights for Schanzer fans in the Oberbayern derby.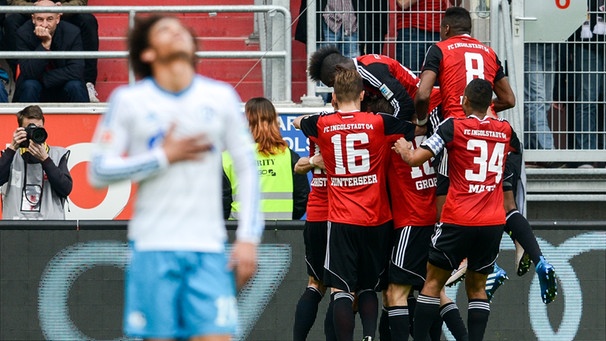 Early in the season this style proved very effective on the road, and the young club created even more history as they became the first newly promoted side to win their first three games on the road. The aforementioned Nullfünfer and Fuggerstädter, as well as Werder Bremen the sides to all succumb to the same 1-0 scoreline. Ingolstadt's nickname, die Schanzer, or in English, the Trenchmen, quite aptly summing up the combative, plucky style of the Bavarian side.
Same again, please, despite key departures
After such a good first season, one would be forgiven for thinking that the aim in Ingolstadt is to push on. Yet, just as last season, the message at the Audi Sportpark is clear - remain in the Bundesliga.
However, that task has been made harder by a number of key departures from Bavaria, including the most important of all - the manager. Hasenhüttl was lured away by the ongoing project at RB Leipzig, and came to the opinion that his work with Ingolstadt had come to a close.
The importance of the Austrian cannot be understated. Becoming manager after Marco Kurz's disastrous tenure in 2013, the signs of progress by the end of his first season were already there. But it was the season to follow, where Hasenhüttl completed die Schanzer's rise through the German football pyramid that was started with a Bayernliga game against SC 04 Schwabach. He was also the architect of the not so easy on the eye, yet effective, style of play that has brought so much success.
Yet the departure of Hasenhüttl wasn't the only area to see archetypal figures depart. Three members of the solid defence that was so important in die Schanzer's successful 2015/16 campaign have bade farewell to Ingolstadt; those being Ramazan Özcan, Danny da Costa and Benjamin Hübner.
For both Özcan and da Costa, the BayArena and Leverkusen shall be their new home. Ralph Hasenhüttl's compatriot, Özcan, plumping for the opportunity to work as number two behind Bernd Leno whilst the right back, da Costa, had a buy back clause operated by die Werkself put in pace when the 23-year-old made his two year loan spell in Ingolstadt permanent back in 2014
Hübner meanwhile expressed his desire to move to a large club after impressive performances earned him many plaudits over the season; Julian Nagelsmann's Hoffenheim paying €800,000 for centre-back's services.
The trio summing up the now departed Hasenhüttl's tenure at the Audi Sportpark; transformed from journeymen in Özcan's case, or players with little hope of a career at the top level for Hübner and da Costa, into players that impress at the highest level and are actively sought out by successful clubs.
Elias Kachunga, Konstantin Engel and Danilo Soares the only other notable names to die Schanzer, but they played a small part last season and their departure will have little effect on the side.
Quick to act
Ingolstadt have been quick to act in the transfermarket and have sought to swiftly replace those key individuals that have left the Audi Sportpark, whilst also adding some much needed depth to what was a quite small squad.
The most notable new face has to be the new manager, and that man is Markus Kauczinski. The former Karlsruher SC boss was quickly snapped up by Thomas Linke and co - the 46 year old announced the same day as Leipzig appointed Hasenhüttl.
With three members of the defence and goalkeeper leaving, it comes as no surprise that die Schanzer have been quick to bring some defensive orientated players to the Audi Sportpark. An almost like for like replacement for Hübner, Hauke Wahl has been brought in from SC Paderborn.
The central defender following an almost identical career path as the new Hoffenheim man, from 3. Liga to 2. Bundesliga and now the top tier with die Schanzer; although for Wahl this consisted of Kiel and Paderborn, rather than Wiesbaden and Aalen. Young Swiss starlet, Florent Hadergjonaj also signed to provide competition with fan favourite, Tobias Levels, at right back after impressing for Young Boys of Bern and at the recent Euro Under 21 tournament in his native country.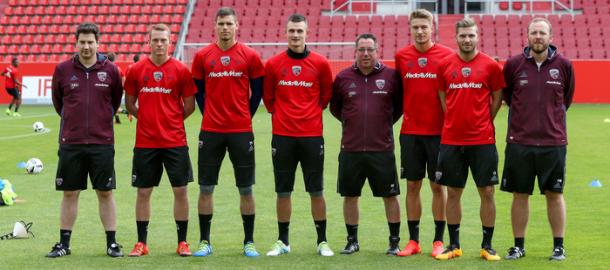 Ørjan Nyland will replace Özcan in goal, after featuring as number two last season. ADO den Haag Danish stopper, Martin Hansen has been brought in to contest with the Norwegian international.
Attacking options were also bolstered with the signing of Robert Leipertz from Heidenheim, via Schalke, for around €1 million. If the winger can replicate the form he did with second division club, he could prove a real asset. Ingolstadt also handed Sonny Kittel a Bundesliga lifeline, after the midfielder was released from his boyhood club, Eintracht Frankfurt. If he overcomes his injury troubles, he could be the surprise signing of the entire division.
Following the model of previous years, die Schanzer also enrolled the services of a number of talented youth prospects. Nico Rinderknecht and Fabijan Buntic were signed from Eintracht and VfB Stuttgart respectively, as Ingolstadt look to replicate the development of current first team regulars Pascal Groß, Max Christiansen and Robert Bauer - who all came to the Audi Sportpark as prospects.
If Ingolstadt are to achieve their aims this season, then it will be down in no small portion to the exertions of the managing board at the Audi Sportpark. Problems have been resolved efficiently, and any weaknesses in the side have quickly been spotted and new signings brought in to bolster options.
Comparisons can be drawn to the clubs major sponsor, Audi, and the general stereotype around all Teutonic automotive of 'German efficiency', although die Schanzer will be hoping that they don't crash and burn like a Volkswagen emissions test this season.
Continuity in mind
After fifteen years with the Wildsparkstadion side, Karlsruher SC, Markus Kauczinski decided he had done all he could with die KSC and wanted to make the step up to the Bundesliga with Ingolstadt. The 46 year old came seconds away from reaching the top flight with Karlsruhe in 2015, however there was heartbreak as Marcelo Díaz's last minute freekick secured survival for Bundesliga dinosaurs, HSV.
Aside from this late heartbreak, Kauczinski has completed a good job in the far North of Baden-Württemburg. Taking over with the side in the mire of a relegation dogfight, he was unable to prevent die KSC slipping to the 3. Liga after the play-off against SSV Jahn's Regensburg. However he was able to instantly guide Karlsruhe back to the second division as champions, where they have been since challenging for promotion in most seasons.
However, most importantly Kauczinski is a pragmatist. Although his favoured formation 4-2-3-1 deviates from that of Ralph Hasenhüttl, he will continue with the ethos and style that the Austrian forged. So therefore don't expect too many tactical alterations under Kauczinski. He has also proven that he can work under a budget with die KSC, something that will come in handy with a club that is not known for its extravagant transfer fees.
Kauczinski may find it hard to emulate Hasenhüttl, but if he can achieve half as much as the Austrian at the Audi Sportpark he will enjoy a successful tenure.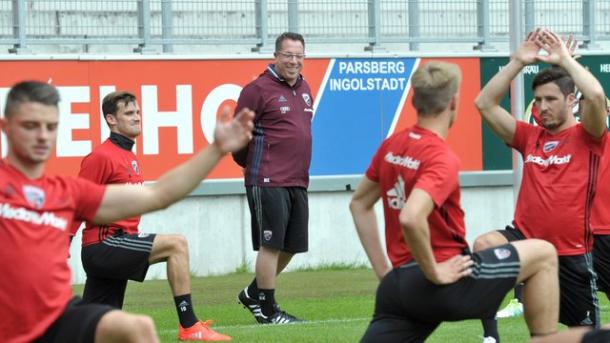 Pre-season form
On pre-season showings, life under Kauczinski may prove harder for Ingolstadt than it was with Hasenhüttl. Despite good performances, die Schanzer managed only one victory and even that came against local Bayernliga Nord side, VfB Eichstätt. To be fair to the Bavarian side, they did face competitive opposition although four defeats will present worrying signs.
Ingolstadt started their preparations with a 2-1 defeat against recently relegated, Stuttgarter Kickers, before a coming from behind to draw 2-2 with 3. Liga champions, Dynamo Dresden. Despite dominating throughout, a late Michael Hefele strike gave David Wagner's Huddersfield Town handed Kauczinski another defeat during the clubs Austrian training camp, whilst Torino also defeated die Schanzer by the same scoreline. A further friendly against Saudi Arabia's, Al Ain, was postponed due to adverse weather.
Their first victory came in the hastily arranged game with Eichstätt 7-0, before they rounded off pre-season with a 1-0 defeat against fellow Bundesliga side, Werder Bremen, in Lohne.
Pre season results in full
FC Ingolstadt 04 1-2 Stuttgarter Kickers: Hartmann (40') - Pfeiffer (9'), Scioscia (22').
Dynamo Dresden - FC Ingolstadt 04: Kutschke (6'), Modica (21') - Suttner (41'), Lex (84').
FC Ingolstadt 04 0-1 Huddersfield Town FC: Hefele (86').
FC Ingolstadt 04 0-1 Torino: Belotti (8').
Al Ain A-A FC Ingolstadt 04
VfB Eichstätt 0-7 FC Ingolstadt 04: Lex (29', 40', 43'), Lezcano (46', 69'), Leckie (58'), Hartmann (73').
Werder Bremen 1-0 FC Ingolstadt 04: Bartels (43').
Matip and Lezcano key to success
Whilst there is no doubt that Ingolstadt's success is down to the endeavors of the entire team, if die Schanzer are to be successful once again this season there are two figures who will be key. That will be Darío Lezcano and Marvin Matip.
The Paraguayan striker was signed during last seasons winter break from Swiss side, FC Luzern, and has gone on to personify the hardworking ethos that Ingolstadt possess. Although he scored only two goals, a rather slender total for a forward, Lezcano's pressing and dynamism crafted numerous opportunities for the Bavarian side which resulted in them somewhat solving their goal scoring deficiencies and guided them to safety.
Whether the striker can replicate the form he showed in the Rückrunde lies at the crux of the matter for die Schanzer; an increased goal tally and the continuation of his creative play that saw four assists last term, will be pivotal if Ingolstadt are to survive once more.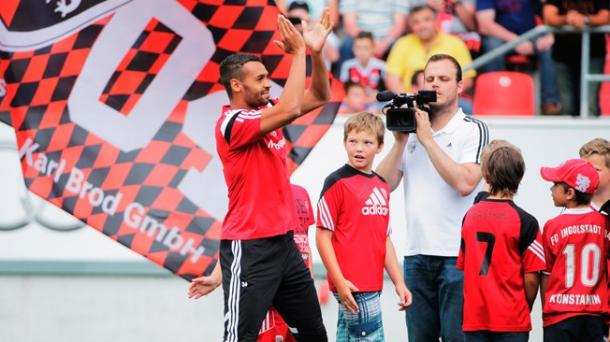 On the other hand, whilst Lezcano's goals may be important there can be no denying that FC Ingolstadt's defence will once more be crucIal. Marvin Matip, the well spoken media face of the club, shall once again be handed the task of marshalling the back line.
With so many alterations to be made, it will be down to the Cameroonian international to help the new arrivals, mainly younger players like Hadergjonaj and Wahl, settle into life in Bavaria and adapt to the Bundesliga in an attempt to recreate the staunch defence that had the best record outside the top four clubs. Lezcano will also have this task with the likes of Leipertz and Kittel.
Predicted finish
14th
Whilst they may not reach the same heights of last season, expect FC Ingolstadt 04 to be the sturdy at the back and effective on the counter attack side we got to know last season. The signings they have made have addressed the weaknesses in the squad, whilst they have brought in adequate replacements for the stars they lost.
Kauczinski will endeavor to replicate the football that Hasenhüttl's side created, and once again the Audi Sportpark will prove an intimidating place to visit. In what proves to be arguably the greatest Bundesliga season ever, die Schanzer will once again prove a competitive force and achieve their aim of survival.