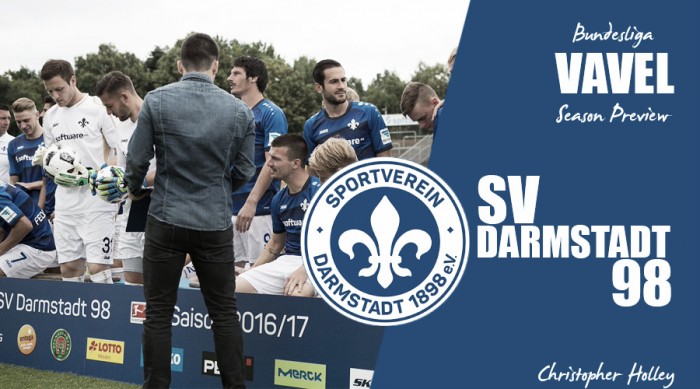 It's time to welcome back the Bundesliga and the first few weeks of the season will see plenty of us looking like kids entering the local sweet shop. There are so many new players, new managers, new teams and plenty of other choices to feast our eyes on.
During this preview we will be looking at one of the surprise packages of the Bundesliga last season, SV Darmstadt 98. The Hessen-based club secured their safety from relegation last season with a game spare and, in doing so, completed the mission that many thought was impossible.
Departures could be to the detriment of Darmstadt
The club celebrated their fourteenth place finish last season like they won the league and you can't really blame the club with their small resources. Despite their incredible achievement last campaign, they face an even tougher challenge this time around after the departure of some key figures.
The departures and the lack of resources means the club will only have one aim ahead of the new season and that will simply be to stay in the Bundesliga for another season. Realistically, the club do not need a cup run and would prefer to concentrate on the league campaign, however, a respectable showing would be welcomed with the club not reaching past the second round since the 1986/87 season when they made the quarter-finals.
The departures from the club have seen two of last season's key players leave, firstly goalkeeper Christian Mathenia has left to join Hamburg for just €680,000. The young 'keeper was a mainstay in the Darmstadt side last season and leaves having made 71 appearances for the club and, in the process, kept 27 clean sheets. Another huge blow for Die Lilien has seen Sandro Wagner leave for Hoffenheim, with the striker leaving for just over €2 million. Wagner was key to Darmstadt's survival as he enjoyed his best ever season, scoring 15 goals and grabbing four assists.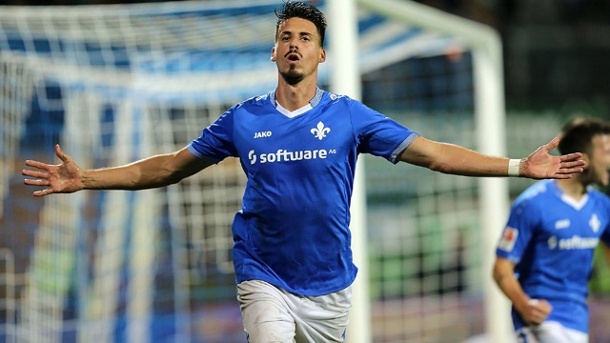 The other departures saw crowd favourite Marco Sailer become a free-agent along with Milan Ivana and Patrick Platins. Elsewhere, Luca Caldirola returned to parent club Werder Bremen and Yannick Stark joined FSV Frankfurt on loan, Konstantin Rausch joined fellow Bundesliga side Köln, Tobias Kempe moved to Nürnberg, Lukasz Zaluska left for Wisla Krakow and Slobodan Rajkovic went to Italian side Palermo, while Michael Stegmayer decided to hang up his boots at the tender age of 31.
As for players coming into the club, Darmstadt have done a good job in replacing the player's lost. With twelve players going out they have managed to recoup the squad with ten signings. The biggest signings so far have seen experienced Ukrainian defender Artem Fedetskyi arrive from Dnipro, while Sven Schipplock has been sent to Darmstadt on a season-long loan.
Darmstadt have managed to make three more loan signings with Antonio Colak temporarily joining from Hoffenheim, along with Laszlo Kleinheisler from Werder Bremen and Alexander Milosevic Besiktas JK. Former VfL Bochum keeper Michael Esser has signed following a season with Austrian side SK Sturm Graz, whilst another keeper was also brought in with youngster Daniel Heuer Fernandes arriving from SC Paderborn.
Die Lilien have also signed to Victor Obinna from MSV Duisburg and Denys Oliynyk from Vitesse in an attempt to replace the goals that Wagner provided. Lastly, one of the most promising moves has seen the club bring in 24-year-old Immanuel Höhn from Freiburg, the defender scored three times last season in Freiburg's promotion campaign.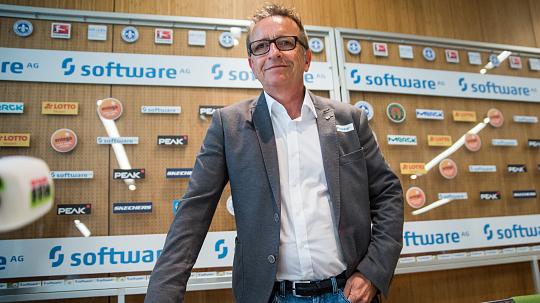 Surprise Schuster departure sees Meier take charge
One other key change at the club has seen a change of head coach, unfortunately for Die Lilien their club hero and mastermind behind the team's tremendous rise from 3. Liga to the Bundesliga, Dirk Schuster, parted with the club to take over at Augsburg. The man that has been given the tough task of keeping Darmstadt up and replacing Schuster is Norbert Meier, the 57-year-old could not turn down the offer from Darmstadt after he managed to secure promotion into the 2. Bundesliga for Arminia Bielefeld last season.
Meier does have Bundesliga management experience, his first job was with Borussia Mönchengladbach back in the 1997-98 season, however, more recently he managed to take Fortuna Düsseldorf into the Bundesliga, disappointingly for Meier he couldn't stop them from going down back to the 2. Bundesliga.
Almost perfect pre-season for Die Lilien
Darmstadt have had plenty of changes during pre-season and they have done extremely well to pick up a number of good results ahead of the season. In eight matches they've won six games, drawn one and lost just the once. The pick of pre-season saw Darmstadt defeat Bursaspor 3-0 , other victories came against SKV Hähnlein (22-0), FC Sportfreunde Heppenheim (12-0), SC Teutonia Watzenborn-Steinberg (3-0), Ennstal-Auswahl (17-0) and Die Lilien edged past FSV Frankfurt 2-1. The one defeat during the summer came against fellow Bundesliga side Freiburg (3-1), while the one draw came in the club's last friendly match as they were held to a 1-1 draw against Spanish side UD Las Palmas.
Key Man: Marcel Heller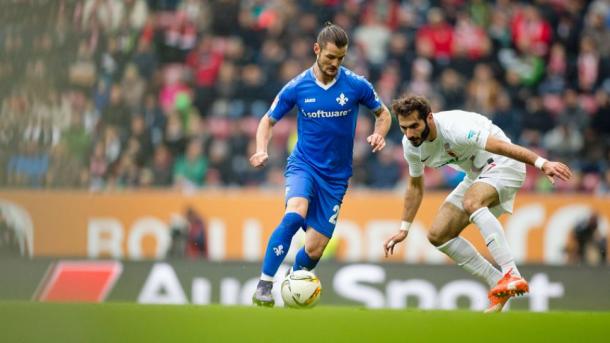 For a club with the budget Darmstadt have, it is hard to have many star players. They instead have to rely on a strong and hard-to-beat squad, nevertheless, they do have an exciting player to cause plenty of problem's for Bundesliga team's and that come's in the shape of 30-year-old Marcel Heller.
The winger has been a mainstay in the Die Lilien squad for the last few season's and that was the case last season as well with Heller making 33 appearances, only one player was able to make more appearances and that was Luca Caldirola with 34. During those 33 appearances last season Heller scored six goals, the most impressive being his volley against Borussia Dortmund which rounded off a brilliant counter attack. Heller was also the joint top creator for Darmstadt last season as he assisted his team mates five times.
Die Lilien will need one of their heroes to step up once more this season as his lightning pace and trickery will be vital in punishing team's on the counter attack and getting Darmstadt up the field after spells of pressure.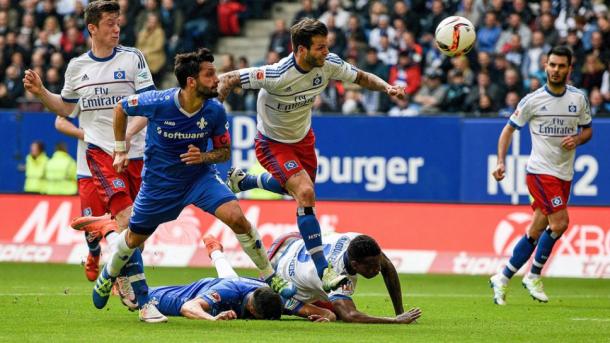 The experienced players will be key once more this season and there is none more important to Darmstadt's relegation fight than club captain Aytac Sulu. The 30-year-old Turkish defender played a huge role last season and certainly lead by example in his 33 matches. Not only was Sulu leading from the back with a number of excellent defensive display's he also showed massive value in front of goal at the other end as he scored a brilliant seven goals from defence, which in the process saw him become Europe's best scoring defender last season.
Sulu will have to reciprocate last season's form this campaign if Darmstadt are to remain strong defensively and the fans will hope he can inspire the team to another season in the Bundesliga.
Ahead of the new season as previously stated Darmstadt have done well to replace the player's they've lost or allowed to leave and in most positions they have managed to bring in good squad depth. The squad only lack currently in the wing area's and could do with a player or two for cover due to only having three natural wingers in Heller, Denys Oliynyk and Laszlo Kleinheisler, there are players that can play in the wider positions so only time will tell if Meier decides to bring in extra cover.
The game plan for Die Lilien will be roughly the same as last season, the squad isn't the most talented however they do have plenty of heart, determination and togetherness and this show's in the way they play. Darmstadt defend with all their hearts, soak up pressure and try to make the most of counter attacks and set pieces, the latter has seen the majority of their goal's being scored.
With the squad Darmstadt have built over the summer they've set themselves up well for a very tough campaign and it's going to be difficult for them to stay in the Bundesliga, providing the new players gel and some great performances are put in then Die Lilien can stay up.