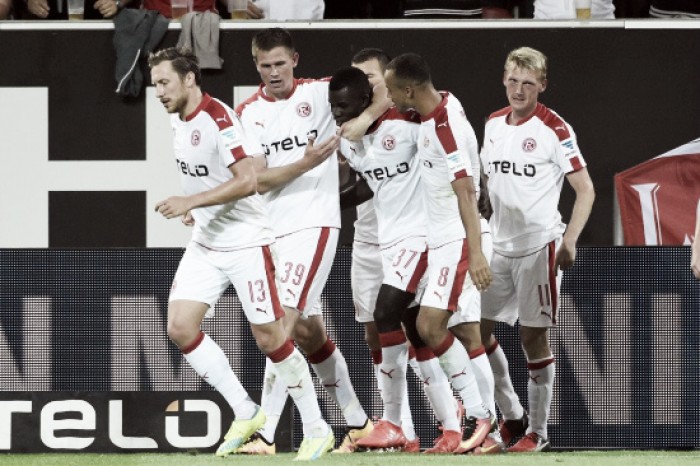 With both Hansa Rostock and Fortuna Düsseldorf's seasons in their respective divisions now well underway, the two sides have had time to ease back into the footballing season with the first round of the DFB Pokal now upon us.
Hansa head into the game as underdogs against a side sitting a division higher than themselves in the German football pyramid, although they will look to use their home advantage as they look to progress through to the second round of the competition.
Düsseldorf on the other hand come off the back of an impressive 1-0 win over 2. Bundesliga title favourites VfB Stuttgart, and will hope to use their undoubtedly stronger squad to their effect come 17:30 tomorrow.
How have the two previously fared in the DFB-Pokal?
The home side have never won the competition, unlike their opponents who took home the trophy in 1979 and 1980 after beating Hertha BSC and 1. FC Köln respectively, whilst also holding the record for most consecutive matches won (18) in the tournament's history. In addition to their two DFB-Pokal wins, Düsseldorf have finished as runners-up on five separate occasions. The most recent of these was in 1978, when they were defeated by 1. FC Köln, although they would get their revenge just two seasons later.
Last season saw Hansa exit the competition at the first hurdle after they lost 5-4 on penalties to 1. FC Kaiserslautern, whilst Fortuna Düsseldorf reached the second round before being dumped out of the competition in humiliating fashion, losing 5-1 to 1. FC Nürnberg.
Home advantage has proved to be a winning factor in past meetings between the two sides, with both teams currently holding two wins each over the other from a total of four games. All four meetings between the two have taken place in the 2. Bundesliga, with both of Hansa's victories coming via a 2-1 scoreline at the Ostseestadion in 2009/10 and 2011/12. The reverse fixtures in these two seasons ended in Düsseldorf's favour however, with Die Flingeraner winning 3-1 and 2-0 respectively.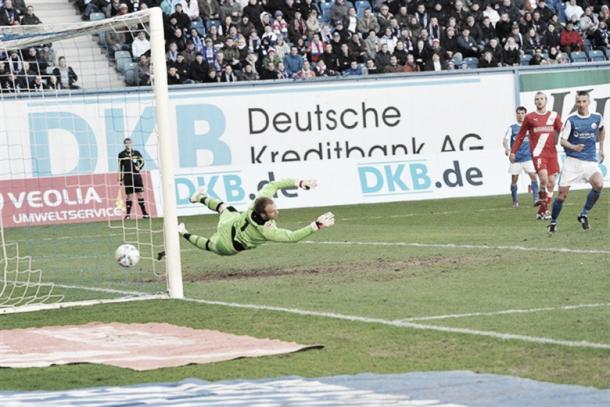 Team news
Hansa are currently without attacking midfielder Ronny Garbuschewski and left-back Christian Dorda due to injury, with both players not expected to return until the latter half of September. Fortuna Düsseldorf also have two players sidelined through injury, with attacking midfielders Arianit Ferati and Ozkan Yildrim both unavailable for tomorrow's game.
The home side are two games further into their season than their opposition, with four games of the 3. Liga out of the way prior to this weekend's cup game. Despite only losing one of the four games, Hansa have only found the net once and their last two matches have ended in 0-0 draws, so they will have to come up with more creativity in front of goal if they are to overcome a side one division higher than themselves.
Fortuna Düsseldorf are two games into their season in the 2. Bundesliga, with one win and one draw currently to their name. Their victory against title favourites Stuttgart stands them in good stead going into tomorrow's game, with the win following their season opener away to Sandhausen, which resulted in a 2-2 draw.
Düsseldorf manager Friedhelm Funkel spoke ahead of tomorrow's cup fixture, saying that being a division higher than the opposition "does not make it easier" and that "the first round of the DFB-Pokal is always hard."
Funkel was also keen to stress that he intends to field a strong team against Hansa despite being the favourites in the match, saying that he "will certainly not replace five or six players", simply because his side is up against supposedly weaker opposition.
Predicted line-ups
Hansa Rostock: (4-4-2): Schuhen; Alschwede, Hoffmann, Henn, Holthaus; Andrist, Erdmann, Gardawski, Janicke; Bulbul, Ziemer
Fortuna Düsseldorf: (4-2-3-1): Rensing; Schauerte, Madlung, Akpoguma, Schmitz; Bodzek, Gartner; Bebou, Fink, Bellinghausen; Iyoha