For the first time in 38 years, Würzburger Kickers were celebrating a 2. Bundesliga win, as they surprisingly beat 1. FC Heidenheim thanks to a late winner from Rico Benatelli.
They had taken the lead through former Bayern Munich youngster Patrick Weihrauch, however Heidenheim's captain Marc Schnatterer got the home side back into the game in the second half.
The hosts looked the more likely to snatch the three points, with Schnatterer having a goal disallowed, but it was instead Benatelli at the other end who secured what was an historic victory for his side.
One of many new opponents for Würzburg
As will be the case often in this year's Hinrunde for Würzburg, this was a first encounter with Heidenheim. The hosts came into the game in fifth place, after a win against FC Erzgebirge Aue and a draw with 1. FC Nürnberg. Würzburg had just the one point, earned against 1.FC Kaiserslautern in their last match, after defeat at Eintracht Braunschweig.
After rotating his squad in their 2-1 DFB-Pokal victory over SG Wattenscheid 09, Frank Schmidt made just one change from the side that played Nürnberg in their last league game, with former 1. FC Köln man Bård Finne in for Martin Rasner.
Bernd Hollerbach stuck with virtually the same side from their Pokal victory against Braunschweig, the only change being keeper Robert Wulnikowski coming back in. David Pisot got his first league start following his arrival from VfL Osnabrück.
Weihrauch lights up uneventful 45 minutes
The first quarter of an hour were devoid of entertainment as both sides figured each other out. That was until Weihrauch took the game by the scruff of the neck, taking a loose ball and charging through the middle, exchanging passes with Nejmeddin Daghfous, and sliding in to put the ball past Kevin Müller.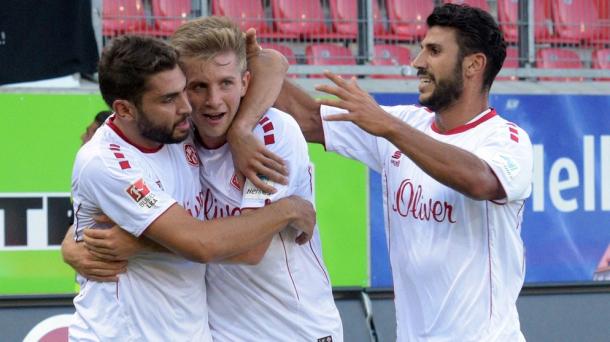 The goal failed to shake Heidenheim to life, and they found Würzburg tough to break down, with Clemens Schoppenhauer and Sebastian Neumann keeping Finne and Denis Thomalla quiet. Tobias Schröck sent a shot wide at the other end of the pitch.
The last five minutes of the half were a stark improvement for the hosts though. Wulnikowski saved a Tim Kleindienst header from a Schnatterer corner, however the clearance went out to Sebastian Griesbeck, who headed it back in to Kleindienst, who this time put it away. It was not the equaliser however, as he was in an offside position.
Another headed chance soon after fell the way of Finne, however Schoppenhauer kept him in check and it was cleaned up by Wulnikowski. Arne Feick then shot wide after a pass from Schnatterer.
Benatelli the hero for Würzburg
Heidenheim looked brighter early in the second half, with Schnatterer shooting over early on. But it was Heidenheim's captain who got them back in the game with an hour gone. Müller booted the ball forward, with the winger picking it on the right, coming in and firing it past Wulnikowski.
Würzburg had the better chances at first to regain the lead in the immediate aftermath of the goal, with Benatelli going wide from a great position after Müller got the ball away from Marco Königs. But as the half progress, Heidenheim began to dominate.
Schnatterer was impressing, and had a shot parried wide well by Wulnikowski, and then came controversy. A Feick free kick led to a save from Wulnikowski off Thomalla. The rebound was put in by Schnatterer but the referee blew for a foul.
Still they went looking, with substitute John Verhoek having a shot saved by Wulnikowski. And then the home crowd were stunned. A lovely pass from Pisot found Benatelli, and the midfielder scored the goal that earned his side a memorable away victory.
Heidenheim had nothing left to give after that, which led the away fans and players to celebrate a first win of the season, and a first victory in the 2. Bundesliga since they beat FK Pirmasens in May 1978.