It was confirmed yesterday that German youth player, Serge Gnabry had completed a permanent move back to his home country. Gnabry moved from Arsenal to Werder Bremen in a late move following his heroics in the 2016 Rio Olympics.
Gnabry impressed at the Olympics
The 21-year-old winger was crowned player of the tournament at this summer's Olympics, as he helped his country win an eventual silver medal. Gnabry scored six goals throughout the tournament, also scoring in the final penalty shootout, in which the Germans fell marginally short to the host nation, Brazil, inspired by the presence of Neymar.
Gnabry has always been a talent whose progression has been monitored closely by clubs and country. He made his first breakthrough at Arsenal back in 2013, when he featured in a few cup matches for the Gunners, Gnabry also claimed a Premier League goal away to Swansea City that season.
As injury caused the young German's form to be halted, Arsenal relied on more mature members of the squad to fill his place, also looking in the transfer market. Due to this, Gnabry was pushed out of the limelight at the club, as he was unable to find his feet and fight for a spot around the first team.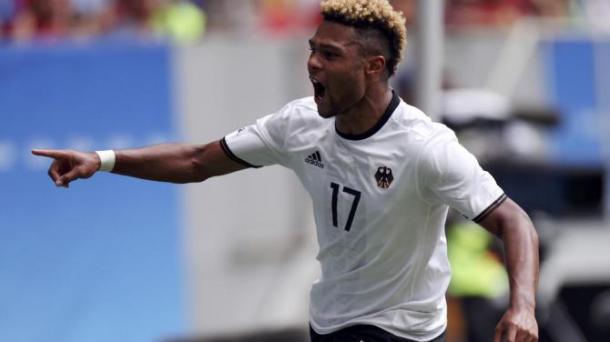 Last season, Arsene Wenger made the decision to send Gnabry on loan to West Bromwich Albion. It turned out to be a nightmare situation for Gnabry, and Arsenal – who were hoping for Gnabry to develop there – as Tony Pulis made it public that Gnabry would not feature for the club.
Bremen snatch Gnabry for around £5m
After his successful Olympic campaign, the 21-year-old German's future was further monitored, especially in Germany. With no space for Gnabry in the Arsenal first team, the club made the decision to agree to sell Gnabry permanently to Werder Bremen. Arsenal have some loose connections with Bremen, coming in the form of Mesut Özil and Per Mertesacker, two players who essentially made a name for themselves in Bremen.
It is a good move for both Serge Gnabry and Bremen, who struggled in the Bundesliga last season. Gnabry will certainly be a boost to their wilted attack, and the youngster has expressed his satisfaction with the transfer, saying; "I want to develop myself here at Bremen."
It will be interesting to see where Gnabry is in terms of development in the near future. We wish him the best of luck at Werder Bremen.