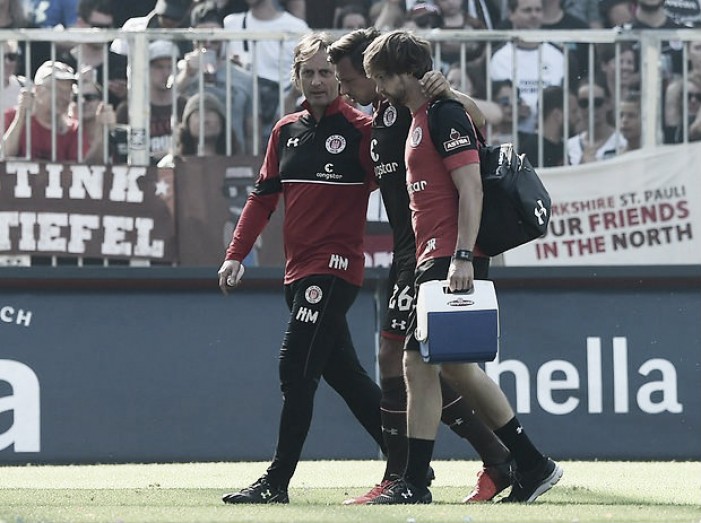 They might have celebrated their first league win of the season on Saturday, but FC St. Pauli have been dealt a major blow.
Their captain Sören Gonther had to be substituted early in that game, and it has now been confirmed that he has suffered a compression fracture in his right knee.
No timeframe has been set for his return, but he will be out for several weeks.
More injury misery for Gonther
Gonther was taken off in just the twelfth minute of his side's 2-1 win over Arminia Bielefeld on Saturday, after a collision with Bielefeld's Fabian Klos. He attempted to carry on for several minutes after, but wasn't able to remain on the pitch much longer.
It is a big blow for the 29-year-old, who is no stranger to injury problems. Last season he suffered from a torn muscle bundle and a torn knee ligament, and managed just 12 appearances in the 2. Bundesliga last year. He has also had two cruciate ligament injuries in his career.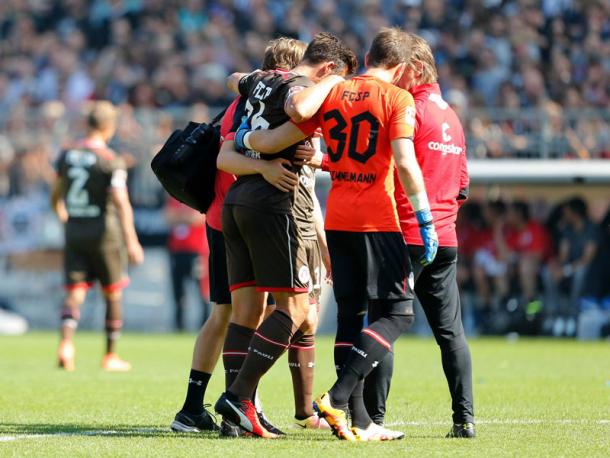 Despite this, he is a key part of St. Pauli's defence when fit, making 71 appearances for them since joining form SC Paderborn 07 in 2012, albeit only 50% of the games played in that time.
"A bitter blow"
The club announced the news of his injury on Monday after an examination by club doctor Hauke Mommsen. It had been hoped it was only a compression of his knee joint.
"It's a bitter blow but it was just unlucky in that situation," said Gonther of his injury. "I have not missed a unit this season, and felt physically really good. I'll do my utmost to get fit again as soon as possible."
There was better news on the injury front after the Bielefeld game, with Lasse Sobiech coming on for Gonther and lasting the remaining 80 minutes after a muscle fibre injury.
Gonther though will almost certainly miss at least the next four games, including three in eight starts starting with a trip to Karlsruher SC on Sunday.
Quotes via FC St. Pauli.