Barcelona continued their good form, producing a convincing 5-0 victory over Sporting Gijon.
It was slow start from the Spanish giants, but two quick fire goals from Luis Suarez and Rafinha saw them in control.
They stepped it up in the second period, rounding off the tie with goals from Arda Turan and Neymar to easily give them the three points.
Slow and steady
Barca seemed to come off the worst from their 1-1 draw with title rivals Atletico Madrid, with injury to talisman Lionel Messi, and his absence was evident in the opening proceedings.
There was controversy before Barca found their first opportunity, with Marc-Andre ter Stegen looking to have handled outside the area.
Nevertheless he remained on the pitch when Suarez was put through in the 25th minute, but his effort was just wide of the post.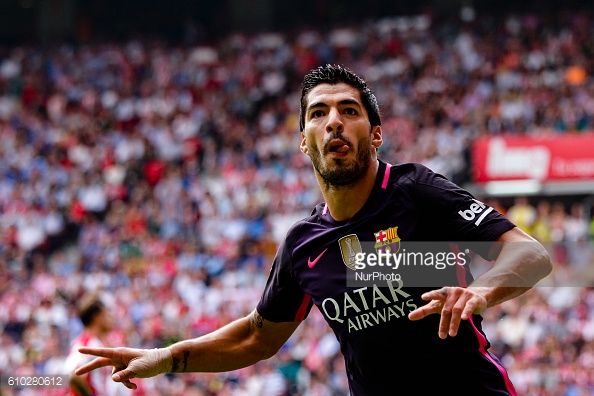 Quick fire attacking
It didn't take too long for the away side to find the lead, a sublime ball from Turan found Suarez, who rounded Ivan Cuellar to easily tap home.
It was a second just minutes later, It proved too easy Sergio Roberto put a ball into the area and Rafinha dived in to fire his header home.
Mountain to climb
Gijon looked a lot more solid in the second period, reducing their opponents to little in terms of chances.
However their task was made a lot more difficult late on, with the dismissal of captain Alberto Lora. The skipper had been booked earlier in the game, and a crunching tackle on Roberto gave referee Carlos Del Cerro Grande no option.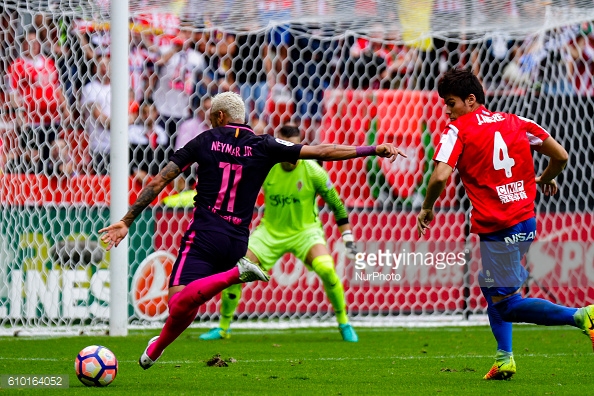 Flood gates opening
That dismissal proved to be the deciding factor, as three goals in quick succession from Luis Enrique's ended any hopes that Gijon had.
The first came in the 81st minute, Roberto produced another fine cross this time for substitute Paco Alcacer. His effort came back off the crossbar but Neymar was alive enough to the situation to tap in the rebound.
Turan made it four just four minutes later, it was another Roberto assist as he played it in and Turan lost his man in the middle of the box to easily fire home.
The fifth and final goal came just two minutes from the end, it is fair to say that Gijon didn't deserve such a scoreline but Barca's class was evident, with Denis Suarez producing an excellent pass to Neymar who simply slid it through the legs of Cuellar.
It could of quite easily been a sixth for Enrique's side as the match entered stoppage time, Neymar did well to get the ball out from his feet and curl it towards goal but the woodwork denied him a quick fire hat-trick.