A penalty and an assist for Sebastian Griesbeck's winner from Marc Schnatterer helped 1. FC Heidenheim overcome Hiroki Yamada's opener and beat Karlsruher SC 2-1.
Team news
Despite defeat and a really poor showing against VfL Bochum last Sunday, Frank Schmidt made just one change to his line-up; Tim Skarke replaced Norman Theuerkauf.
Defeat in the derby to VfB Stuttgart was the last thing Tomas Oral needed and he felt change was key to getting things going again. Dirk Orlishausen, Enrico Valentini, Jordi Figueras, Charis Mavrias and Erwin Hoffer dropped out for René Vollath, Matthias Bader, Bjarne Thoelke, Manuel Torres and Dimitrios Diamantakos.
Level at the break
With both sides having lost during the previous matchday, it was understandable that the first 20 minutes were cautious. Crosses and set-pieces proved to be the order of the day, as Karlsruhe went closest to opening the scoring. Moritz Stoppelkamp's clever lofted pass found Florian Kamberi, but he couldn't direct his header on target.
Heidenheim had come under fire during the week for what was being labelled as a crisis by some, which Schmidt said was "bullsh*t" in response. The opening stages of the game had done nothing to ease their woes, though, as John Verhoek cut an isolated figure up front.
Eventually, pressure told and Karlsruhe took a deserved lead in the game. Stoppelkamp's outswinging corner was difficult to defend but rebuffed well by Timo Beermann. Unfortunately for the defender, his clearing header was met immediately by Yamada and he nodded past a defence in disarray to opening the scoring.
That goal gave the game a much-needed shot in the arm, and Heidenheim equalised just eight minutes later. Robert Strauß' ball in from the right missed everyone and landed at Schnatterer's toes, only to be brought down by Manuel Torres. The captain stepped up and sent Vollath the wrong way to give their fans something to cheer.
They were almost off their feet for the second time in quick succession as the final major moment in the half provided a chance for Arne Feick. Schnatterer, who else, had a corner that flew past everyone and landed at the left-back in the box. He reacted well but saw the ball rattle off the bar, as the two teams went into the break level-pegging.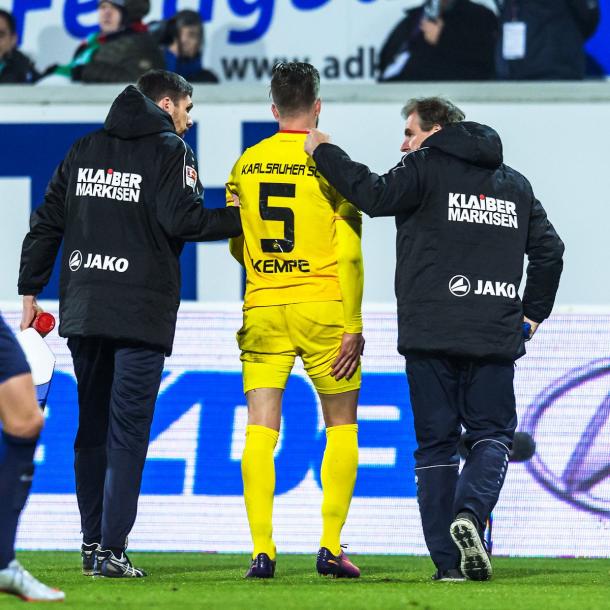 Griesbeck gets the winner
The second period began with change as Ylli Sallahi came on for Dennis Kempe. Karlsruhe were the better side in the initial exchanges yet found it hard going to break down the defiant hosts. Injuries were also beginning to play a part as several players were starting to struggle as the game took a toll on both teams.
Chances were at a premium as the game began to open up once more, only for a combination of poor crosses and final passes to kill the momentum. Both managers knew that the game was slowly grinding to a halt and made changes to liven up the attack. Bard Finne replaced Denis Thomalla, while Hoffer took Diamantakos' spot.
Verhoek was still living off scraps as he led the line in vain, almost scrambling to get something on Schnatterer's cross. Finne showed promise that he could be the man to break the stalemate and he looked set to do so after a menacing run, yet Thoelke was there to halt his advances.
Finally, after much huffing and puffing, Heidenheim grabbed the winner. It was far from pretty but Schnatter was the key man once more, as his cross was turned home at the near post by Griesbeck; Vollath was livid but Jablonski gave the goal. Hoffer and Stoppelkamp were agonisingly close to grabbing an equaliser but Heidenheim hung on.