FC Ingolstadt 04 have confirmed the appointment of former Sportfreunde Lotte and VfL Osnabrück manager, Maik Walpurgis, as their new manager. Walpurgis takes over at the Audi Sportpark after die Schanzer sacked Markus Kauczinski last week, after only three months at the Bavarian club.
The 43 year-old has signed a two year contract with Ingolstadt, with a clause that Walpurgis can leave if the Bavarian's are relegated at the end of the Bundesliga season. Die Schanzer are currently second bottom of the table, without a win so far this season in their second season in the German top flight. Only HSV are below Ingolstadt in the standings, by virtue of goal-difference.
Tough job at hand
Walpurgis faces a tough job, if he is to keep Ingolstadt up at the end of the season. Yet the 43 year-old was looking on with anticipation for his new role, "The Bundesliga has always been a big goal for me, so today is a special day for me." That being said, he did recognise the job on his hands with the Bavarian club. "It's important that every person in and around this club works as part of a big team," Walpurgis said, adding, "It will be tough, but we can do it!"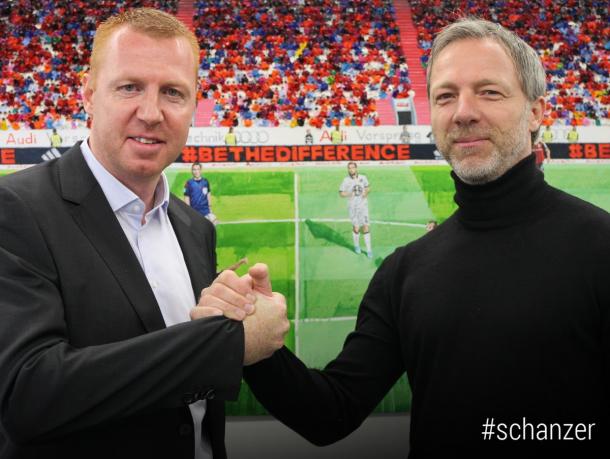 "The team has to regain the passion for football and the urge to win. I spoke with them [the players] today, and I'm very confident," Walpurgis finished with.
FC Ingolstadt 04 Sporting Director, Thomas Linke, also commented on the appointment. Linke said in regards to Walpurgis, "Maik is a very ambitious coach and brings a clear philosophy. We're convinced he can that he can reverse our fortunes." He finished with, "Our situation is critical. No team could usually catch up from this point, but it is time to make history again!"
Unusual career path
The new Ingolstadt boss has quite an unusual career path for a now Bundesliga manager. He was last coach of 3. Liga side VfL Osnabrück, managing die Lila-Weiß between 2013-15. Prior to that he spent five years in charge of North-Rhine Westphalian side, Sportfreunde Lotte, where he missed out on promotion to the third division to now Bundesliga side, RB Leipzig, in the Regionalliga play-offs.
That being said, the appointment of Walpurgis comes as a shock to many with the 43 year-old never managing in a division higher than the 3. Liga. Names such as André Breitenreiter, David Wagner, Armin Veh and Mike Büskens had been touted prior to Walpurgis' appointment. With die Schanzer in such a dire situation, it appears to be a strange appointment.