Loic Fery, president of FC Lorient, stated that Benjamin Jeannot will not be allowed to leave the club during the January transfer window.
The striker spoke of his desire to leave Stade du Moustoir this week and proclaimed that revitalised Toulouse would be his preferred destination.
Ferry has been quick to respond to the news that emerged in France on Tuesday, proclaiming that Jeannot is "part of the team" and that "it is not possible" for him to leave the club this month.
The news comes after Toulouse had a €1m bid for the former Nancy forward rejected in December with manager Pascal Dupraz looking to strengthen up front.
Jeannot looking for change of scenery
Benjamin Jeannot has scored 14 Ligue 1 goals since his move to western France in 2014 but has been frozen out of the starting XI this term, making just four substitute appearances for Les Merlus.
The 24-year-old, who signed a long-term contract extension with the club just recently, feels as though he has been treated unfairly during his time at the Brittany outfit.
"This is my third season here and I've never been considered a regular starter. I don't think I've been given a proper chance". Said Jeannot, as he expressed his frustration to French publication L'Equipe.
"I aspire to leave and to join Toulouse." He continued.
Lack of options means Jeannot is going nowhere
The Frenchman received a 10-match ban earlier in the season for colliding with a referee during Lorient's clash with Bastia in Gameweek Two and has made just two substitute appearances since.
His presence, however, has never been more important with Benjamin Moukandjo and Majeed Waris set to leave to represent their respective countries at the African Cup of Nations.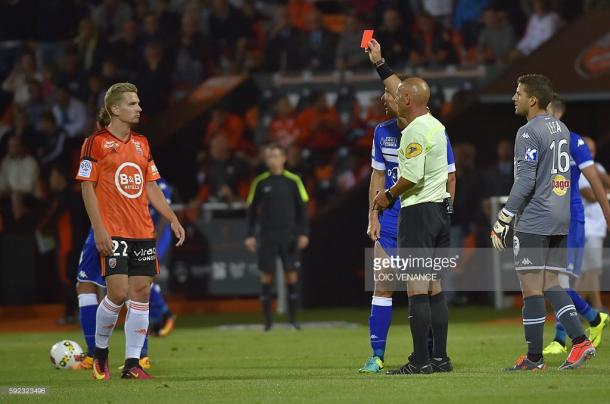 With just three recognised first-team forwards remaining in the squad, all of which are without a goal this season, the commitment of Jeannot will be imperative to Lorient's aim of escaping relegation.
This is just one of the reasons why President Loic Ferry has told those at Toulouse that Jeannot will not be allowed to leave at all. The 42-year-old also told L'Equipe of his surprise that the player wishes to leave the club.
"I am quite surprised that he can express a desire to leave." He said. "The club were strongly behind him during his recent long suspension, which penalised the group.
"Moreover, Benjamin signed a contract extension a few months ago, a sign that we rely heavily on him.
"In Lorient, one does not leave the boat when there is a little sea. This interview is a fault on his part, not a crime."
Lorient are currently routed to the bottom of the table and are four points adrift of the automatic relegation places.