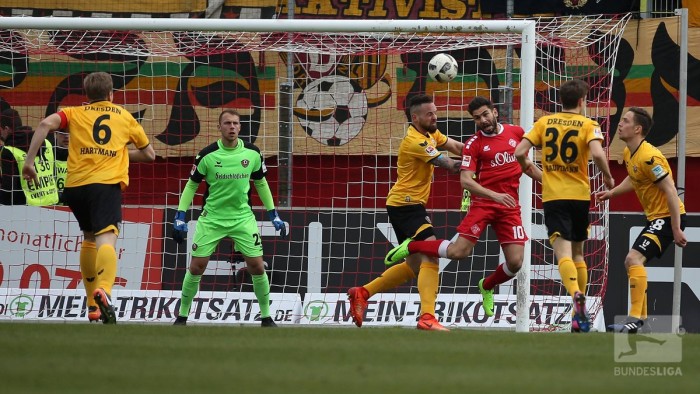 Würzburger Kickers remained without a win in 2017 as Aias Aosman and Niklas Kreuzer secured a routine 0-2 win for Dynamo Dresden.
Team news
After a sixth winless game since the Winter Break against 1. FC Union Berlin, Bernd Hollerbach made two changes following the 2-0 defeat. Nejmeddin Daghfous and Lukas Fröde both returned to the starting line-up in place of Peter Kurzweg and Rico Benatelli.
As for Dynamo, they were hoping to keep up their goalscoring form but keep it tighter at the back after a 3-3 draw with 1. FC Kaiserslautern. Marco Hartmann came back in after suspension as did Andreas Lambertz, while Fabian Müller and Manuel Konrad had to settle for spots on the bench.
Visitors on top but can't find a way through
From the beginning it was clear this would be a game where chances were at a premium. Marvin Schwäbe and Robert Wulnikowski were largely specators for the majority of the first half, especially the former who was resolutely protected by his back four.
The only real moments of note fell for the visitors, who twice went close to taking the lead. Aosman was the protagonist for Uwe Neuhaus' men, as his half-volley was gathered by Wulnikowski before the 'keeper raced to the edge of the box to cut out a pass towards Aosman. At the other end, Elia Soriano cut a lonely figure in a lacklustre half.
Dynamo get what they deserve
What was missing in the first half was suddenly found within 80 seconds of the restart; quality. Dynamo did well to keep control of the ball around the 18-yard box before finding Niklas Hauptmann inside the area. The youngster danced round three players before sliding across to Aosman, as he slammed home from eight yards.
The hosts were intent on making an immediate mark in trying to get an equaliser, so much so that Martin Thomsen had to ask an excited Hollerbach to calm down. He brought on Valdet Rama and Patrick Weihrauch in a bid to spark some life into their attack, which needed a kick to start moving the ball with more pace and purpose.
To their credit, that's exactly what happened. Soriano started to see more of the ball and an ambitious volley flew narrowly over as they bombarded the Dynamo defence. Yet the visitors remained lively on the break and Marvin Stefaniak's free-kick went narrowly wide. Florian Ballas also made his return from injury off the bench as an added boost.
Just as the game looked to be settling into a pattern of play for the final 15 minutes, Dynamo struck once more. Erich Berko came off the bench to great effect and stretched the play whenever he had the chance, and he did so again by playing in Krezuer down the right. The defender somehow managed to chip Wulnikowski to double the lead.
Junior Diaz had a late header parried by Schwäbe, but even then things would have been too late for Würzburg to find an equaliser. Dresden moved to within three points of Eintracht Braunschweig in fourth with the win, while the Kickers drop below VfL Bochum to 11th.