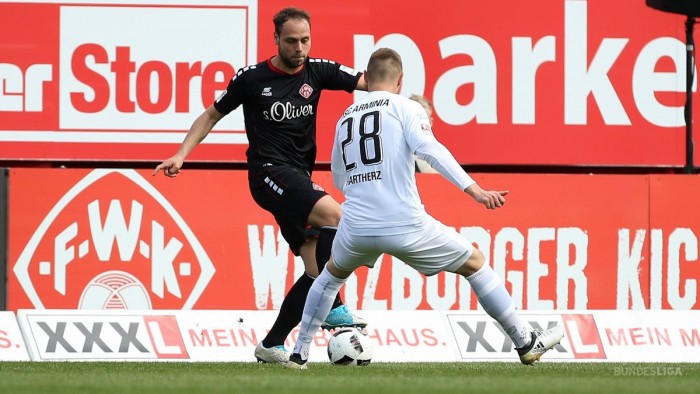 A dramatic Junior Diaz own-goal in added time gifted Arminia Bielefeld a 1-1 draw against Würzburger Kickers, who led through Rico Benatelli's effort.
Team news
Following their 2-1 defeat to 1860 Munich, Bernd Hollerbach was desperate to finally end their long wait for a win against Arminia. He had made a raft of changes in a bid to do so as Robert Wulnikowski, David Pisot, Peter Kurzweg and Tobias Schröck were replaced by Jörg Siebenhandl, Valdet Rama, Benatelli and Lukas Fröde.
As for Arminia Bielefeld, it was a debut for manager Jeff Saibene. He had taken over from interim head coach from Carsten Rump, but made little in the way of change from the latter's team that beat 1. FC Kaiserslautern. Florian Dick and Julian Börner were the two to come into the side, as Michael Görlitz and Stephan Salger dropped out.
Benatelli breakthrough
Results in the run up to the game would have dictated otherwise, but it was the hosts who were in control from the opening stages and looked for an early opener.
Their initial pressure would pay dividends, as some good play in the wide areas proved to be the way through. Patrick Weihrauch found space on the right before eyeing up his options in the middle, and opting to cut-back to Benatelli on the edge of the 18-yard box. The soon-to-be departing midfielder made no mistake, and picked out the corner.
From that fine finish, Bielefeld began to look somewhat more comfortable in the game. A cross from Dick almost caught out Siebenhandl at his near post, as a Sebastian Neumann deflection forced a fine save from his goalkeeper. At the other end, an effort from Nejmeddin Daghfous went agonisingly close to doubling the hosts' advantage.
Elia Soriano was next to go close, and he produced a forgettable finish from a very promising position as his curling effort slipped past Daniel Davari's upright. Weihrauch's effort from outside the area proved to be similar to those that had gone before, firing wide of the left-hand post. Arminia through Christoph Hemlein, but his shot was tame.
Diaz own-goal proves crucial
The half-time break saw Andreas Voglsammer replace the rather quiet Kevin Staude in attacking midfield, and the former Heidenheim man seemed to up the tempo. There were a flurry of bookings in the second half, in what had become quiet the contest in a physical, as well as footballing sense.
Florian Hartherz and Voglsammer both flashed efforts just past the post after the hour mark, with the hosts falling deeper and deeper as time went by.
As Arminia turned up the heat, the game became increasingly physical and both Neumann and Marco Königs both ended up in hospital after hefty challenges. Things were nervy after that, and Junior Diaz fell foul to that. A simple clearance was hacked up and over his goalkeeper from 16 yards, with Siebenhandl's desperate dive in vain.
Voglsammer had one final chance to win the game, but his attempted half-volley chip sailed wide. The result left things very much as they were, with Arminia still in the relegation zone and the Kickers still struggling. Can either side turn their fortunes around over the English week?