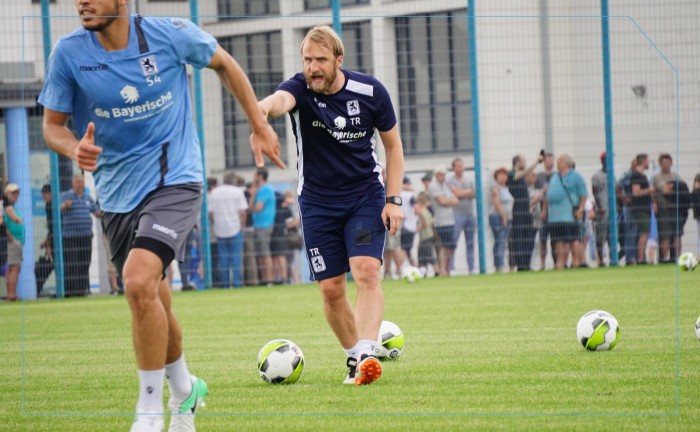 After two weeks of chaos, 1860 Munich have begun the process of rebuilding for the upcoming season.
The former German champions are expected to play in the fourth-tier Regionalliga Bayern next season after failing to meet licensing requirements to enter the 3. Liga.
New head coach Daniel Bierofka oversaw the first training session on Monday, with a squad made up predominately of the club's under-21 and under-19 teams.
Ismaik refuses to pay for 3. Liga licence
The club were relegated from the 2. Bundesliga at the end of May after losing 3-1 on aggregate in the relegation play-off against SSV Jahn Regensburg.
However the club might not have stayed up even had they won, with investor Hasan Abdullah Ismaik refusing to make more money available without gaining greater authority at the club, which would have been in breach of the 50+1 ownership rules in Germany.
They subsequently had less than three days to ensure that enough financing was available to take their place in the 3. Liga next season, however the deadline on the 2 June came and went without Ismaik paying, meaning the Lions would have to drop down at least another division for next season.
Since then, Ismaik and the club's directors have been engaging in public mud-slinging, which has left the future of the club looking uncertain. However those in charge have at least been able to plan for the upcoming season, with some sense of normality returning over the past few days
Return to the Gründwalder on the cards
At a press conference on Monday, the club confirmed that it expected to play in the fourth-tier next season, and that it had begun talks with the city council over moving to its former home, the Grünwalder Stadion, after 12 years of sharing the Allianz Arena with rivals Bayern Munich.
Managing director Michael Fauser said that remaining at the 75,000-capacity season in the fourth tier would "make no sense," and that it was planning on a return to where they played between 1911 and 1995. The club's second team, which finished second in the Regionalliga Bayern last season under Bierofka, have played there since 1995, as have Bayern's second team, who play in the same league.
Fauser also confirmed that although the club not formally submitted an application to play in the Regionalliga, he said that the club are "able to meet the requirements." He also denied speculation about the club potentially applying for insolvency, saying that the club "we will do everything in our power to ensure" that doesn't happen.
As well as Bayern II, they will also play the second teams of FC Augsburg, FC Ingolstadt 04, 1. FC Nürnberg and SpVgg Greuther Fürth, as well as sides from various Bavarian villages that will be a far cry from what they are used to.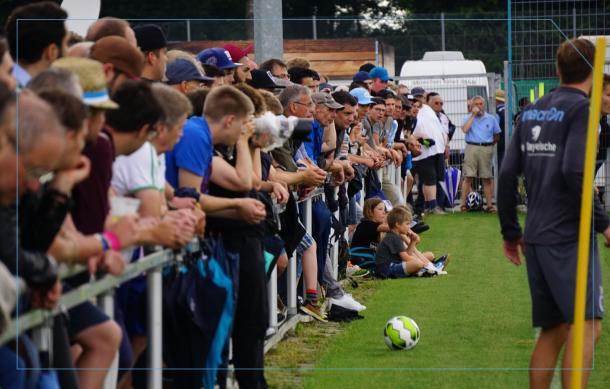 Bierofka prepares for the new season
Later in the day, Bierofka, who spent seven years playing for 1860 before retiring in 2014, oversaw the first training session in preparation for the new season, which starts in mid-July. Over 500 fans were in attendance, and Bierofka said that he hoped that they would see that he wants to set up his team play with "passion, heart and bite."
With virtually the entirety of last season's squad being automatically released due to the double demotion, the team currently consists of mostly under-21 and under-19 players. Felix Weber is currently the only survival from last season's first team, although the club also hope that Marin Pongracic and Felix Uduokhai will return next week, whilst Jan Mauersberger has also expressed a desire to return.
They have also made four external signings, with goalkeeper Johann Hipper (FC Ismaning), defender Sebastian Koch (SpVgg Unterhaching), midfielder Benjamin Kindsvater (SV Wacker Burghausen) and striker Tobias Steer (SpVgg Landshut) all joining.
Timo Gebhart, who is leaving Hansa Rostock, could also resign for the club having played for them between 2006 and 2009. Meanwhile Filip Stojkovic joined FK Crvena Zvezda on Monday, whilst a move for Kai Bülow to Karlsruher SC has also been confirmed.
Quotes via Kicker.