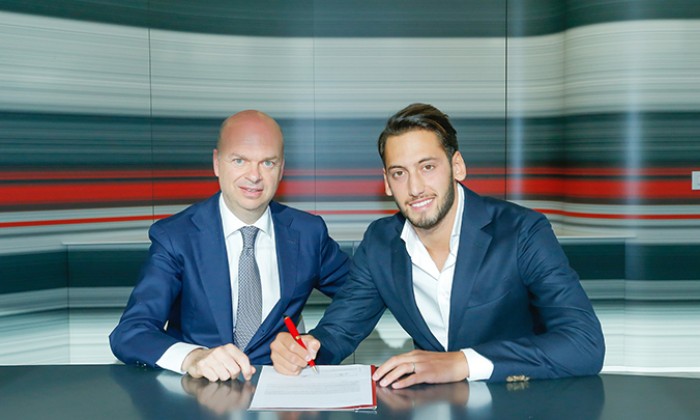 Hakan Calhanoglu has left Bayer Leverkusen after three years to join Italian giants AC Milan.
The 23-year-old winger has signed a four-year deal with I Rossoneri, with the undisclosed transfer fee likely to be around €20-€25 million.
There is better news for Leverkusen though, with young prodigy Kai Havertz signing a new five-year contract with the club.
Free-kick wizard departs for Italy
After impressing with Hamburger SV, Calhanoglu signed for Leverkusen in 2014. In his first season he earned his reputation for his deadly free-kicks, scoring directly from nine in that first season, although only one further goal direct from a free-kick came in the following two seasons.
He eventually made 115 appearances for Leverkusen, 79 in the Bundesliga, scoring 28 goals and contributing 29 assists. However his last season with the club, much like the team's as a whole, was a difficult one, especially after it was ended prematurely after a FIFA ban, relating to an earlier transfer deal, was upheld by CAS.
In a brief statement on Leverkusen's website, Calhanoglu said that his time with the club had been "very emotional," however he felt it was time to "start a new chapter in my career." He is the sixth new player to sign for Milan this summer, with former VfL Wolfsburg full-back Ricardo Rodríguez amongst his new team-mates.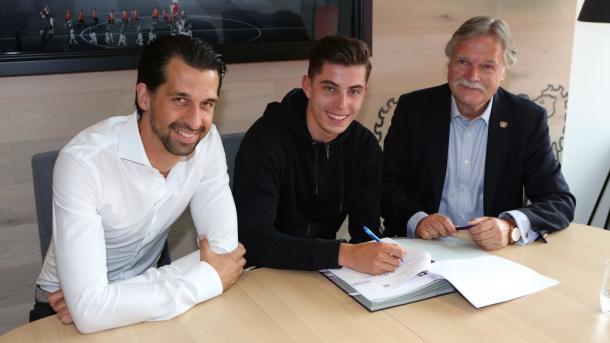 Havertz looking forward to full involvement
There could yet be more players to leave Leverkusen before the start of the season after their failure to qualify for Europe, however Havertz is most definitely staying. Earlier on Monday the club confirmed the 18-year-old had committed to them until 2022.
He made his debut in October of last year as a substitute against Werder Bremen, before becoming the youngster player to ever start for Leverkusen against SV Darmstadt 98 in early November. In total he played 24 times in the Bundesliga, scoring four goals and creating six more.
Sporting director Rüdi Voller said that Havertz has "a maturity that raised him above other players of his age" and that with his technical and physical abilities, "he has huge potential that will unfold in the next few years."
Havertz was naturally delighted to sign a new contract, saying he felt "great satisfaction in pride." He is looking forward to "finally really being part of it all" in the season ahead, after his education, now finished, had restricted his availability last year.
Quotes via Bayer Leverkusen.