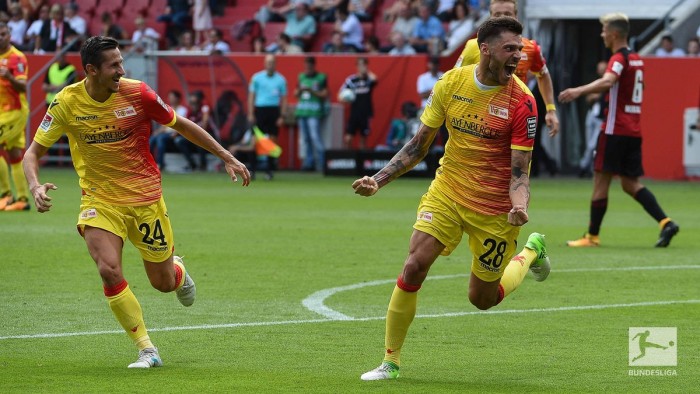 FC Ingolstadt 04's return to the 2. Bundesliga ended in defeat, with Christopher Trimmel's lone goal enough for 1. FC Union Berlin to get off to a winning side.
Ingolstadt had just about been the better side in the first-half with Darío Lezcano offering the most threat. They couldn't make that count though, and as their guests grew into the game, a superb strike from Trimmel provided to be the winner with half-an-hour remaining.
Lezcano and Kroos close to breaking deadlock
A bright Saturday afternoon welcomed these two teams back to competitive action, with both harbouring realistic hopes of promotion this season. Ingolstadt have retained much of their squad from last year but could still give debuts to four new players, whilst Marc Torrejón and Marcel Hartel made their first appearances for Union Berlin.
The hosts started on top, with one of their new arrivals Stefan Kutschke denied an early shot on goal by a well-timed Torrejón challenge, whilst one survivor from last season in Lezcano went wide with a right-footed attempt.
After a quieter passage of play, Union came close when Martin Hansen beat Hartel to a Steven Skrzybski cross, but then Ingolstadt countered and had the best chance yet. Lezcano was proving a nuisance and managed to get the better of Trimmel. Forced into a tight angle he tried to get around Jakob Busk, restored as die Eisern number one for new season, but the goalkeeper blocked his eventual shot.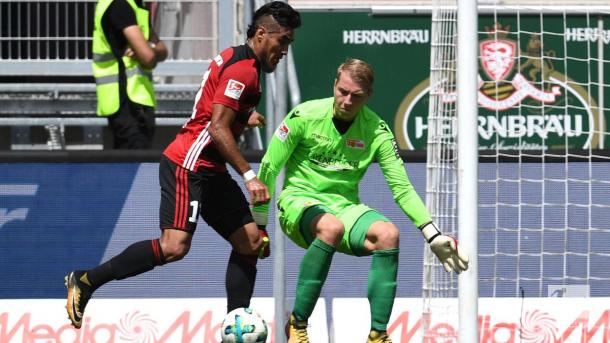 Ingolstadt had a lucky escape when Roman Brégerie attempted to lob the ball back from Ingolstadt's left to Hansen. It was a poor decision, and he was lucky it wasn't quite bound for goal. Nevertheless Hansen still had to scramble to stop it going out for a corner.
In truth neither side was able to find a breakthrough, with both restricted to strikes outside the box in the run-up to half-time. Felix Kroos had the closest of these with a fierce strike that curled just wide, with both Alfredo Morales and Hansen unable to do anything about it.
Trimmel stuns die Schanzer into silence
Simon Hedlund tried to make the breakthrough for Union in the opening minute of the second half, but there was no end product and he could only seek out Ingolstadt keeper Hansen. That was typical of the opening passages for the second 45 minutes, with the most Busk had to do at the other end was to parry a Marvin Matip ball away from goal.
The home crowd would be silenced just before the hour mark as Trimmel gave Union the lead. It was a goal most strikers would be proud of, yet along a right-back, as he half-volleyed in well past Hansen, after Sebastian Polter had headed back a throw-in from Kristian Pedersen.
The momentum was swinging well away from Ingolstadt by this point, with Florent Hadergjonaj and Sonny Kittel introduced as Maik Walpurgis looked to reenergise their efforts. Slowly there were getting a grip again, with a Morales shot wide followed by a scramble in the Union box. Kutschke's shot was blocked, with an attempted clearance from Busk striking the arm of Lezcano, but the referee didn't have a decision to make as it went wide rather than past Busk into the net.
Damir Kreilach should have made the game safe with 15 minutes remaining – substitute Stephan Fürnster headed the ball to him perfectly, and he had the room to hit the target but only went wide. The game was opening up by now, with Kittel having a strike blocked moments after at the other end, later followed with Kutschke putting a free header over the bar.
By the closing stages Ingolstadt were pushing hard for an equaliser, although Kreilach put an effort wide in what was now a rare attack for Jens Keller's side. As the game went over the three added minutes, Ingolstadt had appeals for a penalty waved away as they tried to scramble an equaliser, but Union clung on to start with a big three points.