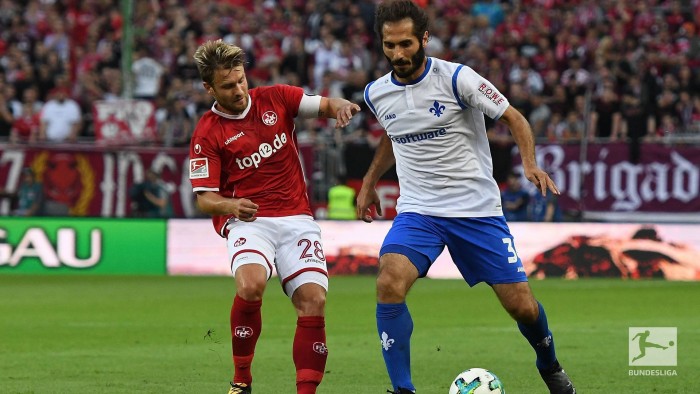 The all-southwest 2. Bundesliga battle between 1.FC Kaiserslautern and SV Darmstadt 98 ended all square on Friday night.
After a poor start, Kaiserslautern took the lead late in the first half in style through a Daniel Halfar strike – although he had been lucky not to be sent off in just the first five minutes.
There were unable to record their first victory of the embryonic season though, with Wilson Kamavuaka eventually bringing the Lillies level with 18 minutes left of the match.
Halfar strikes after lucky escape early on
Darmstadt had started their first match following Bundesliga relegation with a 1-0 win against SpVgg Greuther Fürth, whilst Kaiserslautern were easily beaten by 1. FC Nürnberg. Kaiserslautern made three changes and switched to a 3-4-2-1 formation, whilst Torsten Frings was forced to change three of his defence due to injuries, including Sandro Sirigu who was replaced by Immanuel Höhn after an injury in the warm-up. Kamavuaka also came in, for Yannick Stark.
Despite the late change to their line-up, the Lillies started the strongest of the sides, and Artur Sobiech had the ball in the net just three minutes in, although play had long since stopped for offside. Further chances followed, with a Tobias Kempe headed on target by Sobiech. Marius Müller, after his horror show against Nürnberg, pulled out an impressive save to deny him.
Kaiserslautern were perhaps lucky not to be down to ten men by that point. In just the fourth minute of the match, their captain Halfar lunged in on Kamavuaka and escaped with a yellow card. With fouls aplenty littering the game, English striker Osayamen Osawe avoided seeing two yellows, catching Markus Steinhöfer minutes after a booking for fouling Aytac Sulu.
The home side did eventually begin to grow into the game. Leon Guwara, on loan from Werder Bremen having spent last season with Darmstadt, struck over from outside the box before Osawe was denied a shooting chance by an inch-perfectly timed challenge from Sulu. It was Halfar who put them in the lead, with a stunning strike from outside the box after good play from his teammates.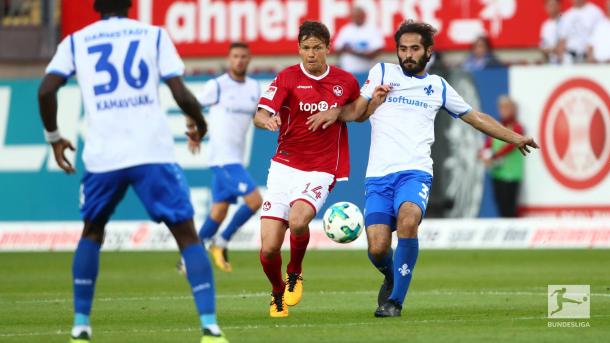 They could have had a second before the break as well. Baris Atik was disposed of the ball after a good run forward, but it found its way to Gino Fechner. It was another good hit from the midfielder, but unlike Halfar his effort could only go wide.
Kamavuaka equalises before Moritz denied stoppage time winner
Darmstadt went in search of a leveller after half-time, but Kaiserslautern were limiting them to shots from long distance. Kamavuaka went wide from outside the box, with the 19-year-old Marvin Mehlem going closer, his strike deflecting off a red shirt just over the bar. The same was applicable when the Red Devils went forward though, with Atik also going wide. Osawe meanwhile worked hard to make something happen, without much reward.
The game was mostly going nowhere, until eventually Darmstadt equalised. Substitute Jamie Maclaren met with a cross from Steinhöfer only for Müller to block his effort. The ball was still loose though, with Sobiech able to find Kumavuaka. He had played his part in the build-up, and the 27-year-old finished it off to level the game.
Kaiserslautern responded quickly. Osawe played it to Manfred Osei Kwadwo, who had only moments before replaced Atik. It was not a great finish though, with the wide effort not troubling goalkeeper Daniel Heuer Fernandes.
A draw looked on the cards as both sides struggle to create what would have been a winner. Osawe headed wide from a Kaiserslautern corner, whilst veteran Hamit Altintop couldn't direct his opportunity on target.
But from nowhere in the third minute of stoppage time, Christoph Moritz suddenly had the chance to win it, charging forward with only Heuer Fernandes to beat, however the keeper pulled out a top save to preserve the point for his side, a fair result in the end.