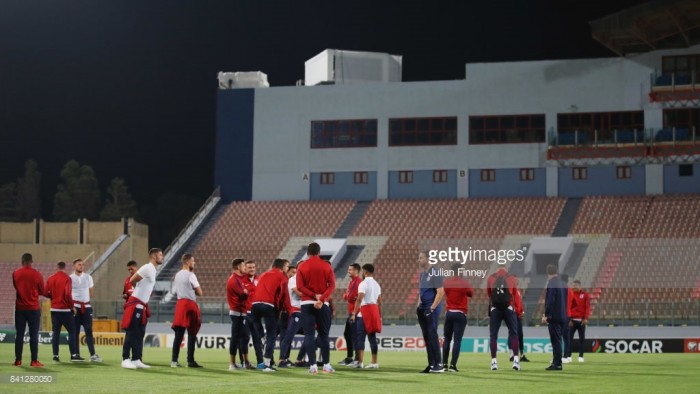 Thanks for following the game with me this evening. I've been Matt Addison. England were not exciting, but they got all three points, and that is all that matters!
There are three more matches to go in Group F, starting with England vs Slovakia on Monday. England are almost certain to qualify for Russia 2018, but a victory over the side placed second in the group would certainly solidify that.
Stay tuned on VAVEL UK for the match report!
England win 0-4 with a flurry of late goals. It was comfortable throughout, and the scoreline did not flatter Southgate's men in the end.
FULL TIME!
90+2'
Malta are fuming as they had a player down, but Rashford didn't see him. His ball found Kane in acres of space, and the Tottenham captain was never going to miss.
GOAL! Kane with a second!
90+1'
The ball over the top from Kane found the Arsenal man, and he got in front of Hogg to chip it over him deftly. Good finish.
GOAL! Welbeck atones!
90'
Foul for England as Malta put a bal into the box. Hart hits it forward, Kane flicks it on, and Welbeck can't finish from inside the six-yard box.
89'
It's not been exciting, but England will get the job done. Malta have lost their previous seven qualifiers, and it is not hard to see why. Walker now has a chance, but his shot goes nearer the corner flag. Vardy was unmarked in the middle, too.
88'
Rashford beats three, but overhits the cross. Kane was closest, but he was not getting there.
86'
It's a good finish, but the goalkeeper will be disappointed. Hogg should have got that. It is now game over, for sure. No chance of a Malta comeback now.
GOAL! Incredible from Bertrand, who scores from distance!
85'
England with a long period of possession. They know it's nearly over, but at just 0-1, they can't afford to make a mistake.
MALTA SUB: It's one Fenech for another - no relation. Ten minutes at the most left now.
82'
Slovakia have now taken the lead. They remain two points behind England as it stands ahead of the meeting between the two at Wembley in three days time.
81'
Vardy flicks on Bertrand's cross, but Kane can't reach it. The move fizzles out. Not long now.
80'
Bertrand plays the ball straight out of play. Good job England are comfortable.
79'
Rashford heavily involved now, but he can only produce an air-kick on this occasion, as the ball is nicked off his toe at the last second.
78'
Fenech is now down. Malta just wanting a breather.
77'
Rashford now fouled. Referee Dias is not impressed with his reaction to the tackle, but play has now resumed.
ENGLAND SUB: Oxlade-Chamberlain comes off, with Danny Welbeck coming on for his first appearance since the 3-2 win over Germany eighteen months ago.
76'
Just fifteen more minutes left. Rashford shoots from all of 40 yards, and Hogg parries. Decent effort.
75'
Oxlade-Chamberlain smashes one over the bar.
MALTA SUB: Zarafa leaves the field, after being injured twice. Caballeri comes on.
73'
Vardy gets in behind but can't connect properly. It's a goal kick. Another stoppage, with Zarafa down once more.
72'
It's gone very quiet. England know they have done enough. They have had 74% of the ball so far, and are more than comfortable. The only question was whether they could score - and now they have it's game over.
70'
A man has now run onto the field, only to be arrested. He's been more entertaining than some of the football, to be fair.
ENGLAND SUB: Jamie Vardy comes on for Dele Alli.
68'
Short break in play as Zerafa goes down.
67'
Jones does brilliantly to head clear a cross. Malta are starting to pose a little bit of a threat, now. England need to keep focused.
66'
Walker with a vital interception. Schembri was very nearly in there, but the Manchester City man stopped him in his tracks.
65'
Malta try to come forward, but Livermore does well. They have come out and try for a goal, which wil leave gaps at the back for the likes of Kane and Dele to exploit.
64'
England appear to be content to get the job done with minimal effort, ready to go again against Slovakia at Wembley on Monday night. That game will provide a much sterner test, for sure.
63'
Pisani gets in behind England, but Cahill did well to block the cross. Hart collects the loose ball.
63'
Oxlade-Chamberlain fouled. Zarafa with the touch as he knocked it past him. Dele tries to get in behind, but it's well headed away.
61'
Hogg saves well from Kane, before Walker commits a foul.
60'
England are so comfortable. Absolutely cruising. It is exactly the same as the first half - with not much happening - except now they know they have a goal, which should secure the points. It's been a keep-ball exercise since the goal went in.
58'
Kane now has four goals in three games for England, now. With Malta tiring, he might fancy his chances of notching another before the end of the night. No more chances yet, though.
56'
Foul on Zerafa. Malta need a goal now, which seems unlikely. They have had six shots on target in the entire qualifying campaign so far - that's one per match on average.
53'
Dele made some space for his Spurs' teammate, and Kane's drought is over, as he finishes coolly past Hogg.
GOAL! Kane scores. Finally!
52'
Rashford positive again as he runs at his man, but it goes behind for a goal kick.
51'
Dele treads on the ball and Malta break. England get back in numbers, but Schembri's shot goes marginally wide. A let-off.
50'
Foul by Livermore, who was a little to eager to regain possession. No harm done, as England win it back easily.
49'
Rashford looks much more lively than Sterling already. He gets in behind, but is tackled. A bit better from England.
48'
Dele nearly breaks through on goal, but Malta steer it out of harms way. England throw.
47'
The game has quickly settled back into the exact same pattern as in the first half. Up to England to step it up.
46'
It's Malta who take the kick-off - can England find a goal?
ENGLAND SUB: Marcus Rashford will replace Raheem Sterling.
Almost time to get back to the action in Malta. England have been pedestrian so far, but it only takes one chance.
Not much to write home about so far, but surely England will find a goal in the second half? Make sure you join us again in a little over ten minutes time, and we'll find out the answer.
HALF TIME. England have failed to make a breakthrough as yet, but are at no risk of going behind. It might take a bit of magic from someone, or a substitute to come on and change things. At the break, it's goalless.
45+1'
Two added minutes shown. Kane is called offside when he got into a promising position, and that might be that for this half.
45'
Dele lifts a ball into the box, but Hogg takes it from air without even trying. England trying to be too cute.
44'
Kane goes down in the box, but it was just a loss of balance. Not long until half-time.
43'
Malta play themselves out of danger nicely, but don't get anywhere. England win it back with ease.
42'
A long throw-in from Malta results in a Hart goal kick. Malta pen England in, and he is forced long towards Kane.
41'
The breakthrough will surely arrive at some point, but for now there is a lull just before the break. Bertrand crosses in, but there is no one there.
40'
Rashford or Sturridge might be able to add some pace and quality. Sterling and Oxlade-Chamberlain have so far been unable to provide it.
39'
Walker hits a hopeful pass up to Kane, but he is nowhere near winning it. Southgate must be considering changes at half-time.
37'
Short break in play for an injury for Malta. Less than ten minutes left once we get back underway.
36'
England are really struggling to create chances now. They seem frustrated and seem to be forcing it too much. Livermore now plays a straight ball and overhits it as it runs for a goal kick.
35'
Henderson's ball in deflects harmlessly away. Bertrand then has a chance to put a cross in, but he cannot make the most of it.
33'
It comes to nothing, and Malta stay compact. Free-kick by the corner flag won by Walker - decent chance for another ball in.
32'
Henderson's cross from deep is easily cleared. England come forward again, but it comes to nothing. They do have another corner, now, though.
31'
England's best chances came very early on, through Sterling and Kane. They have struggled to open Malta up since then, in truth.
30'
It took a long time at Wembley eleven months ago, and it may well be that England are made to wait again. Malta resolute so far, but how long can they keep it up?
29'
Jones now caught as he clears the ball. Hart plays it short, and England come forward again.
28'
Dele gives away a foul. He looks frustrated so far.
27'
It's Bertrand's ball in this time, but again it's headed away. Offside then given against Malta as they attack for the first time.
26'
Oxlade-Chamberlain wins another corner as he bursts past his opponent and puts a cross in, which was headed away from danger.
25'
Brilliantly punched clear, before England come again. Bertrand's ball in hits the first man, and we are back into a pattern of England keeping the ball again. A goal is surely coming...
24'
It was in the vicinity of Kane. Decent defending gives England another corner.
23'
Livermore's ball in nearly finds Dele, but it's too high. Henderson is then fouled close to the box, in a good position for a cross in.
GOAL DISALLOWED! Henderson's ball was headed in by Jones, but the referee gives a foul on the goalkeeper. It looks harsh on second viewing, but it remains 0-0.
21'
Another corner, this time won by Harry Kane.
20'
Sterling looks to get in behind his full-back, but Bertrand's ball is intercepted. England having to be very patient.
18'
The corner came to nothing, and England resume the pattern of keeping the ball, with Malta intent on sitting in. Bertrand is then caught late - free-kick given in his own half.
17'
Oxlade-Chamberlain wins a corner as England speed up the play and go two-touch. Better from the visitors.
16'
Henderson is unfortunate to concede a foul. He seemed to head the ball cleanly, but the Portuguese referee disagrees.
15'
Sustained pressure from England as Henderson tries a chip forward. Dele then tries to flick a ball in behind Malta for Kane, but it's overhit and runs through to Hogg.
14'
England could do with moving the ball a little faster here. All too predictable at times so far.
12'
Cahill goes down and he gets a free-kick. Walker had lost the ball, but his centre-back helped him out.
11'
Chance for Dele as he sweeps a shot over the bar. Liverpool teammates Oxlade-Chamberlain and Henderson linked up to find him, but he could not keep the effort down.
10'
Henderson works a corner short, but his low cross goes straight into the hands of Hogg. At the other end, Phil Jones is fouled.
9'
You do have to question whether England really need Henderson AND Livermore in midfield. Malta offer no threat offensively and it's all about whether England can score.
8'
A decent start from England. Keep creating chances like this and it's only a matter of time.
7'
Walker gets in behind and finds Kane in the box, but is touch is heavy and he loses the ball.
5'
Kane runs into the Maltese defence as he looks to carry the ball forward.
4'
Really good save! A powerful header from Kane is pushed away! Could easily have been 2-0 already.
3'
Malta with a bit of the ball now. Good strike from Fenech who shoots wide of Hart's goal.
2'
HUGE chance for Sterling! He tries to take an extra touch when inside the box, but the goalkeeper tackles him! Should be 1-0.
1'
All England possession so far. Sterling has begun the game on the left, with Oxlade-Chamberlain on the right.
KICK-OFF! It's England who get us underway.
19:41
The national anthems are underway. England have no excuses tonight - they will be hoping to get an early goal to make it comfortable. We are very close to kick-off now, so don't go anywhere!
19:35
Ten minutes to go now until the game starts!
19:32
Speaking to ITV Sport, England boss Gareth Southgate has said: "We've talked a lot about out principles in attacking play, and areas we feel we can open them up. They (Malta) make it very difficult (playing) 5-4-1, so there's not a lot of space to play, but with the quality we have, if we are patient in the right way, then we can open them up".
19:27
England's under-21s drew 1-1 with the Netherlands earlier today, with Everton's impressive young attacker Dominic Calvert-Lewin scoring the opener. Bart Ramselar equalised for the Dutch, but Aidy Boothroyd's side will be content with a point as they began their Euro qualifying campaign.
19:19
Less than half an hour to go now until we get underway. How many of this XI will start the first game of the World Cup next summer? Joe Hart is no certainty with England's huge selection of goalkeepers, whilst Danny Rose is likely to return in place of Ryan Bertrand. Marcus Rashford will also be hoping to make it in 2018.
18:57
In the meantime, why not have a gander at Sam Straw's match preview to get you in the mood?
18:48
With less than an hour until kick-off, don't go anywhere.
18:44
Looks like Gareth Southgate has selected a 4-2-3-1 formation, with Liverpool's £35 million capture Alex Oxlade-Chamberlain chosen ahead of Marcus Rashford, and Phil Jones rewarded for a good start to the season with a starting berth ahead of John Stones.
Malta: Hogg, Magri, Borg, Agius, Fenech, Schembri, Muscat, Farrugia, Kristensen, Zerafa, Pisani
18:31
Jordan Henderson is his country's captain tonight. Malta team news to follow.
England: Hart, Walker, Cahill, Jones, Bertrand, Livermore, Henderson, Dele, Sterling, Oxlade-Chamberlain, Kane
The England team has now been confirmed.
Stay tuned for team news as soon as we have it. Kick-off is at 19:45 BST, and we should know the lineups around an hour or so beforehand.
This is only one of four competitive matches that Gareth Southgate has to decide his lineup for the World Cup next summer, so it will be interesting to see what team he selects and whether those players can make an impression.
Adam Lallana, Keiran Trippier and Danny Rose are amongst those players unavailable through injury. Everton's Jordan Pickford has also picked up a knock, with Joe Hart expected to continue despite West Ham's poor start to the campaign and strong competition from Stoke City's Jack Butland.
Wayne Rooney was also in the England team that day, although he won't be now as he has retired from international football as his country's leading goalscorer. This marks the beginning of the new era without their former captain, although England are well-stocked in forward areas.
England won the reverse fixture comfortably 2-0 at Wembley back in October 2016, and will be anticipating a similar game here. That was England's first match under Gareth Southgate, still interim boss at the time following Sam Allardyce's departure, with Daniel Sturridge and Dele Alli the goalscorers.
Slovakia and Slovenia also face off tonight, the two teams placed second and third in the group respectively, so England will make some ground on at least one of them should they get their own job done.
England are currently top of Group F by just two points with four matches to go, but will be fully expecting to take all three points here. Malta have lost all six of their qualifiers so far and are firmly rooted to the bottom of the table.
Hello and welcome to VAVEL UK's live coverage of Malta vs England, with me, Matt Addison, as Harry Kane and co look to make their World Cup qualification a little easier by taking all three points of the Southern European minnows.