Encounters between Saint-Etienne and Lyon go by a plethora of different names: Rhône-Alpes Derby, Derby du Rhône and Derby Rhônealpin are but a few. Those who derive from this south-eastern region of France refer to it as Le Derby, though, because there is nothing else like it.
Lyon will travel to the Stade Geoffroy-Guichard on 5 November in what will surely be another unforgettable meeting between two of the country's most successful and iconic footballing institutions.
To the untrained eye, three points and a step towards the European places will be the main agenda for these two sides. However, as history has shown, there will be far more at stake than that.
Authentic in every way:
Local derbies in French football are a rarity to say the least. Due to the seismic nature of the country, a city is normally restricted to a solitary competitive club.
Rivalries, then, are often constructed rather than inherently established. The biggest match in the Ligue 1 calendar is Paris Saint-Germain's clash with Marseille but the entirety of France separates the two clubs. Le Classique has arisen, as it seems, due to on-pitch success and the media's influence.
In contrast, the disdain Saint-Etienne and Lyon supporters hold for one another is authentic. With just 30 miles along the Rhône River between them, this hostility is ingrained within their DNA.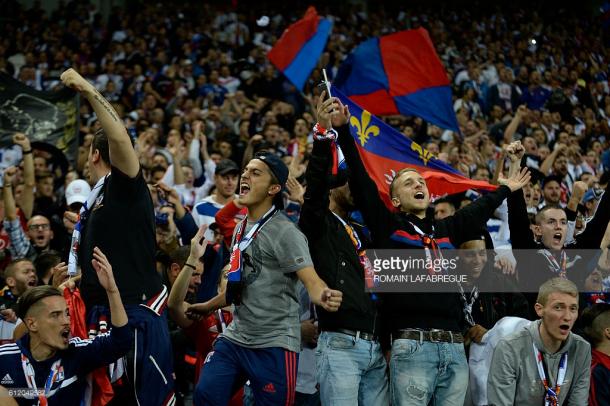 Similar bitterness is shared by many football fans when their rivals visit town and this particular encounter shares many traits with other derbies.
Ultras that create a hostile atmosphere, huge tifos before kick-off and flying tackles on the pitch - the rivalry itself is indeed typical of many around the world, but there is nothing ordinary about it.
A tale of coal-miners & silk-wearers:
What makes this derby so unique, so special is the political and social undertones that swell intensely in the underbelly of this beastly fixture.
Association Sportive de Saint-Étienne Loire and Olympique Lyonnais importantly derive from two very different areas - Lyon is located in the Rhône, Saint-Etienne in the Loire.
Former Saint-Etienne manager and Lyon defender, Christophe Galtier, compared it to Manchester United and Liverpool's rivalry whereby supporters differ slightly in location but immensely in their cultures.
Saint-Etienne and Lyon tells a story usually written in great works of literature or showcased as a triumphant piece of cinema. It paints a rich tapestry of the poor vs. the rich, blue collar vs. white collar, and coal-miners vs. admin-workers.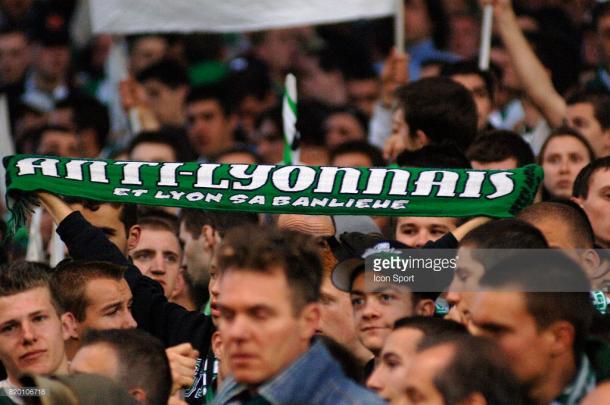 The city of Lyon, for example, is second only to Paris when it concerns culture and sophistication. It harbours 22 Michelin stars, intriguing museums, an opera house, and a ballet venue amongst its buildings of Renaissance architecture. Parc OL, opened last year, is just another addition to an already vast number of beautiful arenas.
"It's not a game like any other. It's not a normal game. It's tough, hard. It goes beyond football." - Chirstophe Galtier.
Saint-Etienne, on the other hand, is at the very heart of France's industrial heritage and is synonymous with the mining, weapon and bicycle industries.
David Valverde, a Saint-Etienne correspondent for RadioFrance and a former UEFA journalist, said: "Those industries [seen in Saint-Etienne] shut down in the early 80's but Saint-Etienne still has that image of a dark, manual working city whereas Lyon is more of an intellectual one."
With the two so socially opposed, there have been many spats away from the football field. Some disputes go back as early as the 18th century when Saint-Etienne's 'bourgeoise' neighbours would raid their city for cheap labour.
As a result of Lyon's shadow, it has been an underlying fear that Saint-Etienne would become a suburb of Lyon but this fear has never been realised. In fact, former Sainté President Roger Rocher once said: "In football terms, Lyon will always be a suburb of Saint-Etienne."
Each has had an era of dominance:
For a long time, this statement was near-enough true.
Saint-Etienne were a colossus sweeping all before them midway through the previous century as Lyon were just finding their feet as a football club.
Les Verts won Ligue 1 on 10 separate occasions, a record that still stands today, between the years of 1957 and 1981 whilst also lifting six Coupe de France titles in the same time period.
Le club mythique - who boasted the likes of Michel Platini, Aime Jacquet and Laurent Blanc - also became the first French side to reach the European Cup final since Reims in 1956. Sainté narrowly lost to Bayern Munich in the '76 final, despite hitting the woodwork twice, but are still rightly proud of their European exploits.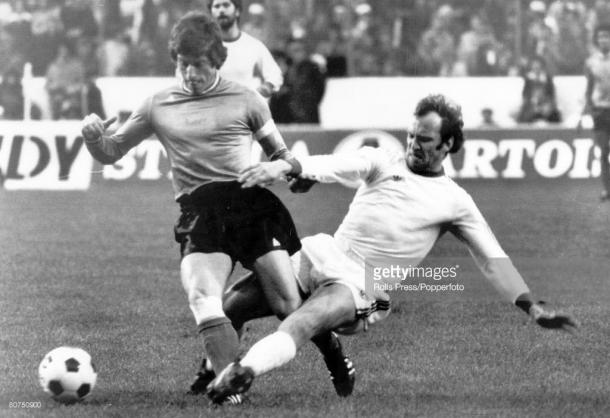 Their dominance also translated to wins over the rivals, too. During 1968-69, Saint-Etienne dismissed of their neighbours 7-1 and 6-0 in the two league meetings that term.
Les Gones players hated making the short trip to the Stade Geoffroy-Guichard, as former France manager and Lyon centre-back Raymond Domenech explains in Histoires du Derby.
"I like acting because in theatre green is a cursed colour," He says. "I like Roland-Garros but not Wimbledon. I dream of pitches painted blue and red. At home, I paved over my lawn so that I wouldn't have to look at green when I got up. The colour green gives me acne. One green is OK, but 30,000... that can do real damage."
Lyon's fear for the colour green would quickly be forgotten, though, as the club went on to dominate the domestic league like never before. Lyon won seven consecutive titles with the likes of Karim Benzema, Michael Essien and Florent Malouda at the forefront of this success.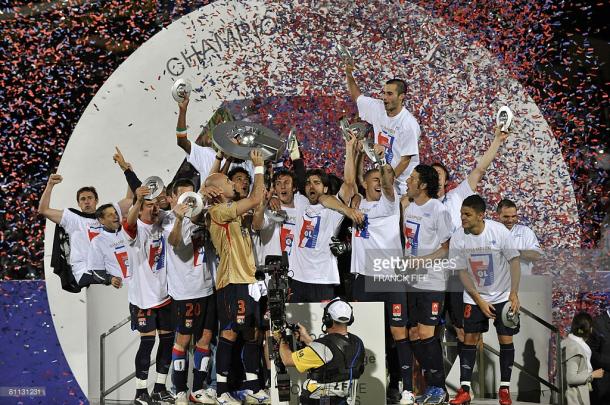 "In the 60's and 70's people knew Saint-Etienne would win. Same thing for Lyon in the 00's and early 2010's. Now this is a real game, a real battle." - Valverde
Between 2002 and 2009, nobody within France's borders could come close to Lyon. It was Le Gones' time in the sun while their once-great neighbours struggled in the second division. Saint-Etienne had to look up to see their rivals win titles, cups and advance in the Champions League just as they had done decades beforehand.
Lyon reigned supreme over their rivals - epitomised by the fact that Saint-Etienne had not beaten Lyon at home for 18 years - but it has since become more level on the field. The level of competition has increased and this has, therefore, added another dimension to an already great game.
Angst is in the air:
Tensions are set to be high in the days before kick-off and fans have already shown their support.
1,500 Lyon fans - with flags and smoke bombs in hand - attended training the night before the derby with the intention of creating an atmosphere before their players travelled the next day. Similarly, Sainté supports took great numbers to the under-17 fixture between the two clubs a couple of weeks prior.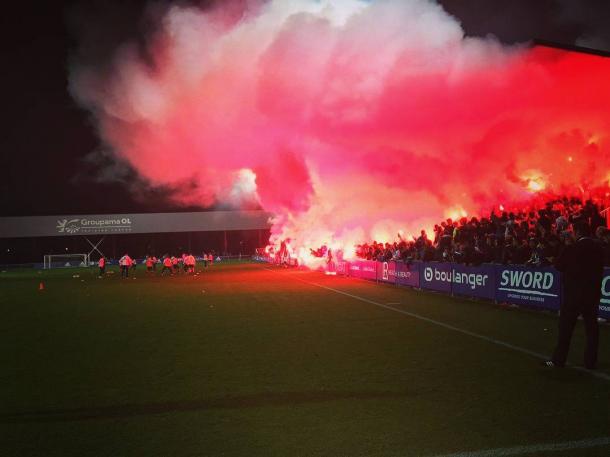 As cliché as it sounds, fans play a huge part in this game. Supporter groups like the Green Angels and Magic Fans (ASSE) and Bad Gones 1987 and Lugdunum's Lions (Lyon) never fail to create a hostile atmosphere for the opposition.
In 2007, for example, players had to be led off the pitch in the 52nd minute as Saint-Etienne fans had revealed a provocative banner towards the Lyon fans. They subsequently reacted by throwing flares towards Saint-Etienne supporters before these same fans then threw the flares back towards the Lyon enclosure.
Hostile chants are also summoned from the stands. An example being songs directed towards Gregory Coupet, who left Saint-Etienne for Lyon over 20-years ago. "Bring out Coupet's missus, bring us the little whore," they sang before chanting support for Fabien Barthez, Coupet's World Cup rival.
The angst is not just created in the stands, however, as bickering and jousting is seen from the players right up to the boardroom. Jean-Michel Aulas has added a further element to proceedings with Lyon's President a fan of provoking the opposition.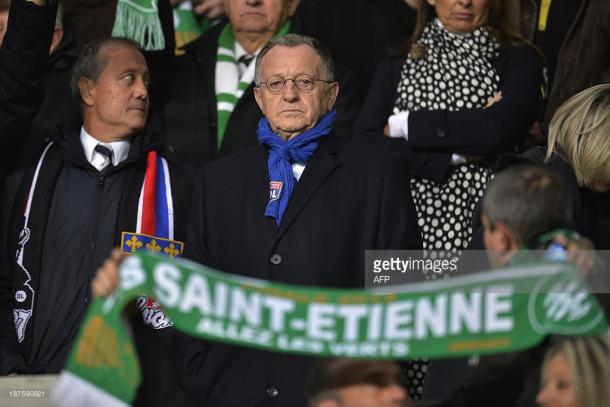 The 68-year-old is never slow to bring up the fact that Lyon secured a league title in front of Saint-Etienne supporters. He has also chortled at Saint-Etienne's appearances, or lack of, in the Champions League, stating they would only play in the tournament on a PlayStation.
Aulas also initiated a case against Saint-Etienne - on the eve of the derby no less - regarding players who were at the club under false passports. Three Saint-Etienne players were found guilty, along with many others of different clubs, and the club were relegated back to the second division.
Much of the same:
Such angst is unlikely to be missing on Sunday evening in what will be another encounter with fresh, relevant storylines infused with those of old.
Lyon are the form team going into the derby having scored 16 goals in their last five Ligue 1 outings. They have 27 in total in the league this season, just over double Saint-Etienne's tally of 13.
The gap in quality up front has been obvious in the last month and yet the pair are separated by just four points in the league.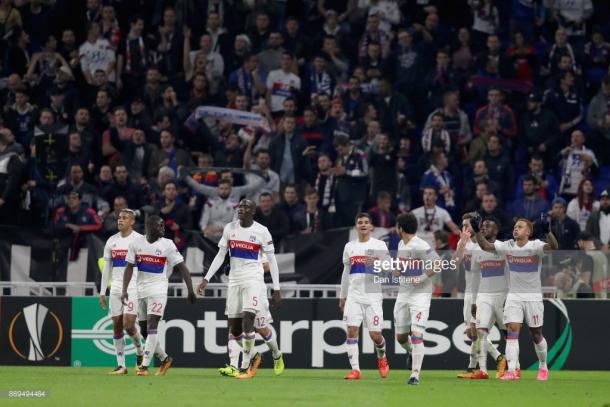 Saint-Etienne will have to find the early-season form that impressed so many to overcome their rivals. Les Verts drew 0-0 in a dire meeting with Toulouse last week and have looked lacklustre of late.
That, according to beIN SPORTS journalist Margot Dumont, means nothing when Le Derby starts.
"No matter the rank or the form, we forget everything." Said the Ligue 1 and Europa League reporters. "Everything is reset to zero at the kick-off because it is a match that is won with guts, envy and character."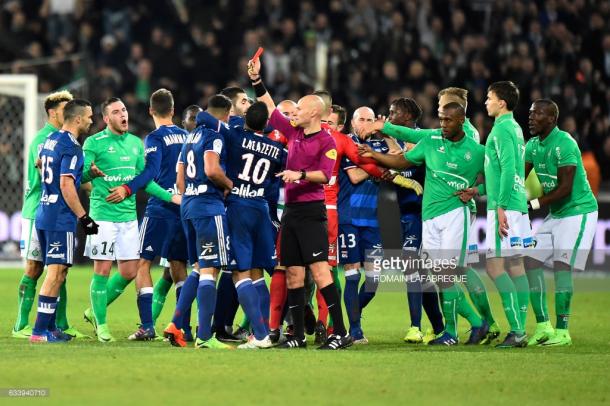 The train route to/from Lyon and Saint-Etienne is now one of the most travelled in France as the differences that has made these two sets of people so distinct now disappear into history.
As the cities continue to build bridges, a win in the derby might mean more than ever. One of the busiest train lines in the country is best travelled with a derby win to your name.