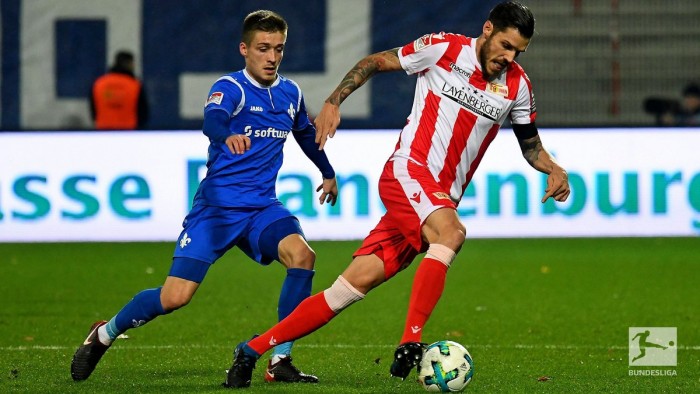 An own goal from Jan Rosenthal with the final action of the game denied SV Darmstadt 98 a first win in nine, as they had to settle for a 3-3 draw with 1. FC Union Berlin in another 2. Bundesliga classic.
A 1-0 lead for the hosts at the break was the least they deserved, with Grischa Prömel forcing a howler out of Florian Stritzel, making his senior debut in goal for the Lilies.
Terrence Boyd then equalised twice in the second half, with Sebastian Polter having put Union back ahead from the spot. Tobias Kempe then scored a penalty of his own for Darmstadt but Rosenthal's misfortune right at the end meant the points were shared.
Prömel puts hosts in front as Stritzel suffers nightmare debut momnt
Both of these sides were beaten last weekend, with Union lost a thriller 4-3 to 1. FC Heidenheim whilst Darmstadt's winless won continued at home to SV Sandhausen. On his 47th birthday, Jens Keller called up Christopher Trimmel, Dennis Daube, Simon Hedlund and Marcel Hartel to the starting line-up, with Stritzel, Markus Steinhöfer and Rosenthal coming in for Torsten Frings's Darmstadt.
Union struggled to combat Darmstadt's physical approach early on – they would have three players booked within barley more than ten minutes at one point in the half – but the Lillies were a side without a win in eight games and Union were soon able to take control of the match.
A Kristian Pedersen header from a free-kick was saved by debutant Stritzel, the first clear cut chance of the match. Hartel then played a clever ball to Akaki Gogia, but despite being in a good position he rushed his shot. Stritzel, who had replaced the dropped Joël Mall, then had another save to make when Prömel set up Hedlund for a host from wide.
After that though the game began to go nowhere, as the visitors battled in vain to get a foothold. It took a moment of genius, and a nightmare moment for Darmstadt's keeper, for the hosts to break the deadlock. Left-back Pedersen tricked his way through the box, before setting up Prömel for the shot. It was straight at Stritzel, but he let it through his grasp and in.
Darmstadt could have been level very quickly, however an Aytac Sulu cross which found the head of Boyd was then taken by Jakob Busk. Hedlund also had the chance to double the home side's advantage just before the break, but Sandro Sirigu prevented him from putting an effort on goal.
Darmstadt come out fighting in second half
The Darmstadt fans put on a blazing display of flares at the start of the second half, and with the team attacking towards them, they appeared to be inspired. Steinhöfer had a shot saved by Busk, but a few moments later they were level in scrappy fashion. A touch from Wilson Kamavuaka became a lay-off for Boyd, who scrambled the ball in despite Trimmel's attempts to keep it out.
The parity would not last long. After Hedlund managed to buy a foul against the already-booked Sirigu (he survived a second yellow), Sulu needlessly waved an arm at the incoming free-kick and was penalised. Polter stepped up and sent Stritzel the wrong way.
The drama was really ramping up now. Tobias Kempe, Sirigu's replacement, had a free-kick blocked but Darmstadt retained possession. Eventually Steinhöfer crossed it back in, and again Boyd was there with a powerful header into the back of the net, bringing his side level for the second time in ten minutes.
Much-needed Lilies win denied at last possible moment
After Darmstadt survived appeals for another handball penalty, they then earned a spot-kick all of their own when Trimmel clearly fouled Marvin Mehlem in the box. Boyd was on a hat-trick but it was Kempe who stepped up to blast it in and earn the Lilies a lead that wouldn't have seemed likely in the first 45 minutes.
Soon after Mehlem did well to hold up the ball after a run forward left him well ahead of his team mates, however eventually Fabian Holland had a diving header from a Steinhöfer cross kept out by Busk. The hots toiled in response, although Polter forced Stritzel into a great save, tipping over his header form a Trimmel free-kick. Sulu then survived another handball appeal, although on this occasion it was outside the box.
Four minutes of stoppage had almost come and gone before die Eisern managed to get level. With the final action of the game, Trimmel's corner found Toni Leistner. The defender's header was kept out by Holland, but his clearance went straight into the face of Rosenthal and the rest of the Darmstadt players in the box well helpless as the ball trickled in.
There was no time for the restart, and Darmstadt had to face up to another game without a win having almost got their first three points in nine attempts. Having led twice though, Keller's side might not be happy with a point either, which hinders their attempts at catching the league's top two.
Friday's other 2. Bundesliga result
SV Sandhausen 1-2 1. FC Heidenheim (1-0, Knipping 28'; 1-1, Glatzel 48'; 1-2, Verhoek 73')