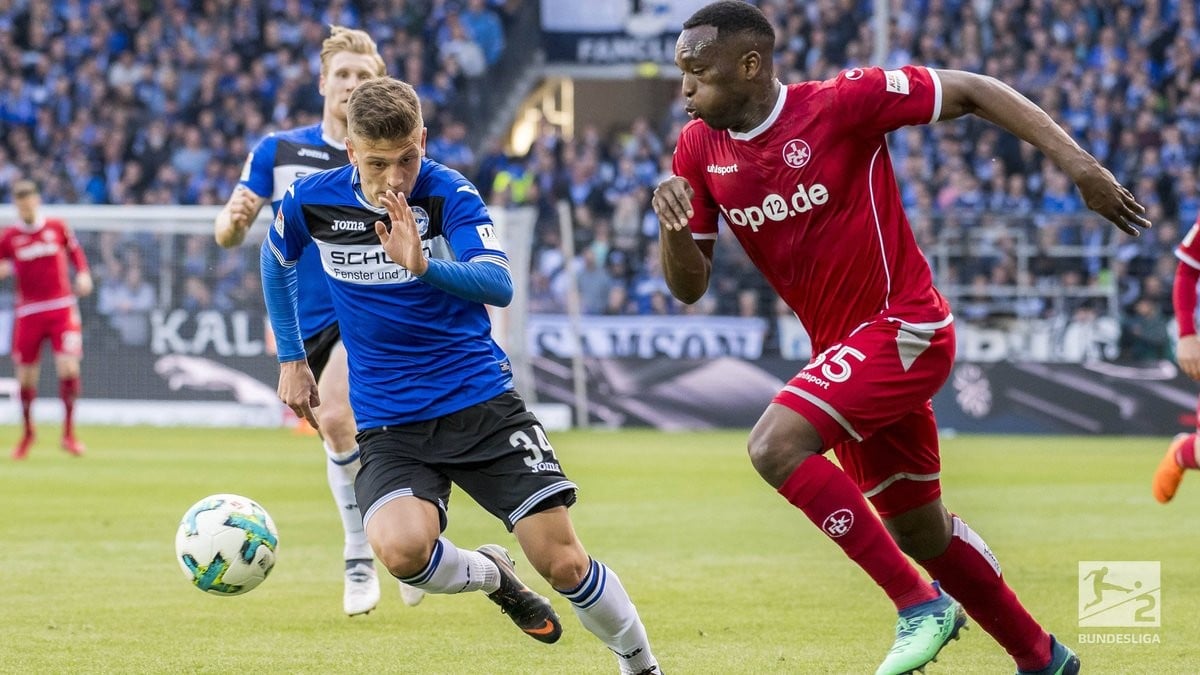 Once one of the biggest names in German football, 1. FC Kaiserslautern , have been relegated from the 2. Bundesliga after failing to beat Arminia Bielefeld on Friday night.
It had all been going so well too, as they were leading 2-0 early in the second half after goals either side of the break from top-scorer Sebastian Andersson.
A handball clearance from Benjamin Kessel though then led to a red card and a penalty converted by Fabian Klos, before Andreas Voglsammer equalised and Klos confirmed their fate with the final kick of the game.
Andersson gives Kaiserslautern hope
Having been bottom virtually all season, Kaiserslautern absolutely had to win here to have any chances of keeping their faint hopes of survival alive. Bielefeld meanwhile still retain hopes of pushing Holstein Kiel for third place. Their only change from the draw with Eintracht Braunschweig saw Can Hayri Özkan replace the suspended Florian Dick, whilst the Red Devils made four changes from the defeat to Dynamo Dresden. Leon Guwara, Mads Albaek, Halil Altintop and Lukas Spalvis made way for Joel Abu Hanna, Nils Seufert, Ruben Jenssen and Andersson.
They started promisingly enough. Janssen set up a chance for Philipp Mwene, who struck just over, before a cross from Osayamen Osawe was just out of reach for Andersson, who couldn't shake off the attention of Henri Weigelt. The hosts soon started to cause problems of their own though, with Klos going over with an unconvincing volley and Andreas Voglsammer having a shot blocked.
From there though it seemed increasingly likely that Bielefeld would soon be ahead. Roberto Massimo had their first big chance as he struck wide across the face of goal, before Klos failed to connect with his cross from the other side. There were chances too for Voglsammer and Florian Hartherz, the latter very similar to Massimo's, before Konstantin Kerschbaumer missed a sitter. After exchanging passes with Klos, he had clear sight of goal but rushed his effort and put it over.
As it was, it was Kaiserslautern who drew first blood to give their survival hopes a boost. Bielefeld wanted a foul after Abu Hanna won the ball off Massimo, but allowed to play on he found Osawe. The forward's cross was knocked on neatly by Mwene to Andersson, who beat Stefan Ortega despite not making the cleanest of connections with the ball. It was his ninth goal of the second, with the tenth to come later.
Kaiserslautern crumble after Kessel red card
Hartherz had several opportunities to equalise soon after the break, whilst his cross was missed by Klos, missing out like he had in the first half. Kaiserslautern then went down the other end to score a second. Christoph Mortiz found Osawe on the left, and his cross took a big deflection on its way to Andersson who was running into the box. It still found him though, and with Ortega beaten he put the ball into the empty net.
Klos would soon hit the bar for Bielefeld, but he soon had an even better chance to get his side back in the same when found on the break by Voglsammer. His shot beat Marius Müller, but a desperate Kessel was back to clear and ended up using his trailing arm to keep the ball out. Guido Winkmann pointed to the spot, sending off Kessel too, and Klos put his penalty down the middle.
With or without the man advantage, one had the sense that Bielefeld could now draw level and leave Kaiserslautern hanging over the relegation trapdoor. Substitute Patrick Weihrauch set the goal up with a deep cross, finding Voglsammer in the box. He was flanked by two Kaiserslautern defenders, but both had given him enough space to head home unchallenged.
Kaiserslautern had to score a winner, and for a long time it didn't look like it was coming. Then as stoppage time approached, the urgency finally began to show. Andersson headed a corner into the side netting, before knocking on another to Osawe, who went wide. A massive save from Ortega in the final minute of three added minutes from Stipe Vucur then appeared to be the final chance gone.
There would be one final nail in the coffin too, as Bielefeld went down the other end, Keanu Staude found Klos and he managed to get the ball past Müller. There were sad, but not angry, scenes after that the match as both fans and players gathered to reflect on the bitter reality – Kaiserslautern had been relegated to the third tier for the first time in their history.
Friday's other 2. Bundesliga result
VfL Bochum 2-1 Erzgebirge Aue (1-0, Kruse 3'; 1-1, Köpke 16'; 2-1, Kruse 77')