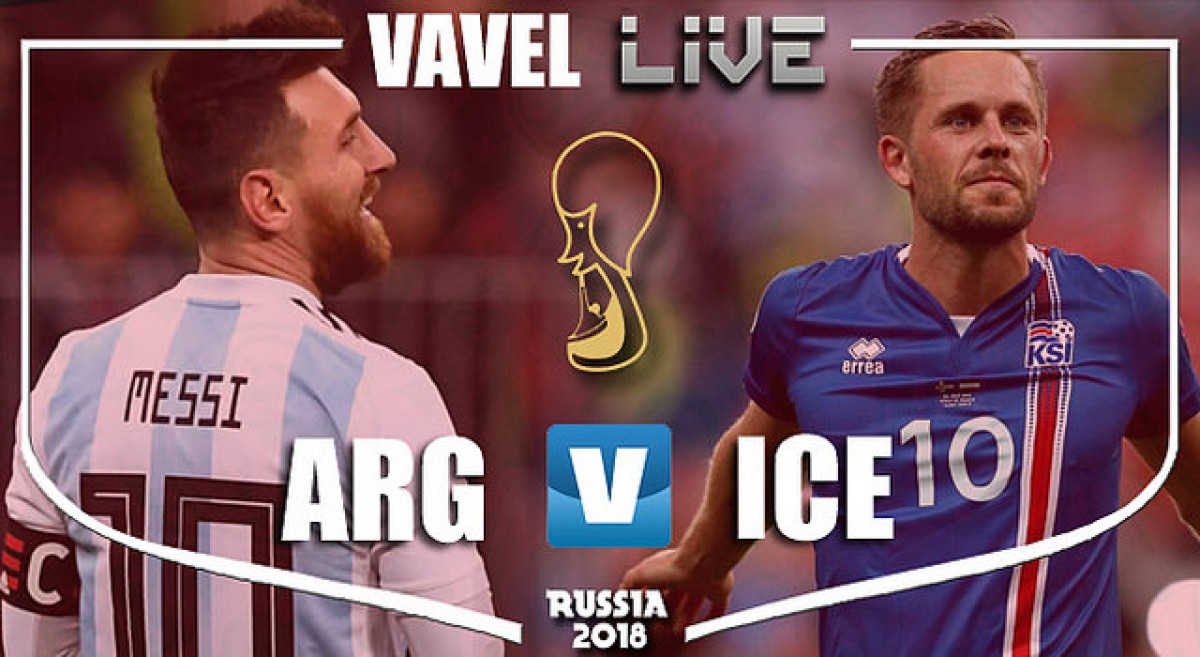 That though brings an end to Vavel's live coverage of the Argentina vs Iceland game today. I have been Brandon Sayer taking you through the game, I hope you have enjoyed our coverage but until next time, have a good evening.
It looked all plain sailing for Argentina when Aguero gave them the lead in the 19th minute but Finnbogason equalised four minutes later and form there they defended like their lives depended on it to earn their first ever World Cup point in their first ever game.
Well that's just an incredible performance from Iceland to hold out for the draw. Messi though will be kicking himself for missing that penalty midway through the second half. It just wasn't Messi's or Argentina's day and now they must bounce back in their next game.
90+5' - The referee blows his whistle to end the game. Argentina 1-1 Iceland.
90' - The referee has decided to add on five minutes at the end of the second half.
89' - Iceland substitution: Finnbogason is replaced by Sigurdarson.
87' - What a save from Halldórsson! Pavon whipped a great ball into the box which evaded everyone and was heading into the bottom corner but for a full length dive from the keeper.
84' - Argentina substitution: Meza is replaced by Gonzalo Higuain.
81' - Messi comes very close to scoring the winner for Argentina but his shot from the edge of the box just went wide of the goal.
78' - This is incredible from the Iceland defenders as anytime an Argentina players looks like they are about to have an effort on goal, they throw themselves at the ball to get a crucial block on it. Can they hold on? we are about to find out.
76' - Iceland substitution: Gunnarsson is replaced by Skulason.
76' - Argentina substitution: Di Maria is replaced by Pavon.
64' - Iceland substitution: Gudmundsson is replaced by Gislason.
64' - Messi miss the penalty! This was a weak effort from the magician as his shot was easily saved by Halldórsson who was hugged by a number of his defenders for that save.
63' - Penalty to Argentina as Magnusson fouls Meza in the box.
54' - Argentina substitution: Biglia is replaced by Ever Banega.
50' - Iceland have made a bright start to the second half and but for some last ditch defending from Argentina, they may have taken the lead in the match.
46' - The referee blows his whistle to begin the second half. Game on!
Iceland once again showed that they are a team that can compete with the biggest nations as they are level at the break. Aguero gave Argentina the lead in the 19th minute with a great finish but Iceland hit back four minutes later through Finnbogason who fired home after a mistake by Caballero. Both sides have had chances to score more but haven't taken them. What will happen in the second half? Stay tuned as we bring you the seocnd half live in a few minutes time!
45+1' - The referee has blown his whistle for half-time. Argentina 1-1 Iceland.
45' - The referee has decided to add on one minute at the end of the first half.
45' - Iceland once again show their attacking intent as a good passive move ended with G.Sigurdsson forcing Caballero into making a very good save down to his left.
33' - Argentina were rocked after the equaliser but they are starting to find their feet again as curling shot from Biglia from the edge of the box just went over the top of the crossbar.
23' - Goal for Iceland! Finnbogason fires home an equaliser for Iceland. The goal came after a cross from G. Sigurdsson wasn't dealt with by Caballero and the big striker was on hand to fire home into and empty net. What a start to his game.
19' - Goal for Argentina! Sergio Aguero has put Argentina in front. The goal came from a mishit shot from Rojo from a long way out which found Aguero who controlled the ball before smashing the ball into the top corner of the net.
17' - It took just the 17 minutes for Messi to have his first effort on goal as his thunderous strike from outside the box was well-saved by Halldórsson. Iceland will need to make sure they don't give the little magician any space or he will hurt them.
10' - What a miss from Bjarnason! Terrible play from Argentina's defenders presented Iceland with the opportunity to take the lead but Bjarnason blasted the ball wide when he should have scored from inside the box. Massive let off from Argentina then.
8' - The first chance of the game has fallen the way of Argentina as a flicked header from Tagliafico from a Lionel Messi freekick just went inches wide of the goal.
3' - It's been a very frantic start to the game so far as the Iceland players have started with real aggression as they try and unsettle the Argentinean players.
1' - The referee blows his whistle to begin the game. Game on!
Iceland: Halldórsson; Árnason, Saevarsson, R.Sigurdsson, Magnusson; Gudmundsson, Gunnarsson, Hallfredsson; Bjarnason, Finnbogason, G.Sigurdsson.
Argentina: Caballero; Salvio, Otamendi, Rojo, Tagliafico; Biglia, Mascherano, Meza; Messi, Di Maria, Aguero.
Line-ups are out!
Despite the questions, Sigurdsson should start for Iceland. The performances of Burnley's Johann Berg Guðmundsson will be vital for the tiny nation as he is both versatile and solid in his performance for the Clarets. Captain Aron Gunnarsson will provide steel in midfield whilst former Heerenveen man Alfred Finnbogason will be relied upon to be a threat up-front and hopefully, for Iceland, provide the goals.
Argentina, now managed by Jorge Sampaoli, are likely to line-up in their usual 4-2-3-1 formation with Messi supporting either Sergio Aguero or Gonzalo Higuain as the lone forward in attack. Sergio Romero would be the first-choice goalkeeper but a pre-tournament injury means that Willy Caballero is likely to get the gloves. Manchester City's Nicolas Otamendi should be partnered by Manchester United's Marcus Rojo in defence with the experienced pairing of Lucas Biglia and Javier Mascherano lining up in front of them as the holding midfielders.
There are questions, however, about Iceland's key man Gylfi Sigurdsson as the attacking midfielder continues his recovery from a knee injury that kept him out of the backend of the Premier League season. The Everton man played, and scored, half an hour against Norway in a warm-up friendly, signalling his return to action. Iceland's success and potential progress at this tournament lies, mostly, on Sigurdsson's shoulders and they'll be hoping he is fit enough for their debut World Cup campaign.
On the other side of the coin sees Iceland arriving at their first World Cup after claiming the heart's of the footballing world during the 2016 European Championships in France. Their dogged determination and grittiness saw them progress to the knockout stages and claim the scalp of England before being knocked out by the hosts.
All eyes will, of course, be on Lionel Messi as he bids to finally claim World Cup glory. The Barcelona forward came oh so close in Brazil during the 2014 World Cup, only to be denied by Germany at the final hurdle. Russia looks set to be his final chance at winning Football's ultimate prize but it'll be a difficult challenge due to Argentina's injury troubles.
Argentina and Iceland have never met in a fixture before so there is likely to be an air of uncertainty between the two teams. There is only so much video prep work that can be done on an opponent before you have to face the real thing!
This is the first game in what looks to be this tournament's 'Group of Death.' It pits a side led by one of the greatest players of all-time against a team that is built on a solid defensive base and great teamwork in a Moscow meeting.
Hello and welcome to VAVEL UK's live minute-by-minute match coverage and commentary for the World Cup. Today sees Argentina face off against Iceland at the Otkrytie Arena in Moscow. This afternoon's game kicks off at 14:00 GMT, but until then - we'll have plenty of pre-match build-up and analysis from Connor Bennett and then live coverage with Brandon Sayer. Make sure you keep up with our updates!.