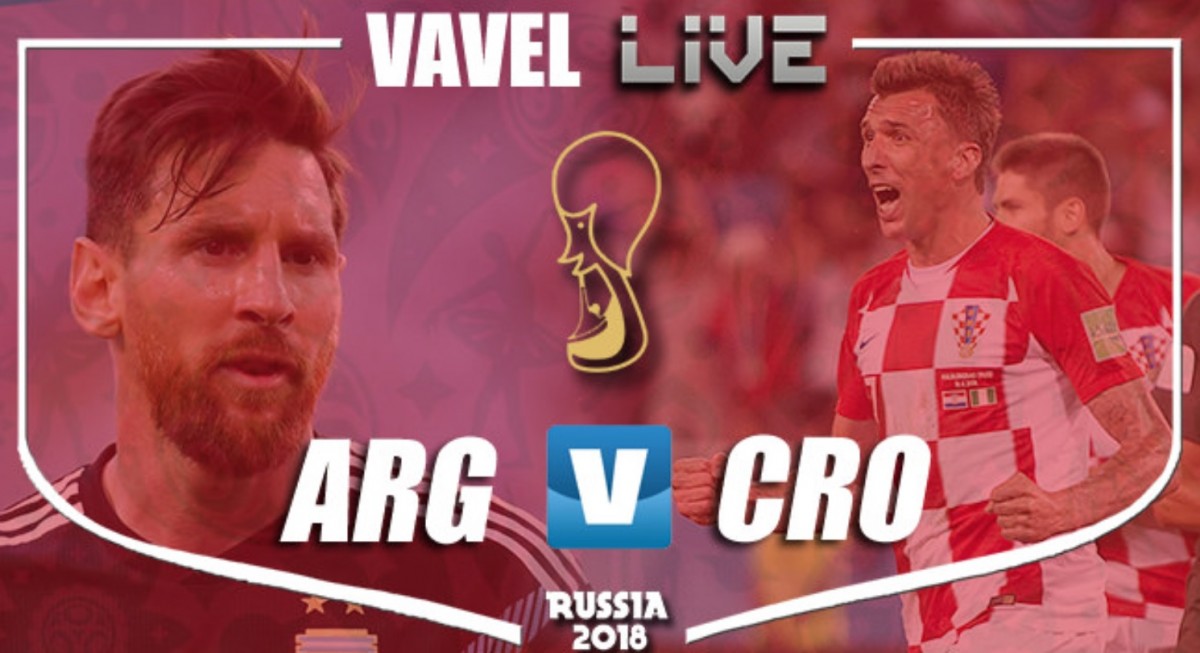 FT: Thank you very much for tuning into VAVEL UK's live text commentary for Argentina versus Croatia this Thursday evening. I have been Ryan White, and I remind you to keep up-to-date with the site's continuous great coverage of the World Cup over the next few weeks.
FT: Zlatko Dalić's side dominated play in the second-half and deservedly rack up the three points. This win means Croatia have confirmed their place in the round of sixteen.
FT: Argentina are embarrassed and humiliated as Jorge Sampaoli's men concede three second-half goals which sees them remain on one point; Nigeria and Iceland have still got to play - if the latter win then the South American nation bow out of the World Cup.
FT: Argentina 0-3 Croatia
90+1: Willy Caballero initially makes a good save to deny Croatia but the Argentina defence stands still to allow Rakitic to pass the net into the bottom left corner. Argentina 0-3 Croatia
90+1: GOAL FOR CROATIA! IVAN RAKITIC!
90: The referee has indicated there will be a minimum of four additional minutes.
90: It appears Argentina have given up and accepted their fate; Croatia continue to look at increasing their goal difference.
86: Ivan Rakitic's resulting free-kick hits the woodwork, and Argentina are saved from an embarrassing score line, as it stands....
85: Yellow card for Argentina man Nicolas Otamendi after a bad reaction following Javier Mascherano's foul on Ivan Rakitic.
80: Real Madrid man Luka Modric strikes the ball from 20 yards out into the bottom right corner, nothing Willy Caballero could do to stop that! Argentina 0-2 Croatia.
80: GOAL FOR CROATIA! LUKA MODRIC!
76: A massive roar of booing from the crowd as the referee takes a while before deciding to stop play as Rakitic is on the floor in the centre circle.
68: Argentina make their third and final change as Enzo Perez makes way for Paulo Dybala - the South Americans are really going for this now!
66: Mario Mandzukic has a half-attempt at goal but his opportunity hits Caballero's side-netting.
64: Gonzalo Higuain sweeps the ball back from a wide position, Meza diverts his effort on target but Subasic makes a quick reaction save to concede a corner, which comes to nothing from Argentina.
62: Jorge Sampaoli's side have upped an gear as they search for an equaliser!
58: Argentina win a free-kick just inside Croatia's half as Mario Mandzukic gets a caution from the referee.
53: Argentina goalkeeper Willy Caballero has a complete howler as he attempts to dink a back-pass over Rebic but flops and the Croatian attacker smashes the ball past the 36 year-old. Argentina 0-1 Croatia.
53: GOAL FOR CROATIA! ANTE REBIC!
51: Gabriel Mercado receives a yellow for taking down a Croatia player on the half-way line.
46: Argentina get us underway for the second-half.
HT: Also tomorrow the World Cup coverage continues as five-time winners Brazil entertain Costa Rica, Nigeria meet surprise package Iceland and Serbia meet fellow European nation Switzerland in the evening.
HT: If you missed the earlier World Cup action, then catch up with VAVEL UK's coverage: Kylian Mbappe's first-half goal was enough to see France win 1-0 against Peru - meanwhile, Denmark were held to a 1-1 draw with Australia.
HT: It is fair to say the first-half has been nothing short of entertaining for the neutral as both nations have created numerous chances to open the scoring; especially Mario Mandzukic for Croatia and Enzo Perez of Argentina.
HT: Argentina 0-0 Croatia.
45+2: Luka Modric plays a superb pass from the right to Rebic to begin a Croatia counter attack, but the attacker can only see his effort go high and wide of the target.
44: Argentina boss Jorge Sampaoli is becoming very animated on the touchline!
39: Ante Rebić has received a yellow card after a rash stamp on the foot to Argentina's Eduardo Salvio of Benfica.
37: Argentina defender Gabriel Mercado has come out worse in a clash with Croatia's Ante Rebić - he has received treatment and is set to carry on.
33: Atletico Madrid man Vrsaliko sends a deep cross to the far post and Mario Manduzkic really should be doing better there, not making great contact as his header goes wide.
30: The Croatia defence is all over the place; an attacker gets to the ball before Subasic can collect, passes it to Perez but the player misses from an almost empty net!
27: Corner comes to nothing as it hits the side netting.
27: Aguero dribbles down the left in search to cross the ball in but a defender gets in the way and Argentina win a corner on the far side.
22: Mario Manduzkic wins a free-kick near the touchline.
21: Both teams are slowly getting stuck into this game as Croatia swiftly grow in confidence.
16: River Plate midfielder Enzo Pérez and Rakitic both slide into each other in an attempt to win the ball; the latter comes off worse and Croatia gain a free-kick just inside their attacking half.
13: Argentina get their first good chance of the game; Dejan Lovren able to block a shot from the edge of the box to give away a corner.
9: Now the referee has brought back a Croatia attack for a free-kick as Manduzkic goes down to the ground.
7: Mario Manduzkic has caught Nicolas Otamendi and the Manchester City defender is down injured, but may be able to carry on.
5: Resulting corner comes to nothing as Croatia regain possession from their goalkeeper.
4: Ivan Perisic drives down the left, getting a shot away to the far post but Caballero gets fingertips to it - giving up a corner.
1: Croatia get us underway!
Just 10 minutes away from kick-off! Players will be coming out in a few moments for the national anthems.
Meanwhile, for Croatia if they were to surprise their opponents tonight and get a victory, it would be the country's first back-to-back wins at the World Cup in 20 years.
Argentina have not failed to win their opening two group games at a World Cup competition in 48 years, in West Germany 1974.
As the players go back into the dressing rooms from the warm-up, let's get some stats going as entertainment in the build-up to kick-off!
"But while one excellent player can make a great result, a great team does the job much better ... We will go into the game a little bit more relaxed than them." (BBC)
Whereas Croatia boss Zlatko Dalic has focused on the impact Lionel Messi can have in this evening's match: "There is no perfect way to stop Lionel Messi ... he is the greatest player in the world.''
"We know that Croatia has those two players in the centre (Luka Modric and Ivan Rakitic) who have good control of the ball. They try to take a lead role too and they have other very good players." (BBC)
Argentina defender Gabriel Mercado, who plays for Sevilla, spoke on the importance of this game: ''This is a vital game. We need to win to go ahead of them''.
Croatia will be able to book their spot in the knockout stages with a victory over Argentina tonight, whereas their opposition will have to wait until matchday three before learning their fate.
Croatia: Subasic, Vrsaliko, Strinic, Lovren, Vida, Rakitic, Modric, Brozovic, Perisic, Mandzukic, Rebic
Argentina: Caballero, Mercado, Tagliafico, Acuna, Mascherano, Otamendi, Salvio, Meza, Perez, Messi, Aguero
The teams are out!
On today's sides, Croatia have lost all previous World Cup games against South American nations but will be hoping their luck can change when they meet Argentina this evening.
Today's early kick-off saw Denmark and Australia meet; which ended 1-1 as Christian Eriksen's superb opener was cancelled out by a Miles Jedinak goal from the spot after a handball in the box.
At the World Cup though, history does not mean all too much – just ask Germany who fell to Mexico. Team news for tonight's game will be released about an hour before kick-off so make sure you're here and ready to go. Over to you, Ryan!
This game represents only the second time that the two countries have come together in a World Cup setting. The last time they clashed was in 1998 and it was Croatia who earned the upper-hand with a 1-0 win. Despite that, the records between the two is relatively even with a win, draw and loss apiece for both sides. The most recent clash was in 2014. Goals from Christian Ansaldi and Lionel Messi cancelled out Anas Sharbini's early opener in a 2-1 win for Argentina.
Elsewhere, following their excellent result against Nigeria, Croatia could be set to back that up with another positive showing against Argentina. If they do, Zlatko Dalić's men could be set to qualify for the knockout stages of the competition for only the second time as an independent nation. The last time that the country did that was in 1998 when they reached the semi-finals.
Another tricky result for Jorge Sampaoli's men could put their qualification to the next round in jeopardy. That would be quite the shock considering the 2014 runners up have not failed to make it out of the group since the 2002 tournament in South Korea and Japan.
Speaking of the Barcelona superstar, he will surely be hoping to do a little better than he did in matchday one. The 30-year-old had an extremely difficult time against Iceland, barely threatening the opposition goal. He also missed a penalty, spurning the chance for Argentina to start the tournament in the best possible way.
Another fascinating aspect of this clash is the sheer amount of world class stars that could potentially be on show. Croatia can boast the likes of Luka Modrić, Ivan Rakitić, Mateo Kovacić patrolling the midfield. Elsewhere, Argentina possess arguably the best player in the world in the form of a certain Mr. Lionel Messi.
The reason why we're all so intrigued by this group is that a result for either side could really open it up. Croatia currently sit top with three points following their 2-0 win over Nigeria, whilst Argentina are currently in the qualification spots but only managed to get a solitary point last time out against European minnows Iceland in their 1-1 stalemate.
We all hope you've been enjoying the World Cup, and of course, our coverage of the tournament so far. This game is another that promises much so be sure to stick with us with kick-off set for 7pm BST. We will be bringing you all of the build-up, goals, drama, reaction and analysis!
Good evening everyone, and welcome to VAVEL UK's live commentary of Argentina and Croatia at the 2018 World Cup at the Nizhny Novgorod Stadium. My name is Daniel Orme and I am the one tasked with taking you through all the vital information you need to know ahead of the game. I will then be handing you over to the fantastic Ryan White for all of the kick-by-kick coverage of the match itself.